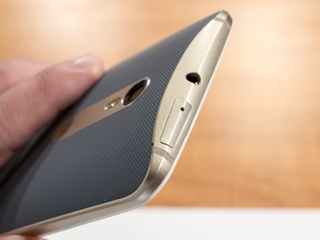 Motorola threw a little bit of a curveball when refreshing its Moto X line, giving us two devices instead of one. The higher-end of the two is the Moto X Style, packing lots of high-end specs and a larger size than last year, with some subtle design changes as well. It still offers Moto Maker customization, as you'd expect, and in the U.S. it'll be available as a Pure Edition with no carrier involvement — here are its specs.
Swipe to scroll horizontally
Category
Features
Display
5.7-inch TFT LCD, 2560x1440 resolution (520 ppi)
Corning Gorilla Glass 3
OS
Android 5.1.1 Lollipop
Processor
Qualcomm Snapdragon 808 hexa-core @ 1.8GHz
Adreno 418 GPU
Natural Language Processor, Contextual Computing Processor
Storage
16, 32 or 64GB, SD card up to 128GB
RAM
3GB
Rear camera
21MP f/2.0, phase detect auto-focus, dual color correlated temperature flash
4K video at 30fps, slow motion video, HDR video
Front camera
5MP f/2.0, wide-angle lens, night mode, flash
Battery
3000 mAh non-removable, Turbo Charging, Micro USB port
Cellular (US)
GSM 850, 900, 1800, 1900MHz
HSPA+ 800, 850, 900, 1700, 1900, 2100MHz
LTE Band 1/2/3/4/5/7/8/12/13/17/20/25/28/40/41
Nano SIM
Connectivity
802.11ac + MIMO Wifi, Bluetooth 4.1 LE, NFC, GPS
Speakers
Front-facing stereo speakers with Smartboost
Dimensions
153.9 x 76.2 x 11.06 mm
179g
Water resistant
Water repellent nano-coating
Colors
Black lens, dark gray frame and accents, black back
White lens, silver frame and accents, bamboo back
Moto Maker support with 17 different backs and 7 different accents available
Get the Android Central Newsletter
Instant access to breaking news, the hottest reviews, great deals and helpful tips.
Andrew was an Executive Editor, U.S. at Android Central between 2012 and 2020.
How does the TFT screen impact active display?

Yea no active display = no deal. It's changed the way I use my phone. Posted via the Android Central App

It has active display. Of course it does. Posted via the Android Central App

And also, isn't TFT famous for bad viewing angles (when compared with IPS)? Posted via the Android Central App

That's TN There are TFT IPS displays Posted from the LG G4 "Anime" edition. Lol

Yea I just got educated on that lol. My bad! Posted via the Android Central App

Lol, it's all good. You learn something new every day. Posted from the LG G4 "Anime" edition. Lol

How? its not physically possible with an lcd

Well, the feature can still work(ie. the screen can come on when you reach for the phone and light up when a notification comes in), it just isn't in any way a power saver (which renders it more or less useless and probably a power drain).

I'm using Lumia 920, that have the same active display with LCD display instead of AMOLED. From my observation, they still can works using very low brightness - even put in dark room I'm not actually bothered by the screen brightness and good news is the battery consumption doesn't take much hit compared when that feature turn off. Back to Moto X, with the battery capcity getting bumped from last year model I assume they will still retain good battery life even with the change to LCD.

I know nothing about TFT screens, but I am curious how using this instead of AMOLED will affect battery life. I thought the benefit of AMOLED was that it could fire individual pixels on and off, so combining that with Active Display meant very little of the screen was powering on when you used Active Display. If that won't happen with a TFT screen, are we loosing some of the battery life benefits?

No AMOLED is a deal breaker for me. Can't believe they took a step back like this. Active Display is a battery drainer without an AMOLED display.

Same here via AC App on
VZW Moto X DE/N7

If I remember correctly, the Moto E (and maybe Moto G) had LCD displays and Moto display (AKA active display) yet their battery lives were still great. I would wait until Moto X Pure edition is released and read the battery life reviews people have. Maybe the engineers at Motorola figured a way to still do active display on a non-AMOLED display while being battery friendly. Also worth noting...
There was burn-in issues with the AMOLED screens in the '13 and '14 models as well as other phones that had AMOLED screens (e.g. Samsung). So to prevent those issues from arising again, Motorola may have opted to use the TFT display.

That's what the speed sheet says Posted via the Android Central App

OnePlus should have done their homework, this thing is more of a "flagship killer" than the 810 equipped OPT by far. Posted via the Android Central App

Yeah, Oneplus seems to build for the specs alone. Motorola builds for the overall experience.

So does Apple, but y'all give them shit. Posted via the Android Central App

You know, Sax_Derp, it hurts when you say that . . . . and you're absolutely right.

You sir, speak so much truth in that one statement. Posted from the LG G4 "Anime" edition. Lol

Lol
So true via AC App on
VZW Moto X DE/N7

I'm still of the mind that Apple gives you just enough hardware for the experience to be good for the time being. Later on is a different story.

That's valid for nearly everyone. And if they didn't strip down OS features for older devices they'd probably have the same 2 year update support as most Android phones. Remember when ios 7 came out and all the iPhone 4 users were happy? Then you looked at what features they got, and the got the photo editor, the new skin, and security fixes. That's it. And I guess API'S but not many of them were relevant to the hardware. Posted via the Android Central App

Because offering the best they have up front cuts potential profit later... I mean, if I bought the phone that meets every requirement I could ever throw at it, there would be no need for me to buy the next iteration of said phone...

How do you vote up 10 times.

Apple gets grief because of their specs and because of their prices. I think it's deserved on their prices but not on spec when iPhones perform just as well as Android flagship that have better specs especially in gaming. Posted via the Android Central App on my Moto G 4G 2nd Gen

Well oneplus 2 doesn't have nfc.
This phone doesn't have fingerprint scanner.
I will wait to see what the new nexus brings or maybe I will pick me up a tablet this year and keep my oneplus one Posted via Android Central App on 1+1

In Russell's hands-on with one plus 2, he says there are contacts for the NFC chip in the back plate. It doesn't list it in the specs tho Posted via the Android Central App

Wasn't the contacts on the back plate more to do with some wierd radom theme based shenanigans... Not checked Russell's hands on, just something I remembered reading elsewhere?.?

Word. Oppo blew it focusing on ram, rom, a decent screen and fingerprint sensor but without microSD support or NFC, or more LTE bands, even if not officially supported by the likes of Verizon. It's a no brainer at this prie point to pick the Moto X style over the OnePlus2, if you can even get one with their lame invite system. That said..I actually have been rooting for Oppo.

Not necessarily a "no brainer." Only if you actually require SD card and NFC and more bands. I personally would rather go with op2.

Ok, I should have qualified the statement a bit. Your results may vary. :-) IMO, at this price point, you're getting more for your money with the MOTO X Style...even with the micro usb connector, which works with all my existing chargers, btw. This has turbo charging, a higher PPI screen. Even with less ram that the OnePlus2, if a microSD card is important for a big media library and local backups and flashing roms, as it is for me, it's a no brainer. Universal LTE? Yes please.

That'S what people thought because of the bad reputation that the 810 has had. Any other year, people looking for a top of the lin flagship have would have immediately discarded the Moto X Style for having sub flagship performance. The whole S810 issue has arisen as big brands like HTC have lied about using the v2.1 of the CPU. It has been proven by Anandtech that the S810 v2.1 is much superior to the S808. See article from Anandtech here:
http://www.anandtech.com/show/9388/comparing-snapdragon-810-v2-and-v21
As the first in-depth reviews trickle in, the whole paradigm of "Moto X Style can compete with the OP2" is now unravelling. OP are in different leagues in terms of performance, temperatures and battery life. Post update the S810 is just a beast. You only have to compare the results of the Mi Note Pro (also driving QHD) and OP2 (driving 1080p) with the LG G4, and then it will become clear that Moto X Style does not have such good value. Moto X has the same chip and resolution as the LG G4 and will end up with the same sub-flagship performance (about equal to 2014 flagships such as Note 4)
http://androidcommunity.com/oneplus-2-benchmarks-caught-on-video-always-...

I'm in!! Take my $$$!! Still wish it had wireless charging. Can't wait to hear what you guys at AC think. it will be interesting to see how this compares to the new Nexus's..

It's not in the same category as the Nexus/Note series. Posted via the Android Central App

Nexus and the note series aren't even in the same category themselves!

Your right, the Nexus 6 is in a category all on its own. Posted via the Android Central App

What are you talking about? I think I'd rather have this than a nexus 6 because it's a tad smaller. I got a N6 for dirt cheap to use at home and as a back up but I might end up getting the style when it launches. This phone looks to be phenominal, especially at this price

I'm with you, I wish it had wireless charging. Unfortunately, that would be the reason I wouldn't get it. I've got wireless chargers in each room of my house, plus my car, and at work. I could never go back to plugging my phone in. As a current Nexus 5 user, hoping the rumored new Nexus 5 will be a worthy successor.

God forbid they use the port that people actually have plenty of cables lying around for Posted via the Android Central App

Agreed. USB c is no big deal. I bet the majority of people on here still use USB 2.0 on their PCs Posted via the Android Central App

My mouse doesn't work with USB 3.0 and it irks me. Movement is all jank out the ass. Posted via the Android Central App

My only gripe is lack of wireless charging. After having 2 generations of Nexuses in my entire family, it's hard to use a plug again.
Is it because of customization?

My wireless charging on my Galaxy s6 is faster than your USB cable. Posted via the Android Central App

It's not at all, that is an objectively false statement. Posted via the Android Central App

Im sorry, but it is faster than regular charging. I didn't mean to compare to this phone or turbocharging. Posted via the Android Central App

Nelson, they are claiming the new X to be the fastest charging phone ever. If true, micro USB will be faster than your sammy wireless. Posted via the Android Central App

Oppo has fastest charging. Posted via the Android Central App

Complete and utter bullshit Posted via the Android Central App

Don't feed Ben guys Posted via the Android Central App

your Qi (pronounced chee) charger only outputs at 1 amp. While the power brick you plug in to the charging pad is 2 amp charger, the charging pad only outputs at 1 amp and of that 1,000 milliamp out put your phone only charges at about 850 to 900 milliamp, Where as if you used the supplied cable and charging brick, the same 2amp charger and actually plug the phone In to the cable and into the wall that supplied 2 amp charger charges your phone at about 1.2 amps or 1,200 milliamp which is faster than wireless charging by far which is why it has not really caught on all that well. My nexus 7 has wireless charging and after the usb port stopped functioning I'm glad i have it as it is the only way to charge the battery which takes 6 hours with a dead battery on airplane mode where it was only about 3 hours using the supplied asus 1.35a charger A cool feature but not faster by any means.

I use Qi as it was meant to be. I use it when i go to bed or am at my office desk. If i need a quick charge them I will use a quick charger but that is rare

I have no where to rush before I go to sleep or when my phone is sitting at my desk at work. Or when it's simply sitting at home in kitchen during the day.

Most phones can get through a full day easily and you charge it over night. At least that's how I use it. Not sure what the Galaxy S6 people do when they have to charge once or twice throughout the day. I'd probably want quick charging then but I would never buy a phone that can't get through a day.

I bought a GS6e and only charge it at night. Battery lasts me all day with regular use, no need to charge during the day.

Same here, use my SGS6 alot, heavy user and battery lasts all day. Only charge at night.

You must have great coverage all day, then. If you get stuck in a bad coverage spot and you forget to turn off data on your phone, the strain of your phone constantly searching for a signal will straight up murder your battery

Turbo charging is so much faster than wireless it has made wireless a waste of time. You shouldnt need to leave your phone on the charger at night or while its around the house, thats the whole point. I was an avid qi user on s3 but now on nexus6 dont touch qi, barely ever need to charge.

I was in your boat last year when it was confirmed that the N6 would have wireless charging. But now my TYLT is kinda just collecting dust, because the turbo charger is just so fast. TL;DR - SD card > wireless charging

CDMA? Posted via Android Central App (Moto X)

I've read else where (forgot where) that it'll work on all networks, including Verizon.

Yes. One model that works on all carriers, similar to nexus 6

whoohoo Posted via AC app with my N9

Still trying to find "wireless charging" in the specs and features. Or is this not yet 2015? Posted via the Android Central App

No OIS on the rear camera? I'll pass. Posted via the Android Central App

There will always be trade offs. It's a bargain for $400 when compared to other phones. You want OIS.... pay up lol

Yup Posted via the Android Central App

Oh, pay up...like for the cheaper OnePlus 2? LOL. I refuse to use a phone without it these days since 90% of my shots are indoors. Looks like the OP2 is in my future.

OK, buy it then. OnePlus is Oppo's "pet" and doesn't make any or little money on this phone so it's an outlier. Motorola is a huge company that needs to make $$$.
1+1 2 doesn't have NFC. There's a trade off too (and it's irrelevant if you don't care about NFC)

OnePlus Two has OIS and it's cheaper so hard to say pay up.

but it doesn't have quick charging and NFC. clearly trade offs.

It also has terrible customer service, and other issues being a year old start up company. I'd take Moto and their track record over OP2 any day, and it just so happens, I'm getting a Style as soon as they're available. I thought about the OP2, but as soon as Moto announced the Style it was game over for OP2.

You're right. There's a LOT more trade offs with OP2. To me this is the better option. No one mentioned the fact that this screen is QHD while OnePlus stuck with 1920x1080 for the OP2. Then there's the delivery wait, customer service, invite system, RMA process. Being able to go to a store and replace your X alone would almost be worth it. If none of you who say you'd choose the OP2 have owned the One, you should really research the RMA process and Customer Service for OnePlus. Hands down, the worst in the industry. Their CS award would be made out of rusted Iron if one was given based on their performance in their brief history. But to each it's own, some people may want to see what they're about, I can understand that. That was me a year ago. Posted via...The One

Not a dealbreaker to me. N6 has it and I've taken far more blurry pictures with it than I ever did my S4.

Agreed, I was waiting to here on the oneplus and moto x to make my decision for my next smartphone.
Oneplus two has OIS, so moto loses my business. Every phone without OIS winds up taking mediocre pictures. I would wait for the nexus to see what it'll offer, but I'm used to dual sim now after having my zenfone 2 so I'll go with the oneplus I think.
Plus I doubt the nexus will be as competitive from a pricing standpoint as the oneplus two

Wireless Charging FTW. Darn. Still, With expandable storage, pure android, ALL those CORES!!, should fly...with no need to opt for over 32GB version.
Camera ? Please be good as promised.....
Yes, I'll buy one.
Bamboo for me.

Agreed. Who needs 64gb with expandable storage? Answer - no one Posted via the Android Central App

I do. That was the feature that stood out the most for me. I was just surprised Moto did it first. Thought it would be HTC.

Wonder how the battery will hold up? And hopefully this isnt a second rate screen like on the nexus 6 and does not have all the issues.

Second rate screen? I think not! Also, I have no issues with my Nexus 6. Android 5.1.1 is very good.

He's probably compared it to the note 4' display , which almost isn't fair

You gotta be kidding me........ Posted via the Android Central App

Thank goodness stereo speakers. I just don't get why they went again with a smaller battery than they could have. The small/non-removable battery of the 2014 Moto X is the reason it's not my current phone. 3000 mAh is not bad and could serve - so it's perhaps not too big of a deal (we'll see). If the camera is up to snuff (no OIS?) - still looks very nice for the price point and I like the options.

Looks like Moto did the same thing as LG and opted for the 808 over the 810. Honestly, this is a smart move, especially since the 808 hasn't got any of the bad rep the 810 has, not to mention it didn't suffer from as many issues. And the performance impact is hardly noticeable. My G4 performs just as well as any other current flagship smartphone. The only area where you'll notice it is in benchmarks and heavy 3D gaming, which I hardly do anyway.

I fully agree. Posted via the Android Central App

Why did they wonder into phablet territory? That's going to be a very large phone. I know that two particular AC editors must be very pissed off by this. Can't wait for those great rants this Friday from Phil and Jerry!

Marketing research. I can't think of any other reason. Majority of people want bigger phones.

Maybe in China but not in the US.

All flagships are over 5" in USA. You think it's a coincidence? Companies are shooting themselves in a foot on purpose?

Isn't the iPhone 4.7"? And it's one of, if not the most popular phone out there.

Then why does the 4.7" Apple iPhone outsell the iPhone 6+ by 3 to 1?

Because it's bigger than bigger but not bigger than the bigger bigger than bigger. Posted via the Android Central App

6+ is huge comparing to this MotoX. Not only it's 6", the bezels are also too big

It's 5.5 inches, the phone is slightly smaller than the Nexus 6 and Note 4, both of which are 5.7 inch screen phones. Posted via the Android Central App

Nexus 6 is 6" and yet it's a hair bigger than iPhone 6+. That's my point... Motorola knows how to fit bigger screen in smaller bodies and assumptions based on iPhone side are not really valid

Actually 6 inches? Damn. No wonder people said it was big. But yeah, everyone can agree the 6+ is too large. Posted via the Android Central App

no 5.9' is the Nexus 6 and that was just a bit big for me I think that not having wireless charging isn`t a deal breaker but I use mine all the time however the Turbo charger on my Droid Turbo does charge rather quickly. I`ve had every phone except the LG G4 this year and I must say the Sammy 6 did kick ass but that battery life was a deal breaker. the N6 lasted me all day but just a little too big. I currently own the first moto X the droid maxx and the Turbo.

Because you are not fully comparing the magnitude of the jump. Moto X 2014 was 5.2in with the new version at 5.7 for a difference of 0.5. With the iPhones the jump was significantly larger. The 5s was only 4 inches. The 6 is 4.7 for a difference of 0.7 and the 6+ is 5.5 for a difference of 1.5. Show me any phone company that had a model size jump of 1.5 inches in one year. Of course the smaller iPhone was going to sell more.

Because little girls, your mom, your grandmother and guys with feminine hands need a phone that fits their tiny little hands.

If it works on Verizon I'm all for it. Posted via the Android Central App

It does. Posted via the Android Central App

Motorola is doing everything right. learn from them HTC and dont let your ego ruin yourself. although i dont understand why they name it Style and pure in two different market. It should have been one

Wonder if it's still nano or micro sim. I know the first moto x was nano and I haven't paid a lick of attention since then.

All the Motorolas lately are Nano.

Saw it listing somewhere that it is nano

so if it is one phone for gsm and CDMA, I wonder if it will work with Google fi Posted via AC app with my N9

For those wondering if the camera is actually good, DXOMark already did a review and it come out on par with the Note 4 (which is very good).
http://www.dxomark.com/Mobiles

Yeah, yeah. Wait until consumers get ahold of it.

Are those dimensions confirmed? Coz i doubt it reaches 76% screen to body ratio if so.

Way too big for me. I'm not going to give into this "people want huge phones" marketing shtuff. Moto, I really want to buy one of your phones in the future, but give me something like the X Play that is available for the US at the same price point. Oh, and lower the damn screen size. If I want something portable with a big screen, I'll buy a damn tablet

what do you mean you are not going to give into this? It's just the way it is. You think Motorola just decided to do it for fun and see what happens? It's a simple statistical data.
It would be nice to have 2 models but then margins will be too thin

Meaning I have a Galaxy S6 right now and the biggest I'll go is Droid Turbo because it has a huge battery. I don't want something that's bigger than that, no matter what these companies are telling me. It doesn't suite my needs. I just want a midrange or high end phone, doesn't have to have bleeding edge specs, but good, screen size of 4.7"-5.2", a solid camera and even better battery, good build to it (just something sturdy), optimized software, and good, timely updates. Basically a refresh of the Nexus 5 would be cool, or something similar to the OnePlus 2 or Moto X Play with a smaller screen. I will be using my S6 until it's paid off which will be two years. Then, my plan will be to either continue using the S6, or buy something off contract that will still work on VZW. I want to get on VZW's prepaid plan because it is an amazing deal if you can find a phone you are comfortable enough using end rant

Yeah, I agree. I gave the G4 a shot, and while I love a lot of things about it, I want my next phone to be back in the 4.7-5.2" range... assuming there are any high-end Android phones in that size range available next year.

The G4 is great, but yeah, it is just too large

"Pure edition with no carrier involvement", that's the only way to go these days. Posted via the Android Central App

Well, it is A way to go I suppose. They will do way less sales if they don't have it in carrier stores. Way WAY less ..

Does it have fingerprint scanner???

Nope Posted via the Android Central App

Why will the cell phone makers not listen to the consumer and Give us the things we want. This phone would be a No decision needed slam dunk , if it had all the things I and many others wanted and I would pay the extra 50 - 100 dollars for it. Give me OIS, Give me USB-C, Give me the Bigger Battery and Give me a Finger print reader.

For the $399 that Moto is charging - this is a very good offering.
Most people don't even know what USB-C is - which is why some MacBook purchasers complained about the USB-C port on their device. People hate switching ports because they have to buy new accessories/adapters. OIS helps with indoor shots and would have been nice. A fingerprint reader is a nice feature when implemented well - however it is far from a necessity for most people. A lot of people don't even use it on their iPhones and Galaxy S6 phones. A perfect phone doesn't exist. Manufacturers will never make one because if they do you will keep it for a few years. They don't want that.

Your last statement is spot on my man

I guess the only exception is the iPhones...Too bad I just don't like them.

I just want a flagship phone that's not a "phablet".

Andrew, these specs don't list LTE band 13 for Verizon. Is that an error, or will it only work on their Band 4? That's gonna make rural LTE coverage from Verizon pretty bad if so.

Same issue with Band 26 not being listed, as Sprint users would need it. Maybe the band 28 is a typo. Posted via the Android Central App

Okay the hands on article from Phil shows band 13, so you may want to add it here. Edit: Nevermind, see you already did. Thanks.

Motorola updated their specs page at <https://www.motorola.com/us/smartphones/moto-x-pure.html> after some folks pointed out the lack of CDMA bands and the missing LTE bands - they now list: GSM/GPRS/EDGE (850, 900, 1800, 1900 MHz)
UMTS/HSPA+ (850, 900, 1900, 2100 MHz)
CDMA (800, 850, 1900 MHz)
4G LTE (B1, 2, 3, 4, 5, 7, 8, 12, 13, 17, 25, 26, 38, 41)

Too big, I've got small hands, I'll stick with my 2014 Moto X. Shame they could have had my £s

I prefer moto x play hands down Posted via the Android Central App

Sure, but it won't be available in the U.S., if that's where you are. Posted via the Android Central App

The battery is just too small. The Note 4 has the same size screen and a bigger battery, with less pixels being pushed. A user will be lucky to get 3.5-4 hours SOT on this phone. I guess what you're getting isn't bad for a starting price of $399. I just wonder now how Motorola's pricing will affect the Nexus phones. Posted via the Android Central App

I agree that the battery is too small. The smaller 5.5 inch Moto X Play has a 3600 MAh battery, but somehow this larger 5.7 " phone has a much smaller 3000 MAh battery? I just don't see how or why Moto would possibly want to do this. Baffling.. p.s. It's pushing the SAME amount of pixels as the Note 4, not more than the Note 4 . They are both 2560x1440 ..

Yea it doesn't make sense.
the smaller moto x play has a 1080p display as well.
the moto x play is going to have great battery life, while I expect this to continue to be "meh"

agreed, battery life was my number one concern and 3000 mAh just isn't gonna cut it for me ... I just don't understand why they'd put such a larger battery in the Play version. With the Edge+ and Note 5 having significantly larger batteries, I might look there unless the Nexus gives me 3500+ ... amazing battery life is still a discussion. Posted via the Android Central App

That thing is way too big. Makes my HTC One (M8) look like a pygmy phone. I was interested until I saw the dimensions.

My feelings exactly, just upgraded to a 2014 Moto X from an M8. 5.7" is just too big. That's why I didn't buy a Nexus 6.

That's too bad. I was counting on them to use an AMOLED display. The options there are getting pretty limited, and I'm addicted to that infinite contrast ratio.

So as I understand it, in the US this will only be sold online, and its pure Android, so does that mean it's a Nexus like interface? Or does it still have some of the Moto touches like dynamic notifications? Posted via the Android Central App

Moto add-on, avaliable online through Amazon and Best Buy, retail through Best buy(likely seeing as they'll have it online.) and through all 4 carriers. Well, possibly not on a carrier through Verizon because they're butts, but the Pure Edition will work on Verizon. Posted via the Android Central App

Not having carrier models is actually kind of a bummer for me... I'm 15, on my parent's plan, and don't have a job, meaning there's no way I can pay full price for even a cheap phone... Ugh. I guess there's always the Droid (can't wait for this year's announcement!) Posted via the Android Central App

I think it will come to all four major US carriers. The Pure Edition will have no carrier involvement. Posted with my Ballistic 64 VZW I could be totally wrong about coming to carriers.

Motorola has payment plans... $0 down and zero interest if paid in 6, 12, or 18 months. Its basically what mobile companies do when they "subsidize" your phone and you end up paying for it over a span of two years on top of your monthly service bill.

This is a note sized phone! I'm not really happy with this push for large phones. They should have offered this phone in note sized and Nexus 4-5 sized dimensions.

ePic... ... ( 0ppo F5) ...

I'm in search of an upgrade for my 2013 X and wasn't really considering Moto's 2015 phones as an option...until now. I was going to go after either a S6 or G4, but after seeing the X Style, I'm sold. It has everything I want out of my next phone: pure Android, SD card slot, larger display, stereo speakers, and an (on paper, at least) good camera. Unless there's a smaller Nexus that beats it on price:spec ratio, I'll be buying it this Christmas. Posted via the Android Central App

Doesn't appear to be a very big step up from the Droid Turbo, little bigger screen and different processor but camera specs appear to be the same. I am missing something? Posted via the Android Central App

This is my next phone. Posted via the Android Central App

Don't particularly like the size, but if the camera comes even a little close to the quality of my S6, than I will be picking this up for sure.

Sort of glad they went LCD instead of AMOLED. Moto AMOLED screens from last year had burn in problems occasionally. This phone really surprised me in terms of specs. Really interested in getting one

What sim caed does it use? Please tell me it's a micro sim still

It's nano according to Moto's official site

Andrew (and Phil and ...): Motorola updated their specs page at <https://www.motorola.com/us/smartphones/moto-x-pure.html> after some folks pointed out the lack of CDMA bands and the missing LTE bands - they now list: GSM/GPRS/EDGE (850, 900, 1800, 1900 MHz)
UMTS/HSPA+ (850, 900, 1900, 2100 MHz)
CDMA (800, 850, 1900 MHz)
4G LTE (B1, 2, 3, 4, 5, 7, 8, 12, 13, 17, 25, 26, 38, 41)

Definitely time to fix all of the articles to match the bands listed in this article: http://www.androidcentral.com/how-youll-be-able-buy-moto-x-style-aka-pur... Posted via the Android Central App

5.7" seems a bit big. Kinda wish they released a 4.7" or 5.2" version. Posted via Android Central App

With a screen that size and resolution, combined with the mediocre battery, I wouldn't have high hopes about its battery life.. Sony Xperia Z2
Nvidia Sheild
Xperia Z3 Tablet Compact

Sounds better than the OnePlus 2.

Terrible. No Amoled ? And no smaller version? God are phones this year terrible Posted via the Android Central App on my Nexus 5 or Nexus 7 2013

Droid Turbo is still on top of this Moto X, Turbo=such an underated phone.

I think they've made the phone too large. I wish they would have kept the screen size in the 5.2" range. I would have seriously considered buying one. Everything else is on point, though. On paper, the camera should be really good. I'm able to take some really great photos with my Nexus 6 (I collect nexus devices....but the phone is too big for my tastes), and it only has a 13mp shooter, with the same aperture. I'm really happen the internet was only sort of right (2 versions of the X), and Verizon isn't getting the larger version as an exclusive.

Does anyone think it is a safe bet the Pure Edition will still have a bootloader that can be easily unlocked? I am not one that uses custom roms, but there are certain apps where root access is needed. I had a Verizon Moto X Dev Edition and still it's a great phone. I miss some of the unique Moto features that are missing from the Nexus 6. However, the 2014 Moto X Pure Edition was not Verizon compatible. I opted for the Nexus 6 because it supported all major US carrier bands and the bootloader was easily unlockable and rootable. If the Motorola Style is all of these things, I may get it instead of the 2015 Nexus, assuming I decide to upgrade at all. The Motorola Nexus 6 is still a good phone. Posted via Android Central App

I'm a confirmed Moto fanboy. I'm going to be really upset if the next version of the Droid line is this big. The Turbo was bigger than I wanted; I'm not willing to go this much bigger for a 2015 flagship.

Brilliant move by MOTOROLA to make this phone compatible with all 4 major US networks!

I'm definitely going to get the Moto X Style. Only thing is storage size 16GB or 32GB with expandable memory. Any idea? Posted via the Android Central App on my Moto G 4G 2nd Gen

Doesn't take but a few minutes to determine the qualiy of camera. No Optical Image Stabilization. Camera probably sucks. Forget it. I want a phone that takes great pictures, no need to settle, there are some great shooters out there. No excuse for a lousy camera. Everything else sounds fantastic. Maybe the fingerprint scanner would have been great.

I would certainly get this phone to replace my OPO since I hate being constrained with 64GB - I keep a good bit of offline GPS, media, rom backups, etc, and it's a constant struggle to not fill up the phone. However, I will not buy any lollipop phone until google fixes the mobile radio active bug. If you are not aware of this problem with almost all phones with lollipop, I would suggest reading up on it before committing to a phone that will get 30% less battery life than the same phone on Kitkat.

What carriers will this phone be on?