This is the Hasselblad True Zoom, the essential camera add-on for the Moto Z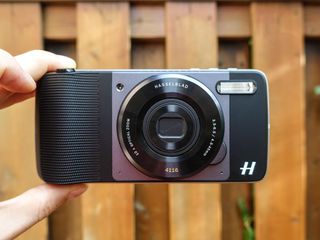 The moment I learned about Moto Mods, the magnetic add-ons for the Moto Z line, I yearned for a camera. Batteries, sure; a speaker, fine. But a camera: to me, that made the platform truly compelling.
Now, months later, we are getting just that, in the form of the Hasselblad True Zoom. The Mod is the first mainstream smartphone accessory the legendary Swedish camera company has ever attached its name to, and while it doesn't quite live up to my admittedly high expectations, it's a truly remarkable piece of engineering, and at $249, a compelling proposition.
The hardware
The Hasselblad True Zoom celebrates the medium-format camera company's 75th anniversary with the insignia '4116' imprinted on the inside of the frame. 1941 to 2016: a long time to perfect a craft.
When installed, the True Zoom replaces the Moto Z's built-in camera. Indeed, the Mod has a small foam slot for the phone's camera module to rest to avoid getting it scratched. Being independent, the True Zoom has its own sensor, lens and optical image stabilization module, and uses the phone's screen as a viewfinder and its battery as a power source. As I quickly found, lacking its own battery and generating an enormous amount of heat means that the True Zoom is better suited to the thicker, more capacious Moto Z Force or Play, but it will work with the flagship as well.
It's clear care was taken in designing the True Zoom, since it attaches to any of the Moto Z phones with a satisfying click and immediately initializes. A modest grip on the right side makes it easy to hold in one hand, and the dual-stage shutter button mimics the responsiveness of much more expensive cameras. A separate power button extends and retracts the optical lens, and the zoom slider attached to the shutter button engages the zoom — all familiar ideas to anyone who has used a digital camera since, oh, 2003. A real Xenon flash attaches to the left side, making me nostalgic for the Nokia Lumia 1020.
It's inside that the True Zoom loses some of its luster: I had a chance to speak to Motorola's head of product marketing, Jim Thiede, and President of Hasselblad's American arm, Michael Hejtmanek, and it quickly became clear that this is a partnership in name only. None of Hasselblad's actual technology is inside the True Zoom, which, given its modest $250 price tag, is not surprising. Akin to Huawei's partnership with Leica, it appears Motorola sought expertise and brand alignment more than intellectual property.
Still, the 1/2.3" sensor and f/3.5-6.5 lens, with a 35mm equivalent focal length of 25-250mm, is superior to anything you'll find on a smartphone today, and the photos that come out of this thing are stupendous.
Using the camera is not always stupendous, though. Because its weight is biased to the right side, near the grip, your thumb is forced onto the glass just to the right of the screen in landscape mode, jutting up against the navigation keys. I cannot tell you how much times I accidentally pressed the home or multitasking button as I depressed the shutter, and that Motorola doesn't include an option to temporarily disable those touch areas when the True Zoom is connected confers a dearth of consumer field testing. Thankfully, you can hold down the power button (next to the shutter) once the Mod is connected to quickly launch the camera app from any app.
It's unclear whether people will want to keep the True Zoom attached while they're out and about, since even attached to the lithe 5.2mm frame of the Moto Z it doesn't comfortably fit in a pants pocket. In my week using the Mod I was constantly caught in between attaching and removing the attachment depending on what I was doing.
The Software
A quick note: my Hasselblad True Zoom has been paired with the Moto Z Play, a phone that has yet to be released, and is running pre-release software. When I first got the Mod, it frequently crashed the camera app and overheated the phone, but Motorola released an update to its Moto Mods platform a few days into my testing that considerably improved the True Zoom's stability.
Using the True Zoom is easy, since it merely subsumes the existing camera experience. It takes advantage of the same simple camera UI, and automatically turns on when entering the app — or any app that uses the camera — so the learning curve is relatively low. Still, due to the larger sensor and more versatile zoom lens, Motorola has surfaced a number of unique camera modes, including monochrome capture, and the ability to save RAW files in addition to vaguely useful presets like "Sports" and "Night landscape". While Motorola is hedging right now, claiming these modes are still works in progress and will be more useful by the time the Moto Z and Z Force are updated in mid-September to support the Mod, I rarely noticed any improvements to my photos with these turned on.
Hasselblad also plans to release a version of its Phocus PC software to make it easy for users to offload and edit the RAW files captured by the camera. That and Motorola's offer of two years free full-quality backups to Google Photos, and users won't need to worry about on-device storage.
The Photos
So what about the photos themselves? A 1/2.3" sensor in a phone is not unheard of — Sony's Xperia Z and X line have housed one that size for years — the combination of relatively large pixels and an optically stabilized zoom lens should make for some good results. And they are good. Don't believe me? Have a look for yourself.
Image 1 of 7
Let's be clear: These are not of the same quality as you'll find on a mirrorless camera, or even most point-and-shoots these days. If you're expecting otherwise you'll be disappointed. The photos captured by the True Zoom are merely very good for a smartphone, with the added benefit of being able to optically zoom with no loss in quality — just a slightly narrower aperture.
The good news is that at its widest the lens is sharp and focuses quickly, with vibrant, warm colors that will please most users. That the photos are captured directly to the phone and can easily be shared to social media is a bonus. Like many zoom lenses, though, the True Zoom becomes more difficult to stabilize the longer it extends, and with a fairly unforgiving minimum focus distance I've had trouble getting the thing to lock onto a subject, even stable ones.
But it's also that zoom function that most users are going to love. Here are some samples of the True Zoom at its widest and longest.
Left: Hasselblad True Zoom — widest (25mm equivalent) / Right: Hasselblad True Zoom — longest (250mm equivalent) — click image to view larger
And here's a typical sample comparing the True Zoom to the Moto Z. Both have 12MP sensors, though the one on the True Zoom is slightly larger. As with all of its photos, the Hasselblad is warmer and more true to life, but due to its slightly narrower f/3.5 aperture at its widest focal length it doesn't let in quite as much light as the Moto Z's fixed f/1.8 lens.
Left: Hasselblad True Zoom — (f/3.5, 25mm equivalent) / Right: Moto Z (f/1.8)— click image to view larger
Should you buy it?
When everything comes together, the True Zoom is a wonderful piece of technology, and almost justifies the $250 cost — but I can't help but feel that most people would be better off spending a bit more to get a proper zoom camera to get better results.
If the Moto Z line takes off, and Moto Mods with it, I can see a family investing in a True Zoom and sharing it between members when necessary.
The Hasselblad True Zoom will be available starting in September from Verizon for $249, and Motorola for $299, and will be coming to other markets in the coming months. An update will be issued to the Moto Z and Moto Z Force on September 15 to add compatibility with the True Zoom.
More: Moto Z Play preview: The most accessible modular phone yet
Sign up for Black Friday email alerts!
Get the hottest deals available in your inbox plus news, reviews, opinion, analysis and more from the Android Central team.
Daniel Bader was a former Android Central Editor-in-Chief and Executive Editor for iMore and Windows Central.