This is the Hasselblad True Zoom, the essential camera add-on for the Moto Z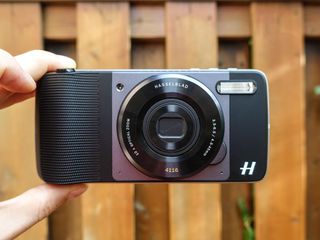 The moment I learned about Moto Mods, the magnetic add-ons for the Moto Z line, I yearned for a camera. Batteries, sure; a speaker, fine. But a camera: to me, that made the platform truly compelling.
Now, months later, we are getting just that, in the form of the Hasselblad True Zoom. The Mod is the first mainstream smartphone accessory the legendary Swedish camera company has ever attached its name to, and while it doesn't quite live up to my admittedly high expectations, it's a truly remarkable piece of engineering, and at $249, a compelling proposition.
The hardware
The Hasselblad True Zoom celebrates the medium-format camera company's 75th anniversary with the insignia '4116' imprinted on the inside of the frame. 1941 to 2016: a long time to perfect a craft.
When installed, the True Zoom replaces the Moto Z's built-in camera. Indeed, the Mod has a small foam slot for the phone's camera module to rest to avoid getting it scratched. Being independent, the True Zoom has its own sensor, lens and optical image stabilization module, and uses the phone's screen as a viewfinder and its battery as a power source. As I quickly found, lacking its own battery and generating an enormous amount of heat means that the True Zoom is better suited to the thicker, more capacious Moto Z Force or Play, but it will work with the flagship as well.
It's clear care was taken in designing the True Zoom, since it attaches to any of the Moto Z phones with a satisfying click and immediately initializes. A modest grip on the right side makes it easy to hold in one hand, and the dual-stage shutter button mimics the responsiveness of much more expensive cameras. A separate power button extends and retracts the optical lens, and the zoom slider attached to the shutter button engages the zoom — all familiar ideas to anyone who has used a digital camera since, oh, 2003. A real Xenon flash attaches to the left side, making me nostalgic for the Nokia Lumia 1020.
It's inside that the True Zoom loses some of its luster: I had a chance to speak to Motorola's head of product marketing, Jim Thiede, and President of Hasselblad's American arm, Michael Hejtmanek, and it quickly became clear that this is a partnership in name only. None of Hasselblad's actual technology is inside the True Zoom, which, given its modest $250 price tag, is not surprising. Akin to Huawei's partnership with Leica, it appears Motorola sought expertise and brand alignment more than intellectual property.
Still, the 1/2.3" sensor and f/3.5-6.5 lens, with a 35mm equivalent focal length of 25-250mm, is superior to anything you'll find on a smartphone today, and the photos that come out of this thing are stupendous.
Using the camera is not always stupendous, though. Because its weight is biased to the right side, near the grip, your thumb is forced onto the glass just to the right of the screen in landscape mode, jutting up against the navigation keys. I cannot tell you how much times I accidentally pressed the home or multitasking button as I depressed the shutter, and that Motorola doesn't include an option to temporarily disable those touch areas when the True Zoom is connected confers a dearth of consumer field testing. Thankfully, you can hold down the power button (next to the shutter) once the Mod is connected to quickly launch the camera app from any app.
It's unclear whether people will want to keep the True Zoom attached while they're out and about, since even attached to the lithe 5.2mm frame of the Moto Z it doesn't comfortably fit in a pants pocket. In my week using the Mod I was constantly caught in between attaching and removing the attachment depending on what I was doing.
The Software
A quick note: my Hasselblad True Zoom has been paired with the Moto Z Play, a phone that has yet to be released, and is running pre-release software. When I first got the Mod, it frequently crashed the camera app and overheated the phone, but Motorola released an update to its Moto Mods platform a few days into my testing that considerably improved the True Zoom's stability.
Using the True Zoom is easy, since it merely subsumes the existing camera experience. It takes advantage of the same simple camera UI, and automatically turns on when entering the app — or any app that uses the camera — so the learning curve is relatively low. Still, due to the larger sensor and more versatile zoom lens, Motorola has surfaced a number of unique camera modes, including monochrome capture, and the ability to save RAW files in addition to vaguely useful presets like "Sports" and "Night landscape". While Motorola is hedging right now, claiming these modes are still works in progress and will be more useful by the time the Moto Z and Z Force are updated in mid-September to support the Mod, I rarely noticed any improvements to my photos with these turned on.
Hasselblad also plans to release a version of its Phocus PC software to make it easy for users to offload and edit the RAW files captured by the camera. That and Motorola's offer of two years free full-quality backups to Google Photos, and users won't need to worry about on-device storage.
The Photos
So what about the photos themselves? A 1/2.3" sensor in a phone is not unheard of — Sony's Xperia Z and X line have housed one that size for years — the combination of relatively large pixels and an optically stabilized zoom lens should make for some good results. And they are good. Don't believe me? Have a look for yourself.
Image 1 of 7
Let's be clear: These are not of the same quality as you'll find on a mirrorless camera, or even most point-and-shoots these days. If you're expecting otherwise you'll be disappointed. The photos captured by the True Zoom are merely very good for a smartphone, with the added benefit of being able to optically zoom with no loss in quality — just a slightly narrower aperture.
The good news is that at its widest the lens is sharp and focuses quickly, with vibrant, warm colors that will please most users. That the photos are captured directly to the phone and can easily be shared to social media is a bonus. Like many zoom lenses, though, the True Zoom becomes more difficult to stabilize the longer it extends, and with a fairly unforgiving minimum focus distance I've had trouble getting the thing to lock onto a subject, even stable ones.
But it's also that zoom function that most users are going to love. Here are some samples of the True Zoom at its widest and longest.
Left: Hasselblad True Zoom — widest (25mm equivalent) / Right: Hasselblad True Zoom — longest (250mm equivalent) — click image to view larger
And here's a typical sample comparing the True Zoom to the Moto Z. Both have 12MP sensors, though the one on the True Zoom is slightly larger. As with all of its photos, the Hasselblad is warmer and more true to life, but due to its slightly narrower f/3.5 aperture at its widest focal length it doesn't let in quite as much light as the Moto Z's fixed f/1.8 lens.
Left: Hasselblad True Zoom — (f/3.5, 25mm equivalent) / Right: Moto Z (f/1.8)— click image to view larger
Should you buy it?
When everything comes together, the True Zoom is a wonderful piece of technology, and almost justifies the $250 cost — but I can't help but feel that most people would be better off spending a bit more to get a proper zoom camera to get better results.
If the Moto Z line takes off, and Moto Mods with it, I can see a family investing in a True Zoom and sharing it between members when necessary.
The Hasselblad True Zoom will be available starting in September from Verizon for $249, and Motorola for $299, and will be coming to other markets in the coming months. An update will be issued to the Moto Z and Moto Z Force on September 15 to add compatibility with the True Zoom.
More: Moto Z Play preview: The most accessible modular phone yet
See at Motorola (opens in new tab)
Android Central Newsletter
Get instant access to breaking news, the hottest reviews, great deals and helpful tips
Daniel Bader was a former Android Central Editor-in-Chief and Executive Editor for iMore and Windows Central.
"When everything comes together, the True Zoom is a wonderful piece of technology, and almost justifies the $250 cost — but I can't help but feel that most people would be better off spending a bit more to get a proper zoom camera to get better results." Yes, exactly...

Yeah. This is really cool and it looks like it's very well-executed, but you don't even need to "spend a bit more." You can get a pretty damn good point-and-shoot for $250, and one that you'll still be able to use two years from now, after you've moved on to a new phone.

You felt the same way when you reviewed it? Maybe I'll pass then.

I've been saying this for years now. Spend 200ish on a point-and-shoot and stop using the CAMERA ON A PHONE as the main reason of whether or not to buy a phone.

Spend about $450 for a compact with a 1" sensor and you won't even want to use a phone, and it'll be just as usable in five year's time.

That price! Much much lower than I expected.

Yet still to high for something that will be useless when the Moto Z owner gets a different phone in two years...

Phones don't stop working after two years. And that's on the person if they get a new phone that isn't compatible.

Most people don't want a phone that is one Android version behind and hasn't seen security updates in ages which well be the case with the Moto Z in two years.

No. Most people don't give a damn. Very frequently recently people are confusing most people and us.

Most people don't buy $300 camera add-ons for their phones either so what's your point?

What? That's true but I'm not talking about the camera add on.

You mean the phone that I just received a security update for yesterday? That phone?

Tell me... When you reply to a comment do you usually NOT read it first? Let me know the update situation on your Moto Z in two years.

Tell me, when you reply to a comment, do you have a clue about the subject matter to which you refer? Such as the smartphone market? Because A) If you think 99 percent of the purchasing public gives a rat's ass about updates, you're sorely mistaken; and B) Of the 1 percent that does, if you think they're still using the same phone in two years as their daily driver, well, see A's conclusion.

Ppl keep their phones for more than 2 years now.

Damn, you are a moron. Typical... Someone makes comment that is dumb and is called out on it so they switch to a different point (Are we done talking about Moto updates?) which in this case is the over used "the general public doesn't care" argument. That's not an argument dude! Who the **** cares about what the general public thinks? The camera is still an over priced accessory that makes little sense.

We read your comment and we took it for what it's worth. Another typical fanboy of - let me guess, Samsung? - that has no intention of trying something different, so he ***** all over it without even trying it. Sound about right? And while we're on the topic of Moto updates, hmm, interesting? Now, let me guess, you'll trip over your oldtimeself to debunk this, right? Dumbass. http://www.androidcentral.com/report-shows-motorola-fastest-roll-out-upd...

How about a report from someone who actually spelled out how their grades were calculated in a professional way--> http://www.computerworld.com/article/3052937/android/android-upgrade-rep... Moto WAS good at updates. Does Moto pay you for your comments? The fact is Lenovo is a **** Chinese company and everybody knows that.

I just installed update MCL24.246-36 yesterday on my Moto Z Force so they aren't too far behind on security patches. I also don't need to worry about my phone catching fire like my wife will when her Note 7 arrives.

Another person who didn't actually read my comment...

Mr "Tell Me Where You Are in Two Years and Get Off My Lawn!" just called you out Pappys. :) Apparently he isn't aware that Moto updates more than anybody else.

True, but this strengthens the argument for a removable battery which this phone or any modular would be incapable of.

True, although now that I think about it, if it performs as well as a point-and-shoot in the same price range, then if you change to a non-compatible phone down the line, then your old Moto Z just becomes a full-time point-and-shoot camera that happens to run full Android. That still sucks if you're the type who always sells your old phones (like I am), but if not, then I suppose it remains a compelling accessory.

What? It doesn't even take that great of pictures. Why not just spend the money on a camera now that will be way better now?

Well actually since Motorola and Lenovo have committed to the fact that these mods will be guaranteed to be supported for the next two generations, doesn't make these useless or even that expensive for that matter. Here's an article to support the claim. http://www.theverge.com/2016/6/9/11889076/lenovo-moto-z-mod-smartphone-s...

Are you kidding? Did Moto write that on paper? Al least you be able to wipe your ass with it. Corporations rarely keep their stated "commitments" The mobile market could be totally different in two years.

Well actually since Motorola and Lenovo have committed to the fact that they will continue to support these mods for the next two generations of these phones doesn't make then useless or even that expensive to be honest.
http://www.theverge.com/2016/6/9/11889076/lenovo-moto-z-mod-smartphone-s...

What the hell has happened to this site in the last year and a half. The homepage is a complete mess. Used to be great.

Yeah I know. Just use the mobile app and it's sooo much better

It almost seems as if Lenovo could have put this into a regular smartphone. But we have the modular concept so can buy mods and add value to the phone.

Well you can't put an optical zoom in a phone without it looking like this. So...

..yeah let's see what a smartphone with big speakers, a projector, and this camera looks like.

Sony has (had?) an camera module that works with any smartphone. It clips to the back, it has it's own power/storage as well.

It only clipped on the back of the of the Z phone via a case and was more an accessory than it was a mod to a phone. Not the same.

You could actually use it with any phone, it had little hinges that attached to the phone or you could even use it as a standalone camera without a viewfinder. The price and the awkwardness of it drove me to just buy a point and shoot for the same price.

This made LG mods look like a kid made them.

LG mods make LG mods look like a kid made them.

Sweet. Will be getting one the day it's available.

When you do, can you please share your experiences with this on your Moto Z (Force)?

With this size, limitations, and battery drain, why not just get a good Sony point and shoot...

Why would someone want to carry two items around?

Because you could spend the same amount of money and get better results?

Well that opens up an entirely new can of worms then. I mean, explain why people pay so much money for an iPhone then? :D

You didn't answer the question. Why would anyone want to carry around two items? People who care about "better" results don't care about phones, let alone a mod, or even more so a point and shoot camera. This is to provide convenience for people who like point and shoot without the need to walk with a bulky camera strapped around their neck. With that being said, who still buys point and shoot camera anyways with phone tech getting better and better than a lot of point of shoot. The only benefit this even has is the optical zoom which is a great.

Wait so adding bulk to your phone is convenient? You're probably carrying around more than 2 items with a mod phone anyways lol. Get your **** together.

" With that being said, who still buys point and shoot camera anyways with phone tech getting better and better than a lot of point of shoot. " That's a joke right? A Sony RX100 or Canon G9x / G7x will blow away any phone, it's not even a contest...

whether you buy this or a point and shoot you're still carrying 2 items.no one is going to leave this on their phone all the time.

It's a mod. It stays on the phone unless you take it off. You don't HAVE to carry it separately. There's a difference. So essentially you don't have to carry to items. If I'm going out and my main focus was pictures does the day why would I take it off?

Same amount of money on a dedicated point and shoot of equal weight would produce better photographs. Interesting idea though...

Just let me know when there is a Light L16 style add on for the Moto Z, and they will definitely have my attention.

Unless there's some sweet bundle deal, for the price and quality, you're definitely better off getting a dedicated camera. It's the same reason the JBL speaker mod doesn't interest me. Sure, it's convenient to just snap it on the back, but I'd much rather have a dedicated product that doesn't have to rely on another piece of hardware to function.

I'm pleasantly surprised by the price, but disappointed by the sensor size, although the two are clearly connected. If you're on Verizon and get a discount on accessories that could drop the price nicely if this is eligible for that.

A 1" sensor with a prime lens would've blown me away, shoot if they make that I'd buy the phone and pay $300 for it... Instead they made the same mistake Sony made with the QX line, they wanna sell people on a zoom. Smartphone users are already used to single-focal lengths, a ton of first time ILC buyers quickly purchase a prime as their first lens, if you show people there's huge IQ gains they won't care whether it zooms or not... Trying to sell people on a zoom when they're already used to shooting without it is a different proposition.

the sample pictures are horrible - sorry i have to say that. there's no full resolution and some are even out of focus. looking at those pictures is just useless. if you make a hands on of a photo-centric device, then post the actual content to be viewed (full res pictures). otherwise the article is good. i think the mod is nice, but since it's nearly bigger than the phone itself, you could really carry along an actual camera. the Sony QX series was much more flexible and had more choice and could be used with different phones. this one is exlusive for 3 phones. what if lenovo ditches this design next year? you're basically doomed... not good

I wondered if I was the only one thinking that. Some are nice,and others look like something out've a "for a budget camera,this ain't bad" kind've review.

Gah all these cool add ons will be amazing when the prices drop!!!

It doesn't look like the phone would fit in your pocket with the mod attached so you would need another pocket to keep it in
which is not great when it appears rather fragile. I am surprised that Lenovo is persuading companies to spend the money to develop very niche mods!

Love the camera mod, but for me the camera itself on the Z Force is perfectly fine for point and shoot. If I need anything else I just my DSLR. That being said, I'll probably buy it because I love to buy stuff.

I'll give props to Lenovo for designing an beautiful looking phone with mods that integrate nicely unlike any mods we've seen on smartphones before it. With that said, I believe Lenovo still needs to go back to the drawing board and think about a user's real-world use his/her smartphone AND about what modularity really means to a consumer. We all have the expectation that mods will allow a phone to be versatile upon a whim, much like an accessory. The problem with that is price prohibits it. No matter how many mods Lenovo releases, you will always have to sacrifice one feature for another each time you swap the mod. You'd have to shell out close to $1000 for extra features that you can't combine and still be faced with having to transport big pieces of hardware everywhere you go. That sucks! and no one is going to do it. Once you buy a mod for $250 or more, it should be a mod that makes your phone exactly into what you will always want it to be providing the benefit of a combination of features in one mod. Otherwise, to use these mods like accessories, the max price should be no more than $40. Adding a camera mod that gives you telephoto lens capability is great but not if it costs you $250 and adds too much bulk to your phone. But let's say that same mod also includes the same battery as the battery mod yet is the same size as the battery mod. In that scenario the camera mod might be worth getting. The JBL speaker is almost as silly as the projector. First off, if a phone doesn't already have great front-facing speakers built in, what good is it to pay $250 to add great speakers that face in the other direction? No one is trying to turn their smartphone into a ghetto blaster on-the-go so it seems absurd to have this add-on especially if there are a ton of small bluetooth speakers that are waterproof, provide excellent sound, and sell for around $15. I can't think of a single scenario that this JBL mod would be useful. It isn't appropriate for work or any other activity I might be involved in. If i want good sounding music at home I have a bevy of cheap bluetooth speakers like I mentioned above. If I do need to hear some good sound when I'm outside, I'm definitely happy to keep my phone safely in my pocket and then use a cheap bluetooth speaker that will assume the risk of theft, spills, or impacts. As for the projector, I'll simply ask you when was the last time you pounded your fist on the table because of the lost opportunity to project the contents of what's on your phone's screen? I already know the answer is 'never'. The battery mod is currently the only mod that makes sense for the MotoZ. You get up to 22 additional hours for $80. You can't beat that. The phone still looks beautiful when the mod is attached and you can keep it on there permanently. I certainly would. The bottom line: any mod that is released must at least include as an additional feature an integrated battery, add no more bulk than the standalone battery mod, and provide a feature that is actually usable and adds value to the overall use of the phone.

I was in the verizon store today giving the Z force another look since they had most of the current mods on display and attached. I could not entertain the idea of carrying around a phone with that much bulk attached. Both the speakers and projector mod turn it into a behemoth. I'm not saying people shouldn't by it but it's just not for me. I could only see myself attaching a style mod or the battery mod if needed.

You guys sure do whine a lot. This looks great and as a tech fan I love the idea of mods like these done well. These mods look fun and since they are completely optional i don't get all the hate. The price is always going to be high at first but it will go down. I like the idea of it not requiring it's own charge and it's something I'd probably leave in the car for when I needed it on the fly. Moto is trying something new and exciting and all you people do is complain and nit pick.

Higher prices and no headphone jack are certainly new you aren't wrong about that.

I was so looking fwd to this....Only to hear its only a Hasselblad name on the device and not really made by them...Also 12MP? And the auto focus seems painfully slow from the vids i have seen. Such a bummer and a let down.

I think I stated that somewhere early on that it would only use the name. A common practice among lens manufacturers also.

The only reason those photos look good is because the Moto Z camera is so fuking terrible compared to the competition. So let's get this straight you have the 600+ unlocked price and that gets you an inferior camera to the S7, but only climbs up closer(or maybe past) to it with a 250 dollar add on. I guess the software is good though.

$850 will buy some of the most amazing cameras in the market... Panasonic GX85, Olympus OM-D E-M10 II, Sony A6000, Panasonic GM5 (smaller than this phone + mod mind you); several of those will even come in well under $850, or $600 for that matter.

Well with Nexus going bye bye it looks like Moto is the way to go. Thank you Lenovo for blazing the trail.

Well, it's quite pricey for an add-on, and you'd probably be better off with a point-and-shoot. But this is still a very interesting concept and it looks to be executed quite well. I know someone who's going to have quite a good time with it.

I keep hearing the naysayers mention point and shoot stand alone cameras. What about convenience? Your phone already carries all the apps, social media logins and anything you could imagine for sharing the photos. This brings a level of convenience that's tough to rival

Well, if you're concerned about quality, you'd probably be better off with a P-N-S. But this looks to be executed quite well, and definitely wins for convenience.

Ignore the naysayers. They're probably the same ones that kvetch about how boring smartphones have become and then when a company tries to innovate, they blast them for such a silly innovation. Mama always said life is like a. No, wait, wrong one. Mama always said, you can't please everybody.

My P&S and mirrorless ILC have been able to transfer photos to my phone over Wi-Fi in seconds for about 4-5 years now... IQ and versatility that blows any phone away, and after a 3s transfer all the convenience of sharing the photo directly from my phone too. If this module had something like a 1" sensor it might be more interesting, they'd probably have to lose the zoom to retain the form factor but I'd take the huge gains in IQ and low light performance over the sloppy unstable zoom. If people were really dying for zooms the low end P&S market wouldn't have been decimated by phones... Yet that market basically died, while the higher end thrived.

My Sony compact DSLR also has WIFI, however not as easy to share photos. I'm sure newer cams have better features.

Where is the convenience in carrying around an extra piece of equipment with you? Leave it attached all the time? Can you put the phone in your pocket with that attachment?

i was intrigued by this, and the snap on form factor is really intriguing. Yet progress in mobile camera sensor size is painfully slow. In 2012 we saw the use of a 1/1.2 sensor, 85.3mm2, and this uses a 1/2.3 sensor, 28.5mm2. Four years later. And with slow autofocus. I'll wait until they get it right. 2025 maybe?

There's no space for a bigger sensor without a complete re-thinking of the form factor, or an even more modular approach. Panasonic made a halfway decent (and already forgotten) phone with a 1" sensor, yet it had to be as much of a brick as an OG EVO (or two Moto Zs stacked) and it still had a retracting (but non zoom) lens. Physics aren't changing anytime soon...

The form factor of rectangular slab are kind of limiting, they have to put in a battery and other electronics somewhere. If they could put in a bigger sensor I'm sure they would. Until there is radical new battery tech that comes along where they could shrink that battery size down and still get a full days use. We are going to continue getting incremental camera improvements.

Lol...
Looks a lot like a real camera I have that I carry along with my 2 phones (just in case I want to take time and shoot great pictures) This is another geekster deal...not that it's a bad thing for the digital device junkie.

Such a beauty! Looks great:)

If, when, Bestbuy offers this for free with the phone (like they did with the speakers and projector) maybe I'll get the phone and this. From what I'm seeing though, this isn't really worth getting in and of itself. By not needing to provide any computer power, the hardware for this camera should have been better (ie, sensor) There's no reason, at all, that the sensor should be merely equal to any other phone sized sensor.
I was hoping that this would at least be equal, sensor wise, to my three year old point and shoot. How I usually roll is that my phone is my general purpose camera (as you always have it on you) but when I'm doing something with the family that I anticipate I'll want better pictures and video, I carry my camera (Canon S120). What I was hoping is that instead of carrying an extra camera, on those days I'd pop this camera mod onto my phone and I'd only be carrying one device. But as it is, it seems that the only -the only- reason to get this camera mod is for the zoom, and that gets a big "so what" when taking family photos.

This was the mod I was most excited about, but this preview is disappointing to the point I probably won't be getting the unlocked Z whenever it finally shows up. I can't believe it doesn't have its own battery power - one of the reasons I drag a separate point and shoot with me is because the battery lasts forever compared to using a smartphone, and I don't drain my phone by taking pictures all day long. If there's anything I want to post "immediately" I can transfer it from the camera to the phone via wi-fi, but that takes several minutes to connect and transfer, so I was really looking forward to an option like the True Zoom. I also thought it would come with a more standard sized sensor. This sounds about on-par with the 1st generation Galaxy Camera I had, which was full of promise but ultimately couldn't deliver what I was looking for.
Android Central Newsletter
Get instant access to breaking news, the hottest reviews, great deals and helpful tips
Thank you for signing up to Android Central. You will receive a verification email shortly.
There was a problem. Please refresh the page and try again.