Mophie Charge Force review: A better, smarter Galaxy S8 battery case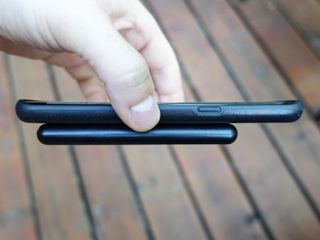 Battery cases are kind of a bummer. They promise the world, but in the end you get a fatter phone and an extra couple pieces of plastic you have to carry around with you when the battery dies. And despite the success of Mophie's own Juice Pack line of cases, the company thinks it has something better: Charge Force.
It's a line of cases that, starting with the Galaxy S8 and iPhone 7, offer an approximation of modularity — high-quality, leather phone covers that add (in the case of the iPhone) or reinforce (with the Galaxy S8) wireless charging, along with highly precise magnets that help align the pièce de resistance of the whole thing: a portable wireless battery pack.
The idea is simple yet compelling, especially with the Galaxy S8, for which the leather case acts only as protector and magnetic conduit — the iPhone 7 version, not having wireless charging built in, is much bulkier, and occupies the Lightning port — since the battery pack sticks to the case magnetically, charging wirelessly as the phone lies in a pocket or on a desk.
The case itself
The Charge Force case is surprisingly good. In fact, it's quickly become my favorite mid-level protection case in my repertoire. Made from strong, curved plastic — think a slightly less bulky version of the Otterbox Symmetry (opens in new tab) series — with a real leather overlay, it is comfortable to hold and extremely solid, holding the Galaxy S8 firmly in place.
Like all other Galaxy S8 cases, it makes finding and using the fingerprint sensor much easier, since there's a clear delineation between phone and perimeter. And, like any good case, it reinforces and improves the feeling of the buttons, which on the Galaxy S8 is an essential part of the experience.
The Powerstation mini
The Powerstation mini is the main event, since the Galaxy S8 already has wireless charging and doesn't need any help from the case. Instead, the case helps align the Powerstation, a 3,300mAh wirelessly charging battery, using magnets.
When you're running low on power, you bring the back of the Powerstation close to that of the Galaxy S8 and — wham! — they stick together in the perfect position every time. Hold down the unit's power button for a few moments and you'll soon hear an accompanying haptic vibration on the Galaxy S8 to indicate it is charging wirelessly.
Of course, charging sans wires means that it's going to do so a little more slowly than plugging into a battery pack, but this keeps the phone's bottom clear (and in turn doesn't add height to the phone, which all other battery cases do) and thanks to the magnets, it's fairly easy to use the Galaxy S8 while the Powerstation is connected.
There is only one problem with this whole thing: while the Powerstation is slowly juicing your phone, it's nearly impossible to hit the fingerprint sensor, since the, well, protrusion gets in the way. This is less Mophie's fault than Samsung's (though if the fingerprint sensor was positioned where it is on the Pixel or LG G6 it would be impossible to activate) but it's still a bit annoying.
The Powerstation charges using Micro-USB, which is unfortunate, but it's so portable and convenient in other ways I'm wont to forgive that small oversight. Doubly so because, given that Mophie is attempting to make an ecosystem out of Charge Force, all Powerstations are cross device-compatible, which means that the same wireless battery pack will work on an iPhone 7 as well as future cases.
There are also other, larger-capacity batteries in the Powerstation family, including a $100, 10,000mAh pack that offers an additional USB port for charging another device.
Should you buy it?
Honestly, if the case wasn't any good I'd say skip it, but the Charge Force is so well made that it's quickly been elevated to my favorite Galaxy S8 cover. That it facilitates a magnetic connection to a portable wireless charger seems silly at first, but there were so many instances in the week or so I relied on the system to keep my phone topped up that I came to appreciate it.
Yes, it's no different to carrying around a lone battery pack — indeed, this is one with only wireless charging — except for the odd time I needed to use my phone while it charged. Then I liked, and appreciated, the integrated nature of Charge Force.
Android Central Newsletter
Get instant access to breaking news, the hottest reviews, great deals and helpful tips
Daniel Bader was a former Android Central Editor-in-Chief and Executive Editor for iMore and Windows Central.
I have been looking at this and honestly the leather part of the case is what turns me off. Leather seems like such an old fashioned​, dated material to use as a mobile phone case. If it was more like an OtterBox Defender in form, material, grip and protection then I'd probably be all over this. Thank you for the review.

Leather? Real leather? Dead animal skin? 2017? What?

Lol I don't even care about the animals, I just think it looks like a terrible 80's/90's idea and it can't possibly be as protective or as good to feel in the hand as a more modern material.

Wow, really? Guess I'm outdated because I love the Frío and feel of leather on my phones.

So what about the S8+? Is this only for the S8?

They have one for the s8+. I just checked their website.

This is a pretty slick idea. If I had a friend with an S8, I'd probably get it for them.
1 hour 46 minutes to full from 48%: is that the same rate as with the factory wireless charging pad? I'm just curious how this compares to the regular setup in terms of speed.

Not sure, but I love the idea, just don't love the implement with a leather case.

Nice article, although I think you have a typo. "I wont to forgive that small oversight." I'm pretty sure you meant to type "want".

He meant wont, I'm is a contraction of I am, "I am wont" = I am accustomed to (in the habit of) forgive that small oversight. As in "we are wont to forgive your inaccurate grammar correction".
Android Central Newsletter
Get instant access to breaking news, the hottest reviews, great deals and helpful tips
Thank you for signing up to Android Central. You will receive a verification email shortly.
There was a problem. Please refresh the page and try again.