Today is your day to put the finishing touches on your smart home. You can save up to 40% off Meross smart home products including the famous Meross smart garage door opener, a 4-pack of smart plugs, outdoor plugs with weather resistance, and more! All of these items are being sold by Woot through Amazon, and that's expected because the last couple of times we've seen a big Meross sale it was through the Woot website in the first place. This just eliminates the middleman, gives you Prime delivery, and makes the savings super easy to see.
All smarts no dum
Grab the Meross smart garage door remote for less than $31 and control your garage door from your phone or with your voice. Other options on sale include 4 smart plugs for just $23, outdoor plugs that are weather resistant, light switches, and more!
Up to 40% off
The deal given is no longer valid and we do not have a better one. However, we have found some similar deals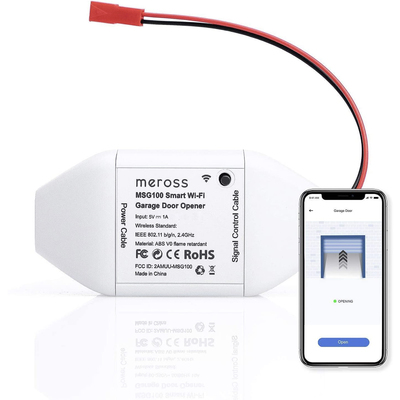 Combine the code with the $10 off on-page coupon for maximum savings. Adds remote and voice control easily to your existing garage door opener and doesn't require any extra hub. Easy to set up with included tools. Get notifications and reminders.
This garage door opener lets you control it using an app on your phone, or even with your voice and a compatible voice assistant like Amazon Alexa. Clip the coupon on its product page and use the following promo code to save $13 at checkout.
Let's start with the Meross smart garage door opener going for $30.55 in this sale. That price matches an all-time low for this device. It's also the first time we've seen it go this low on Amazon since December. The smart device started as an Indigogo crowdfunding campaign back in November 2018.
It adds remote and voice control easily to your existing garage door opener and doesn't require any extra hub or anything like that. It's compatible with both Amazon Alexa and Google Assistant, and you can use the Meross app to turn your phone into a garage door remote control. You can get notifications that let you know whether the door is opened or closed, overnight notifications that help remind you to close it, and more. It comes with strong adhesive that you use to install it, making the entire set up process quick and painless.
You can also get four smart plugs discounted to $23.19 from a street price of $29. These plugs let you convert dumb appliances like a coffee maker or holiday lighting into a smart device you can control with your phone or by using your voice when you connect the plugs to your smart home ecosystem.
If you need to do the same thing but outside, grab the Meross outdoor smart plug on sale for $17.99 from $22. This can also connect to your home Wi-Fi and your smart home. Plus, it's waterproof so it can sit outside and power up outdoor lighting and other things like that.
We may earn a commission for purchases using our links. Learn more.