Jelly Bean update for the Bell Galaxy S II now rolling out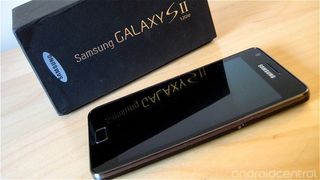 The Android 4.1.2 update is now pushing out for the Bell branded Samsung Galaxy S II (GT-I9100M). Users can either update via Kies, or wait for the OTA which is rolling out in phases to handsets as of today. The change log reads very nicely:
Improved performance from Project Butter
Full User Interface Revamp (Same UI as of the Galaxy S III and Galaxy Note II)
TouchWiz Nature UX
Samsung's S Cloud services
Improved Camera features
New Lockscreen With Many Customization Options
New Features like Direct Call, Smart Stay and Pop-up Play
New Widgets (From Galaxy S III)
2 Home screen modes
New Notification bar With More Notification Toggles
Google Now
It looks like the update should breathe some new life into one of 2011's most popular smart phones. Shout out in the comments if you've seen it or updated via Kies.
Source: SamMobile
Jerry is an amateur woodworker and struggling shade tree mechanic. There's nothing he can't take apart, but many things he can't reassemble. You'll find him writing and speaking his loud opinion on Android Central and occasionally on Twitter.
I'm curious to see if they'll add S beam to any of the Galaxy S2 phones that have NFC (unfortunately the Sprint version doesn't)capability. It's great for transferring large files.

Good point! @avlon It was a sad day, when my ICS update removed all remaining NFC functionality from my SGS2(i777). For NFC functionality, I do not care about Wallet, but S-beam is a killer app to me. Here's to hoping that JB will restore NFC on my device... Not a complaint, just agreeing that NFC needs to re-enabled. About my ongoing love for the SGS2(i777) :
For a 18 month old smartphone, I still have no real desire to replace my SGS2 (it's the SuperAMEOLED+ RGB-true screen that keeps me enamored). I demo'd an N4 last month for a work project, and even that wonderful device could not keep me from happily returning the sim card into my SGS2. -good times friends :)

I'm running a JB leak for the ATT GS2 Skyrocket, and it has S-Beam. Not the same phone, but I would imagine similar software.

Cool! Now let's see if AT&T and Samsung can get cracking on updating my mom and sister's GSIIs asap :)

As much as I love Samsung everything, that version of the Galaxy S2 looks just like an iPhone lol

I'd wait, it seems there are bugs with the update that need ironing out you may want to wait until they are sorted. I updated my Galaxy s2 (Bell Canada) this morning and since then my battery life decreased by at least 30% today..... also my micro sd card was working, but was getting error messages like "external SD was suddenly disconnected, preparing your sd card" now after a reboot it is no longer able to see that I have it plugged in. The card itself is a good one and has always worked flawlessly till this update. I have since removed the micro sd card and inserted it into my computer and all is well, everything is as it should be....but it will not be seen at all anymore by my s2 it is like the micro sd slot was removed from the phone??????

Have you done a hard reset on your phone? I've had issues with updates in the past, but after a hard reset it solved the problems I've had. Not saying that this may be your issue, just wondering.

My sister updated her s2 this morning and has been experiencing random shutdowns all day. She needs help

She should just save her important stuff (pictures, music, etc) Then wipe the whole thing and install from scratch.

I am facing the same problem. Since I update my phone to jelly bean I am suffering from forced restarts. I wiped the data with factory reset and installed other firmwares as well. I posted this question on most of the forums and now I have finally decided to go back to ICS or Ginger Bread because they were atleast stable.. [Disappointed]

It's interesting that a few years back Samsung was terrible about updating devices. Now the GSII is getting love a long time after it's release.

Hopefully they update the Sprint SII soon. I just switched from a Nexus S 4G. I live the speed of this phone but I miss Jelly Bean.

I updated my unlocked Bell S2 last night. Was a slow, long update and did it through Kies. The problem is, it relocked my phone to Bell and I'm on Rogers. I don't know if the phone was rooted or unlocked via unlock code before but when I previously updated to ics everthing worked fine. If I need a new unlock code (and that's fine if I do) can anyone recommend a good, fast and reputable site to get the code?

I too would like to find a fast and reputable site to get an unlock code. Bell wants $75 to unlock it! Crazy! I'm thinking more like $7!!!

I'm a Galaxy SII Skyrocket owner and just finished a chat with Samsung Tech Support, and this is what he had to say
Agent: I would like to inform you that the next firmware update for your device would be Jelly Bean. Jelly Bean update for your device is under optimization stage for your phone to ensure good interface with the phone user. Please keep checking link mentioned below to know if Jelly Bean is available for your phone:Agent: http://www.samsung.com/us/support/SupportOwnersFAQPopup.do?faq_id=FAQ000...

Still Not available for the S2 hd lte from bell, darn them
Android Central Newsletter
Get the best of Android Central in in your inbox, every day!
Thank you for signing up to Android Central. You will receive a verification email shortly.
There was a problem. Please refresh the page and try again.