It's a little hard to believe how good this $100 Vizio sound bar is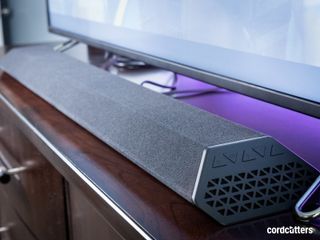 The Vizio SB362An-F6 sound bar. ($98 at Walmart (opens in new tab)
There's absolutely nothing wrong with being an audiophile. We should all want good audio. But we also know that the price of audio can increase exponentially as quality improves. And so there's also nothing wrong with just wanting some decent audio.
Sound bars are a great way to pipe audio out of your home entertainment system. And they can get pricey, too, as they add features and include better specs.
But they don't have to. Sometimes a basic sound bar is all you need. And the Vizio SB362An-F6 (opens in new tab) turns out to be an excellent sound bar for the price, hovering just under $100.
This is a no-frills sound bar. It's got an optical input, and a 3.5mm aux input, and that's it. No HDMI. No internet connectivity. And exactly zero hassle. It just works, and it sounds pretty darn good for $100. Certainly better than other sound bars we've used at that price point.
This one's definitely worth a look, whether you use Android TV, Apple TV, an Xbox or even an Amazon Fire TV. It'll be hard to beat it for the money.
Read the full review at CordCutters
See at Walmart (opens in new tab)
Android Central Newsletter
Get instant access to breaking news, the hottest reviews, great deals and helpful tips
I bought a Vizio Soundbar about 2 years ago and it stopped working after 13 months. It sounded great, but I certainly wouldn't recommend one of these to anyone.

That is a single use case though... it lasted just over a year, so that's better than most products generally in the world. And without having bought another, you don't really have anything to compare it to... That's like saying you went out and ate a chocolate chip cookie, but it was kinda hard and crunchy, and thus determined all chocolate chip cookies are hard and crunchy without giving another chocolate chip cookie a shot.

I agree. I rather let $100 item die in one year than a $500 one.

Any recommendations on a compact sound bar? Maybe 2ft long max.

I have a little bigger one than the NS-SB216 Insignia and it sounds good for the price. NS-SB216 is pretty small and has decent reviews.

I've heard some pretty good things about this bar... Would totally buy one and give it a shot, but kinda need that subwoofer... can't skip on that...

Bought one when i first saw it on sale at Walmart. Disappointed that it was doa out if the box. Would not work with Hisense tv on optical or 3.5mm. Did not work with 3.5mm to phone, but could get Bluetooth to work though and did have great sound. And that's been my relationship with Vizio for a long time. You never know what your going to get. Always great sound if it works. I have one of their first soundbars, still jamming on the gaming tv. Polk Audio sub attached. However, when mated to LG tv the optical codec wouldn't decode and so could only run rca. Cheaper Insignia works fine via optical. Again, you never know.
Android Central Newsletter
Get instant access to breaking news, the hottest reviews, great deals and helpful tips
Thank you for signing up to Android Central. You will receive a verification email shortly.
There was a problem. Please refresh the page and try again.