If you care about 3D 360 video, VUZE camera is probably what you want!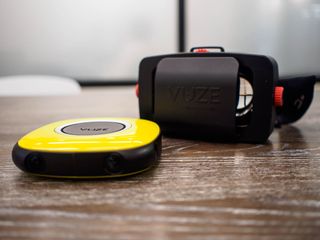 There's a lot of excitement surrounding Virtual reality right now, and one of the side effects of that explosive consumer force is a blending of technical terms. Nobody wants to need a new dictionary of terms to define products, so when companies start selling a 360-degree camera and then calling the recording VR video, there's no great urge to correct anyone. After all, with the YouTube app in Cardboard mode, isn't every 360-degree video basically a VR video?
The folks at VUZE say no. And while it may not matter in the eyes of the user their argument is compelling all the same. You see, rather than just capture a 360-degree video, VUZE uses a multi-camera array to create 3D 360-degree videos, and when you see the difference it really is significant.
In a world slowly filling with 360-degree cameras selling under the $500 mark, the $800 VUZE has to work hard to stand out. This definitely fits more in the prosumer category, but still doesn't break the bank.
This camera array, which is nearly three times the size of the LG CAM 360 but definitely more svelte than other multi-cam rings we've seen, finds differentiation in video quality and ease of use. VUZE captures a 4K panorama at 30 frames per second, and does so by using two cameras on each side of a square. Those four sides are stitched together through VUZE software on the phone or PC, and the end result is a video in either 2D or 3D. The 2D videos from VUZE look mostly like every other consumer 360-degree camera, with a slightly higher resolution that can't really be appreciated when seen on a phone display. The 3D capture, however, offers a great deal more.
When your phone slides into the included Homido VR headset, the 3D video works with the Google Cardboard-style lens setup to offer an impressive amount of depth to the video you're watching. That depth is noticeably different, though not quite high enough resolution or high enough frame rate to feel fully immersed. You still know you're watching a video, and are less inclined to try to reach out and touch the world you're seeing, but the application of depth offers a great deal more detail when looking all around the environment captured by VUZE.
VUZE isn't quite ready for consumers yet, in fact we were only able to spend time with an unfinished prototype, but the difference in video quality is an interesting topic. As Facebook and Twitter gain the ability to host these 2D 360-degree photos and videos cameras like VUZE will exist as options for creators who want to offer a little more to their audiences. The VUZE kit, which includes a small tripod mount and a Homido VR headset, is available for pre-order now with shipping expected in October.
Russell is a Contributing Editor at Android Central. He's a former server admin who has been using Android since the HTC G1, and quite literally wrote the book on Android tablets. You can usually find him chasing the next tech trend, much to the pain of his wallet. Find him on Facebook and Twitter
What options are there for sharing the 3D video content, hosting on different social networks and hosting directly on a website (without an iframe)? Posted via the Android Central App

I have the Gear VR and if you've ever watched a 3D 360 video, you won't mistake it for the LG 360 cam or any other 360 video. Watching it in 3D is amazing! It's just like being there.

Hmm pretty darn impressive!
Android Central Newsletter
Get the best of Android Central in in your inbox, every day!
Thank you for signing up to Android Central. You will receive a verification email shortly.
There was a problem. Please refresh the page and try again.