Ice Cream Sandwich update rolling out to Orange San Diego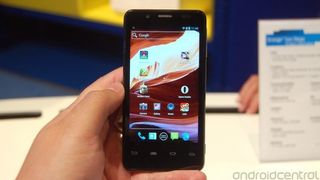 The Orange San Diego launching in the UK was a big deal. As the first Intel powered Android device to launch in Europe, it set the ball rolling for the chip manufacturing giant in their latest mobile endeavor. One major criticism of the San Diego at launch was the OS. While very smooth and snappy, Gingerbread is still Gingerbread, and it's just starting to feel dated. Thankfully, Intel is now catching up, and we've seen Ice Cream Sandwich on the new Motorola RAZR i, the ZTE Grand X IN, and, at IFA 2012 in Berlin, we saw the San Diego itself running Android 4.0.
On a stand at a trade show is one thing, but what really matters is getting it out there into the wild. Word has reached us today that the ICS update for the San Diego is now beginning to push out. This is great news, and as we found out during our brief hands on, ICS on this device is every bit as smooth and snappy as we would hope it to be.
Have you received your update yet? Hit us up in the comments below and let us know how you're finding it.
Thanks Paul H!
-1 This device is great and fast. My S2 is slower than this device. Just S3 or OneX are faster in usage. Its main concern was GB but with ICS and JB in few weeks, there's no reason to dislike it. Its price at launch (300€) was very good and it's a way better than a ACE, ACE2 or mini S3. On the modacco project, you can find root and rom to remove Orange craps. Intel is not yet ready to take the lead but in few months...

Intel rolled out ICS update for Xolo X900 earlier this month. Now the phone is better than ever. You don't need a benchmark to prove this device's performance. Just try it for yourself if you get one. And unlike Orange San Diego, Xolo X900 is pure ICS with out any crappy apps. FYI, Xolo X900 is Indian version of Orange San Diego.

I'm excited about Hyper-Threading!

I have to say that I love this phone. Performance and features are second to none for the £13.50 per month that I'm paying. I upgraded to ICS last week and so far I have only found improvements. It's speedy and snappy to use, the apps work a treat.... BBC iPlayer now works and I'm happily using Chrome. Best of all is the new camera interface - the previous one was awful but now it's pretty slick. The photo quality also seems better and zooming and spot-focusing is much simpler.

Hello I'm still waiting to upgrade to Ics and frustrated because can't find place to upgrade my San Diego..can't load sky go app out TV players.could you please tell me where you found site to upgrade fed up of waiting now..
Many thanks rod.
Android Central Newsletter
Get the best of Android Central in in your inbox, every day!
Thank you for signing up to Android Central. You will receive a verification email shortly.
There was a problem. Please refresh the page and try again.