HTC Sensation 4G 'performance and stability' update rolling out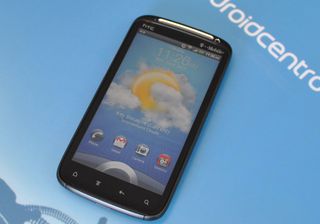 T-Mobile is pushing out a new software update for its HTC Sensation 4G, bringing the device up to version 1.50.531.31. The new version, which is still based on Android 2.3.4 and Sense 3.0, brings a host of welcome improvements and fixes to Sensation 4G owners. T-Mo's describing it as a "performance and stability" update --
New Features:
Software stability
Improved battery life
Improvements:
Improvements to Trace dictionary
Screen unresponsiveness resolved
Device taking screen shots resolved
Lock screen shifted up resolved
Icon pixilation resolved
Improved Wi-Fi connection
Green lines on photo resolved
The new software will start rolling out between now and Jan. 15 -- to grab it, head to Menu > Settings > About Phone > HTC software updates and tap "Check".
Source: T-Mobile (opens in new tab), Thanks, mdemars!
Alex was with Android Central for over a decade, producing written and video content for the site, and served as global Executive Editor from 2016 to 2022.
i hope the same happens for the EVO 3D...

+1 I always have issues w/ my screen being unresponsive. Sometimes you can't click on anything, sometimes you can't scroll down app drawer, sometimes someone calls in and i can't unlock the screen, sometimes i can't pull down the notification bar, i have to try about 15x's to pull down before it works. really annoying.

OMG I need this update! My gallery is FULL of screenshots right now. I want this.

Mine is updating as we speak, can't wait...

Just downloaded....installed....now rebooting!!

I just downloaded and installed the update. My phone rebooted to a yellow exclamation point in a white triangle with a blue android. I don't think that's what's supposed to happen. :/

Same thing happened to me as well. Frustrating, please fix it HTC.

I was able to pull the battery and it booted fine (albeit without the update applied). My phone is rooted, so that might be the problem. wylangross: Is your phone rooted?

Mine isnt rooted, running the stock rom. I was able to recover by pulling the battery as well but i would love to have a fix for the screenshots issue.

Seeing the same issue on my wife's Sensation, it's rooted running the stock rom, figured it had something to do with root.

Notification bar is brighter after the update (strange, I know). Overall performance seems ever-so-slightly smoother. Any other observations?

In the past week, my phone has been rebooting 10+ times a day. I have not installed any new software, did purchase a new Anker battery (not sure how that would affect it). I have installed this patch, been about an hour, so far so good. I also use Good messaging (not my choice) normally at reboot the first log in will require a force quit and restart the application. this time it started the way it's suppose to. Will respond again after if burns in a bit

Just received mine and I will say all is working AOK. I sent my Sensation back due to lousy wifi and just received my replacement yesterday. I was going to root it but saw the update. I might keep it stock for a little while, the update seemed to fix all the phones problems for me. My update went perfect. Now I just want the new Nexus from Verizon, must have the 32 memory and the LTE. I have the Thunderbolt S-Off, rooted and flashed the KillaSense 3.5 Rom. Have the unlimited data and must have the new Nexus now. I am what you would call a complete phone ass.

Seems snappier, overall smoother! Hopefully the battery will be better too. Plus I finally got the new Market! Thanks Tmo/HTC!!!

Glads to see HTC & T-Mobile bringing this update but i think most of us Sensation 4G owners are rooted by now so im good anyways:)

Saw an IMMEDIATE change. I may start to like my Sensation again. No more screenshot mess and my phone actually locks without the screen lighting up 10 times before it goes into sleep mode. I have not rooted my phone yet (not as simple, come to find out, with a Mac). Now I want to try new things.

any info on the black screen with the blue android and exclamation mark? mine is rooted but stock rom. so far i see rooted and unrooted users having this issue. any info would be nice

Has anybody with a rooted Sensation and the stock rom had this work?

I have the same issue. My phone is root with the stock rom and have the triangle with the exclamation bar. My wife's is not rooted and the update went well. Any ideas how to get the update with a rooted phone?

Just updated, Google music reverted to previous version without the thumbs up/down feature. -1

In fact, the music ap is just generally borked with the update. It wont play a bunch of my music. Stuff I was listenning to prior to updating. Proceed with caution. I.am not rooted, BTW.

YES!!! The only issue I've really been having is the screenshot problem...downloading the update right now!
Android Central Newsletter
Get the best of Android Central in in your inbox, every day!
Thank you for signing up to Android Central. You will receive a verification email shortly.
There was a problem. Please refresh the page and try again.