How's the Droid Charge EE4 update treating you?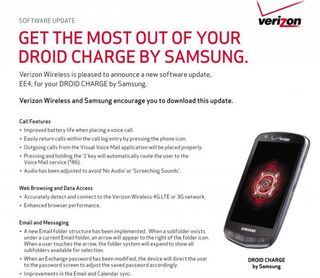 So you bit the OTA bait and downloaded the EE4 update for your Samsung Droid Charge released late last week. You were promised a slew of bug fixes and overall improvements, but let's get real: is your Charge better off post-update? Owners are commiserating in the forums, citing issues such as slower LTE speeds, data connection issues, and app incompatibility, just to name a few. Every rose has its thorns, am I right? So what have everyone else's experiences been like-- happy with the update or having issues of your own? Sound off below on the good, the bad, and the downright ugly.
More: Droid Charge Forums
Android Central Newsletter
Get instant access to breaking news, the hottest reviews, great deals and helpful tips
We need a 4g lock option like the Thundebolt. I live in a 4g fringe area that is constantly switching back and forth between 4g and 3g.

It's in there. Settings > Wireless & network > Mobile Networks > System selection And here's a shortcut from the market so you don't have to traverse the menu each time: http://market.android.com/details?id=com.geoffreybuttercrumbs.lteswitch

trk6640 is incorrect. The option states 'LTE automatic'. That does not mean LTE only.

Honestly. ..I haven't noticed any improvements at all!...i mean at the same time i haven't noticed any of these negative issues as well so i guess that's good...i just hope that there is a simple root available soon for this update so i can debloat this phone and if possible tweak the processor over clock it to somewhere in the 1.3 range safely then add a simple gingerbread Rom and i will be so happy. ..I would pay for this right now if i could.

Battery drain seems to be a lot better. Overall its been fine. Would love to see what Gingerbread will do for this phone. LTE speeds haven't dropped for me. And I haven't had any problems with the apps either. So knock on wood so far so good.
And I was one of the people getting random reboots and my phone was locking up once a day before.

I have not seen any difference in my phone since the update. Which i guess is a good thing since I really didnt have any issues before. I do however use ADW Launcher EX as my default "home setting" and I dont know if that is why I havent really seen any changes. All in all this phone has been a great buy so far.

Mine seems to be one of the ones working much better after the update. I was loosing 3G all the time prior to the update but now I can maintain a constant 3G connection (not in 4G at the moment). Battery life seems a little better too and no more lag in the browser and some of the games I have. Only negative I have found is that some of the apps that I have dont show up in the Marketplace anymore, but thats not a deal breaker for me like it is for some.

Mine seems to be fine, if only marginally better on the battery now. I was having issues with data, but switched on data roaming and has been much better in that area. Still think that Gingerbread will bring more stability than this. Right now it's on par with any Moto I have owned. Love this phone. Just wish it were a Nexus.

I have actually noticed a huge improvement in my 3g connection. Like the previous post I two was loosing 3g connection and loosing data connection all together for a period of time. I have noticed no problems now with 3g which is a sigh of relief. I was very unhappy with the phone until this update now I am a happy droid charge owner. Excellent update for me.

3g/4g switching is very fast, plus no more dropping down to 1x. GPS locks on in about 15 seconds, even in my house. Before the update I couldn't get a lock indoors, and even outdoors it could take 90 seconds or more. The battery life is much improved for me, no problem making it through the work day, with enough left for phone calls on the way home. Browser is much faster, though I still use dolphin. This update brought this phone back up to par to my droid x in most respects, so I'm happy. I don't think I can ever go back to an lcd screen after this phone, the colors are so amazing! If samsung keeps the updates coming and the phones unlocked, I won't be going back to moto. Lovin me some gummy peanut butter jelly!

My LTE is working just fine.
Las Vegas, near the Stratosphere.

No new problems. My only problems is Youtube not working properly. Black screen video with functioning audio. Wish there was a fix.

Go to your youtube app and clear data and clear cache.

Doesn't work. Tried it multiple times when the problem occurs.

I can't believe that no one mentioned what is perhaps the biggest improvement in the update to me: the browser. I used to be at my witts end with the pre update behavior of the browser. It handled flash elements very poorly. Now it is light years better. It very carried over the improvements into third party browsers. I am completely happy with my Charge now over my old Thunderbolt.

OLD ThunderBolt?? Good heavens!!!

I live in an non 4G area (Southern NJ) and always had the 4G radio turned off. 3G handling was so bad that my data connection was basically useless. I could always txt or call but if I needed to use any data services I was SOL 85% of the time. Terrible. Meanwhile my girlfriend, sitting right next to me, could do anything on her trusty DINC 1. Now to be fair I had the same trouble with the Thunderbolt so I'm sure the problem has to do with the way the new 4G phones either handle 3G the way the 3G network interfaces with the new 4G phones. Either way I had to give up and picked up a DINC 2. Seriously, I had lots of issues with both phones other than data connectivity like battery life, reboots, force close of common apps, etc but the killer was the data. The way these phones function (or don't) is totally unacceptable. Shame to because I was really excited about both of them. I'll be waiting for a Sammy Galaxy S II, and praying they don't throw a 4G radio in it.

Battery life has been light years better for me! I can't tell you how happy I have been since this update. I was seriously considering purchasing either a back-up battery or the extended battery, but now there is no need! I easily make it through the day and, really, a day and half without the need to charge would be doable if I ever needed it. The Droid Charge is hands down the best phone I've ever owned (recently converted Blackberry Bold user - good phone in it's own right).

I did notice a browsing difference. Wasn't paying much attention to it, but will now.

Yep, seems to be much smoother. Nice. Running a Dolphin Browser on Go Launcher and I'm all happy. I too jumped on a Tbolt when it first came out, in fear of loosing my data plan, but sent it back and waited until the Rev came out to make a choice between the three of them. So far pretty dang happy with my Charge, especially on battery. All that talk about TW UI lag and cartoonish icons, update it to Go Launcher and enjoy.

this update crashed my phone and i am stuck with this brick that can only call and text i cant use any features because they all force close Verizon said that they were not trained to handle this problem i have not rooted or put any type of rom on this device what would make happy is a bionic release date and price because i refused and still refusing to turn to apple
Android Central Newsletter
Get instant access to breaking news, the hottest reviews, great deals and helpful tips
Thank you for signing up to Android Central. You will receive a verification email shortly.
There was a problem. Please refresh the page and try again.