How to find lost Pixel Buds Pro earbuds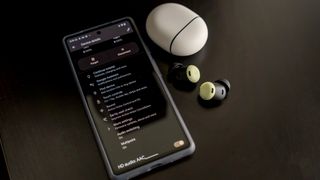 (Image credit: Ted Kritsonis / Android Central)
The whole idea of having wireless earbuds is that you either keep them in your ears or safely tucked away in their charging case. That's no different with the Google Pixel Buds Pro, so what do you do when one or both go missing?
Google moved to address this in a couple of ways, and you may not even realize those methods were already set up for you from the time you first paired them with your phone.
How to locate both — or just one — of the Pixel Buds Pro earbuds
The Pixel Buds Pro use Google's Fast Pair to first connect and pair with Android devices running 6.0 or later, so tracking abilities are already baked into the firmware. That means you can track either both earbuds together, or one earbud, in particular.
1. Open Bluetooth under Settings.
2. If you're using a non-Pixel Android phone, open the Pixel Buds app.
3. Tap Find Device.
4. You will see the option to either Ring Left or Ring Right. Tap both and an audible ringing tone will sound from them to help you listen and track them.
5. If you're only missing one of the earbuds, tap Mute Left or Mute Right to isolate the one you're missing, so only that one makes the sound.
6. Be careful not to wear the earbuds when doing this because the tone increases in volume for 20 seconds, reaching unsafe decibel levels.
7. Once you've found the earbud(s), you can silence the ringing by either muting the found earbud on your phone or just placing it in the charging case and closing the lid.
How to check location and track them down
A Fast Pair connection also enables Google's Find My Device app to help locate the earbuds with their case in case you misplaced them somewhere. It's not precise, mind you, so it won't be able to triangulate an exact position, but it can approximate a location so you can at least trace your steps going back. Here's how to do it.
1. Open Bluetooth under Settings. On non-Pixel phones, open up the Pixel Buds app.
2. Tap Find Device.
3. Tap Last known location, which should either prompt you to download Find My Device or launch it straightaway. You may also need to log in to your Google account.
4. When you see a list of your devices, tap Google Pixel Buds Pro and Google Maps will then appear to show the last known location.
5. Keep in mind that when the earbuds are in the case with the lid closed, there's no way to make them ring.
6. If you don't have a phone handy, you can also use the Find My Device website to track down the earbuds.
Keep the Pixel Buds Pro close
The Pixel Buds Pro aren't any more or less easier to lose than the other best wireless earbuds, so you do want to be careful when handling them, always being mindful of where you place them. These tracking features, while cool and helpful, aren't miraculous, so best not to get complacent and rely on them because there are no guarantees they will find them for you.
But at least you have a couple of options in case you do misplace them, especially if it's just one of the two earbuds. Keep these best practices handy as backups to save yourself some of the frustration in retracing your steps.
Google's best Buds
Google's Pixel Buds Pro bring a lot of good stuff to the table, courtesy of better sound and more custom controls, but if you ever find yourself in a pinch misplacing them, you have a couple of ways to track them down.
Get the Android Central Newsletter
Instant access to breaking news, the hottest reviews, great deals and helpful tips.
Contributor, Audio Reviewer
Ted Kritsonis loves taking photos when the opportunity arises, be it on a camera or smartphone. Beyond sports and world history, you can find him tinkering with gadgets or enjoying a cigar. Often times, that will be with a pair of headphones or earbuds playing tunes. When he's not testing something, he's working on the next episode of his podcast, Tednologic.
I would argue that loosing the case was more annoying as not only can't you track it but outside the US Google don't sell spares

Reply