How to enable captions on the Amazon Echo Show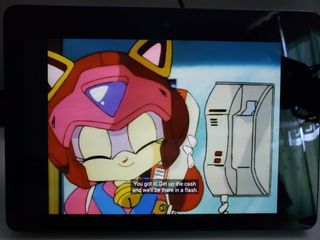 The Amazon Echo Show is a powerhouse in the smart home assistant space. Music, home automation, movies and television, it does it all. However, some users might be hearing-impaired and can't enjoy the Echo Show in all of the ways that hearing-capable individuals can. There is an option for movie and television viewing on the Echo Show that will let everyone enjoy in the same way -- closed captioning. We'll teach you how to set that up for that hearing-impaired Echo Show enthusiast in your life.
Products used in this guide
How to turn on captions on the Echo Show:
Tap anywhere on the Echo Show's screen.
Tap the speech bubble upper right corner of the screen.
Tap Subtitles.
Tap English [CC].
Tap the back arrow on the upper left corner of the Echo Show's screen.
Tap the back arrow to continue watching your show with closed captioning.
Once set up, everyone will be able to read what's being said by the characters on screen in shows that support closed captioning. Note that these instructions work on both generations of Amazon Echo Show.
An Echo with a screen
The premier Amazon Echo device
The Amazon Echo Show provides functionality well beyond the scope of the other Echo devices. Virtually endless recipe indexing, video playback, Live TV and sports via Hulu, video calling via Skype, it seemingly never ends with this device.
With the Amazon Echo Show, you are no longer limited to just voice options. The Echo Show becomes like a true assistant and fixture in your home. To-do lists, calendars, weather updates, security hub, live TV, in-the-kitchen assistance, the possibilities are near endless with Amazon's premier Echo digital assistant.
Get the Android Central Newsletter
Instant access to breaking news, the hottest reviews, great deals and helpful tips.
Clinton Bowman is an Amazon Product Expert at Android Central. He mainly focuses on the Amazon technological ecosystem as it pertains to Echo, Alexa and Amazon Fire devices. When not writing and talking about technology, you can find him playing video games on the Nintendo Switch, Xbox One and PC, as well as watching and talking about anime, NBA basketball and pro wrestling. He's also an avid mobile phone and PC building enthusiast.