How to send a voice message with Amazon Alexa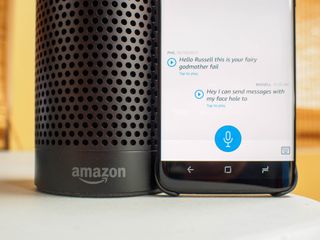 Messaging with Alexa is one of those features you either don't know how you managed without or you're completely uninterested in. For those falling into the former category, there are a few quick tricks for getting the most out of this new Alexa-based messaging system. Here's what you need to know!
How Alexa Voice Messaging works
It's a fairly simple setup, and voice commands make it even easier to figure out. If you have something with Alexa onboard, and you know someone else with anything also running Alexa, you can send voice messages to each other. This can be done through the Alexa app on your phone, or entirely with your voice on an Amazon Echo or some other Alexa-based tech.
The only real restriction here is both sides of the conversation need to have Alexa and be in your contacts list. If you share Alexa with someone and their name is the primary on the account, you will need the Alexa app on your phone to show up in everyone's contact list. Editing that contact list means editing your actual phone contact list, so nicknames will show up as primary names in the app.
When you have a message waiting to be heard, you will be notified in two ways. If you have an Amazon Echo, a green ring around your notification light will let you know a message is waiting. On your phone, the Alexa app will prompt you with an incoming message notification. Both options will allow you to hear the message and reply, but the app will allow you to read the message without audio.
How to send Voice Messages with the Alexa app
From any point in the Alexa app, the Conversations icon is available in the bottom navigation. From here you can see messages that have been sent to you and send new messages. To send a voice message:
Tap the New Message icon in the top left of the Conversations page
Select the person you want to send a message to from your contacts list
Press and hold the Microphone icon
Start speaking your message
Release the Microphone button when you are finished speaking
Wait for the voice-to-text transcription to finish, confirming the message has been sent.
How to send Voice Messages with an Amazon Echo
If you're trying to send a message without touching your phone, the obvious answer is to call out to Alexa and have your Echo transcribe the message and send it for you.
Say "Alexa, send a message" in range of your Echo
When prompted, tell your Echo who the message is being sent to
When prompted, speak your message
Wait for Alexa to confirm the message was sent
Get the Android Central Newsletter
Instant access to breaking news, the hottest reviews, great deals and helpful tips.