How to make a video highlight reel on the new Moto X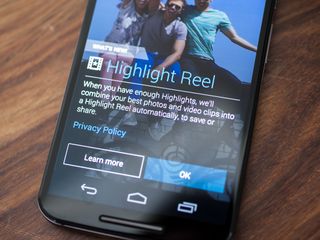 The Moto X can turn your pictures and video into a little something special
Video highlights aren't exactly new to smartphones — HTC has made a big deal out of them, and Samsung has dabbled in the past as well. And now Motorola has added the feature to the new Moto X, and with it you can take your still photos and videos and have them automatically compiled into a cool little montage, completely with soundtrack, that you can share with your friends.
Here's how it works.
For those who prefer written instructions, it's pretty easy.
Shoot a bunch of photos and video.
Open your gallery app. In the slide-out drawer on the left, choose "Highlights."
Tap the grouping you want to work with.
Now just pick and choose the images and videos you want to be included in the highlight.
Choose how long you want the highlight to be, and choose which soundtrack you want.
Now save your highlight, and share at will!
Motorola's done a nice job of keeping things simple here. You'll find more bells and whistles in HTC's implementation — post-processing effects and the ability to use your own music (and HTC's included soundtracks are just cooler), but Motorola's Highlights are easier to use.
Just remember to have fun, and share early and often.
Will they add this to the original X? Please?

Use Google+ it's the same thing.

Best Android phone of the year again, love Moto and it's new philosophy of keeping software simple. Hope the Korean companies learn something from them. And at the same time hope Moto learns how to make money from these companies.

Nice... but where is the full review of the MOTO X???

This looks nice, but I still prefer the Google Stories tool. Being able to flip back and forward with ease is far better than having a single video compilation.

Is this the same as the Auto Awesome movies on G+? What's the difference?

My thoughts, too. What's the difference?

Review today? Posted via Android Central App

Want to know how to change the song on an existing highlight reel

How to share HIGH/FULL Quality Highlight reel!!
When i share in whats app : it gives a google photos link which streams very bad/ugly quality video/reel when some body clicks/views that! Not a pleasant experience :( :(
Android Central Newsletter
Get the best of Android Central in in your inbox, every day!
Thank you for signing up to Android Central. You will receive a verification email shortly.
There was a problem. Please refresh the page and try again.