How to download music on Fitbit Versa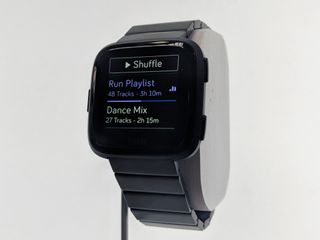 The Fitbit Versa is Fitbit's most successful stab at the smartwatch market to date, and one of its highlight features is the ability to download and listen to music on it without the need for your phone.
Just like the Ionic before it, you can download over 300 songs on the Versa and listen to them with your favorite pair of Bluetooth headphones. You currently have three different ways to go about this, and this is how to get started with each one.
Deezer
Deezer (opens in new tab) is the latest music service to launch on Fitbit Versa/Ionic, and it's already become my preferred way for storing tunes on my wrist. You'll need an active subscription to Deezer Premium+ which costs $9.99/month, but Fitbit users can take advantage of a free 90-day trial if you're new to Deezer.
From the Versa page in the Fitbit app, tap on the Media tile
Under Services, select Deezer
Go to fitbit.com/deezer

(opens in new tab)

and enter the activation code found in the Deezer app on your Versa
Log in or register for a new Deezer account
From the Deezer section in the Fitbit app, tap the new Add Music button
Select the playlist you want to add
Although the setup process may seem a little clunky, Deezer's my favorite option for storing music on the Versa, as it gives you the most control over choosing which songs you'd like to listen to. You can download the pre-made playlists from Fitbit, your Flow station that's made up of songs based on your listening habits, or any playlists you've liked or made in the Deezer mobile app.
In other words, if you've already got a perfectly-constructed playlist of your favorite workout songs, you can download it without a problem.
Pandora
Just like Deezer, listening to Pandora (opens in new tab) on your Versa requires a paid subscription. You'll need Pandora Premium in this case, and just like Deezer, you'll need to pay $9.99/month for it. Pandora's 30-day trial for new members isn't as generous as Deezer's 90-day one, but it's still something.
From the Versa page in the Fitbit app, tap on the Media tile
Under Services, select Pandora
You can tap on Log In to Pandora if you have an account, but new users will want to choose Start Free Trial
Enter your Pandora credentials, tap Log In, and you're good to go
Although the setup process for Pandora is much simpler, its actual functionality isn't nearly as useful.
Once you're logged in, you have two options for storing music – automatically syncing your "top Pandora stations," or choosing up to three of Pandora's most popular Workout stations.
Here's my issue with this – syncing your top stations doesn't guarantee you'll get music that you want to work out to, and there's no way to customize the pre-made stations you can choose from. It's a very locked-down setup, and it's one I'm personally not a fan of.
Local music
If you don't want to bother with streaming services and already have a library of local files, you can also transfer those directly to the Versa.
From the Versa page in the Fitbit app, tap on the Media tile
Under Services, select Personal Music
Per the instructions on the screen, go to fitbit.com/setup

(opens in new tab)

on your computer
Download the Fitbit Connect app that's available for Mac and Windows
After downloading Fitbit Connect and installing it on your computer:
Click the Manage My Music tile
Go the to Music app on your Versa, open it, and tap Transfer Music
After your Versa has established a connection to your computer, you can choose which playlist to transfer
To choose which folders Fitbit Connect pulls your music from, tap the Settings icon in the top right, choose Advanced Settings, click the + icon, and select the folder you want
In my experience, the process for transferring local music is the least enjoyable of the three methods. The Fitbit Connect app often fails to see the Versa, and even when it does, it's not uncommon for it to drop the connection altogether.
It's nice that the option for this is here, but if you can, I'd strongly advise going with Pandora or Deezer instead.
Get the Android Central Newsletter
Instant access to breaking news, the hottest reviews, great deals and helpful tips.
Joe Maring was a Senior Editor for Android Central between 2017 and 2021. You can reach him on Twitter at @JoeMaring1.
They really need to add play music support... Shouldn't have to change from my preferred service to another just to be able to play music from my watch. Very annoying

When they add Spotify. I'll jump ship and join Fitbit. I like their tech, I just can't get pass the music issue.

Music is just too fiddly, I haven't bothered copying any. Either make a cifs server or do something, it is a mess. Need spoitify desperately.

Right. I don't care about storing music on the watch, just controlling playback on my phone. I've read the Versa does that very badly

Add Play Music and/or Spotify and I'll gladly jump ship.