Fitbit Versa and Android: Top 10 things you need to know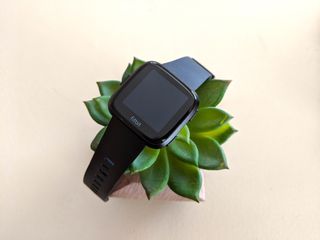 I'm a big fan of 2017's Fitbit Ionic, but as it turns out, a lot of people aren't. Not pleased at all with the Ionic's sales performance, Fitbit went back to the drawing board to create something that'd appeal to a larger audience. Five months later, we have the Fitbit Versa.
Where the Ionic is a smartwatch that's really meant for sports and fitness enthusiasts, the Versa is supposed to be Fitbit's truly mass appeal option. There's a lot the Versa has going for it, and if you've been thinking about picking one up for yourself, these are the top 10 things you need to know before doing so.
See at Fitbit (opens in new tab)
June 4, 2018 — Fitbit's shipped more than 1 million Versa units since Apil 16
About a month and a half since the Versa officially launched, Fitbit's issued a press release announcing that it's already shipped more than a million units. One million shipped Versas doesn't mean Fitbit's actually sold that many, but considering it's also the best-selling smartwatch on Amazon right now, there's reason to believe it's doing a lot better than the Ionic.
Fitbit also shed some light on the reception to its new female health tracking features. According to the company:
Over 2.4 million users have added/enabled female health tracking on the Fitbit app
1.8 million users have logged at least one period
500,000+ users have added two or more retrospective periods
Almost 700,000 users have logged at least one symptom
On the development side of things, Fitbit says that over 18,000 people are now a part of the Fitbit developer community and have created more than 900 apps/clock faces for the Versa and Ionic.
It's incredibly small and lightweight
The Fitbit Versa looks like the love-child of a Pebble Time and Apple Watch, and that honestly works towards its benefit. The watch feels great on my wrist, and when Fitbit says it's the "lightest metal smartwatch you can buy in the U.S. today", it's not joking around. The Versa practically disappears once you strap it on, and this makes wearing it for hours on end a joy.
Practicality isn't the only thing the Versa gets right, however. Not only does the Versa feel good, it also looks good. Fitbit went with a squircle design for Versa's body, and it's available in Black, Graphite, Silver, and Rose Gold colors with a variety of different bands.
Versa looks right at home when worn at the gym with a sports band, but throwing on something leather or metal dresses it up nicely for a night out on the town. This flexibility with its design is really what wins me over, and it's something I think Fitbit knocked out of the park.
Proprietary bands
Speaking of watch bands, it's worth mentioning that Fitbit decided to go with proprietary ones. The watch bands here are different than the Ionic's, and you can swap them out by moving a small metal nub that's on each one. They're not as easy to take on and off compared to the Ionic's bands, but they often feel more secure thanks to the new mechanism.
Fitbit sells a number of bands in different colors and materials (opens in new tab) directly on its website, but you can also find a good selection of third-party ones on Amazon (opens in new tab) that cost considerably less.
Battery life is great
Battery life on the Fitbit Ionic is easily one of its best features, and despite the smaller size of the Versa, Fitbit's touting that it can still get 4+ days of use on a single charge.
With the first review unit of the Versa I received, I was only seeing around 1-2 days of use before being forced to place it back on the charger. After contacting Fitbit and getting it swapped out for a fresh model, I was pleased to see that my shorter endurance was nothing more than a fluke.
The Versa that I have now consistently sees 4 days of continuous use before needing to sit on the charger, and if used sparingly, it's possible to even pull 5 days out of it.
There's no GPS
Although the Versa has most of the same features that the Ionic does, one thing you won't find is built-in GPS. As such, if you want to go for a run/walk and see a path of where you go, you'll need to bring your phone with you.
I personally prefer to have GPS on my smartwatches, but that's also because I'm a huge running nut. This likely won't be a huge deal for most people, and anyone that needs built-in GPS that badly likely won't blink an eye before picking up the Ionic.
NFC is only available with the Special Edition
Fitbit introduced Fitbit Pay with the Ionic last October, and this allows you to use the watch to pay for things at grocery stores, vending machines, and other places that accept NFC as a form of payment. Fitbit Pay makes a return to the Versa, but only for certain models.
In the U.S., only the Special Edition Versa comes with NFC to support Fitbit Pay. The Special Edition also comes with an exclusive fabric band in two color options, and this will set you back $30 more compared to the standard variant. However, if you live in Asia or Europe, NFC/Fitbit Pay will be available on all models.
The Versa is an excellent fitness-tracker
This should go without saying, but the Fitbit Versa is a superb fitness-tracker. It can do basic things like track your steps, calories burned, distance, stairs, and active minutes, but the Versa also goes far beyond that. Wearing the watch to bed will track how long you sleep and the quality of your rest, and Fitbit's PurePulse heart-rate tracking keeps tabs on how fast or slow your heart is pumping 24/7.
The Exercise app can record a variety of workouts, such as Run, Walk, Treadmill, Weights, and more, and you can even use Versa to log your swims thanks to 50M water-resistance. If you want to take things a step further, there's also the Fitbit Coach app.
Fitbit Coach offers guided workout routines directly on Versa's screen, and there are three included out of the box. If you decide to pay $39.99/year for Fitbit Coach, however, you'll get up to six that often change based on your performance and fitness level.
Fitbit OS 2.0 is polished and fast
Fitbit OS powers the Versa, and this is the same operating system that shipped with the Ionic. Fitbit has since updated the platform to v2.0, and it offers a lot of welcome improvements.
The Fitbit Today app now shows more information than ever, including your three most recent workouts, a 7-day graph for your primary goal (such as steps, calories, etc.), and your resting heart-rate for the past week. Apps open faster, animations are considerably smoother, and you can now use Deezer to store music right on the Versa (in addition to Pandora and any local music you already own).
Quick Replies are available for Android
This May, Fitbit added Quick Replies to the Versa and Ionic, allowing you to reply to texts, WhatsApp messages, and more right from your wrist. There are five pre-loaded responses that you can send, and you can even customize what these say in the Fitbit app (up to 60 characters per response).
Better yet, Fitbit kicked things up a notch by improving the way notifications are handled by syncing them between your phone and watch. In other words, clearing notifications from your Versa will also clear them from your phone. It's a subtle improvement, but one that makes managing your notifications much easier.
Quick Replies are currently an Android-only feature, meaning that they won't work if you pair the Versa with an iPhone or (shudder) Windows Phone.
Quick Replies make the Fitbit Versa a much better smartwatch
Pricing starts at just $199
If you're interested in buying the Versa, it'll cost you $199.95 for the standard version and $229.95 for the Special Edition. The standard option comes in Black, Rose Gold, and Silver colors for the body, each being accompanied by a matching silicon band.
The Special Edition offers a woven fabric band in addition to the regular silicon one, and it's available with a Graphite and Rose Gold body.
You can buy it right now!
If you want to buy the Fitbit Versa for yourself, you can pick it up at Fitbit's website or at "major retailers worldwide.'
As mentioned above, the regular model costs $199.95 and the Special Edition will set you back slightly more at $229.95.
See at Fitbit (opens in new tab)
Updated 5/22/18 – Updated with availability of Quick Replies.
Android Central Newsletter
Get instant access to breaking news, the hottest reviews, great deals and helpful tips
Joe Maring was a Senior Editor for Android Central between 2017 and 2021. You can reach him on Twitter at @JoeMaring1.
It actually looks like Sony Ericsson's LiveView from years ago, if not worse.

Will it control music on your phone (if not using Pandora or Deezer)?

I don't think I'll ever get all the pieces I want in one device that hits just right. This is effectively the type of smart watch I'm looking for the missing GPS issue aside. What I would like to have is the ability to use Google Fit and access to Android Pay (now know as Google Pay). But since Fitbit is hell bent on building their own OS these things are out. I can guarantee you that my credit union isn't ever going to support the Fitbit payment platform. It took them ages to support Apple Pay and even longer to add Android Pay support.

i feel like there's no hype for this watch and that's such a shame, it seems like the only watch out there that does everything I want for a decent price (besides maybe samsung's watches). I'm still gonna wait for it to go on sale before I get it cause i'm cheap, but I'm excited to see reviews!

Really wish you could just reply to messages however you wanted instead of 5 preset 60 character long messages. Might look at something else because of that.. Other than that this looks like a great smartwatch

I have a question if you use whatsapp. If you hace more than 1 message in a conversation, does it shows all the messages or only the last one? My Gear S2 only shows the last message and is annoying...

Add GPS and the price point would be perfect.

I loved my Fitbit but after getting a Gear S3 it's hard to back unless they offer an always on display display and better brightness. Answering texts beyond quick replies would be nice too.

I resorted to wearing a smart watch on one wrist and a fitbit on the other. Best of both worlds, and twice a dorky.

I really want this watch! Sure hope they add Facebook Messenger quick replies and Google Play music support.

Which versions will have Fitbit Pay in Canada?

What do you think about Gear Sport vs Versa? What would you recommend?

Versa looks good. I like the form, wish it had on board GPS. I owned the Ionic for about a month before it died on me. I haven't seen much mention of a major shortcoming -- and that's Fitbit OS itself. I was unpleasantly surprised to find that you can't get full functionality with the Versa or the Ionic unless Fitbit "fully supports" your mobile device and a lot of the best devices are MIA. So HTC 10, HTC U11, Samsung S8, S9, Google Pixel 2 and Pixel 2 XL and even the iPad 10.5 are NOT supported, although these devices have been out for quite some time. And Fitbit has adopted a glacial pace when it comes to adding new device compatibility for Android devices. So syncing, connectivity, as well as notifications are hobbled for owners of these devices until Fitbit gets around to adding compatibility. Syncing will be an exercise in frustration. So no need to worry about getting any notifications, let alone responding to them.

What? Been using a Charge 2 and then an Ionic with my HTC10 for a year now... Also with my Asus tablet. My wife has been using her first with a Google phone (I forget which one) and then with a S7 Edge. Everything works perfect, unlike an Asus watch I had bought which only worked with Samsung devices (and possibly some others, but always unrooted ones). What problems are you having?

I have the versa and there is a major problem. If you have your phone on silent, it will not allow notifications on the phone. This happened in a software update about 4 days ago with my ionic and the same on the versa. I spent over an hour with Fitbit today and there isn't a fit. I love the watch but this is a killer for me. My phone is on silent all day at work.

This is good to know. That reason and the proprietary bands make this a no go. Fail.

I have had Pebbles and Pebble 2 since they were a thing. I've tried 3 android wear watches, but the battery life was a joke, 6 to 8 hours?!, and I even looked at the apple watch (gag). I bought the Versa thinking it was going to take the parts of the pebble I loved and apply them...nope. Pebble still beats them all in my opinion and here are the things I love about it:
1. Long battery life, not 3 days, but a week with a charge in about 15-20 minutes
2. Ambient, always on display. I don't have to flip my wrist like I'm having a seizure to see the watch, just if I want the backlight on, and with the pebble, it's a small wrist flip, with the versa, I couldn't get it to come on most of the time, even while my phone was ringing and the thing is buzzing.
3. visible in direct sunlight. Beach, boat or anywhere, I can see my pebble. On its brightest setting, the versa is still unreadable on the boat without shading it with my hand. That's just stupid. Its a watch for athletes, who go outside, and need to see it. Oh but it's pretty bright screen...who cares if you can't read it?
4. Programmable buttons. If Fitbit needs help doing this, I have a 9 year old nephew who can do it.
5. Sleep monitoring. ok, this was just a total fail on the versa. My pebble is so good at this, it will catch me in a nap at my desk. (it's ok, I'm the boss). So my question for Fitbit, didn't you buy Pebble? Oh boy, woowee, it counts my steps, who freaking cares if it won't show you the time without giving yourself tennis elbow, flipping your wrist just to turn it on. From a business person's point of view, lets break this down.
A. Who needs to stay in better communication with their world through their phone - Everyone
B. Who is willing to pay for that better communication to come to their watch - A lot of people
C. Who needs to be in better shape - Everyone
D. Who is willing to pay for a watch that counts their steps and swim strokes, but does everything else badly? - Fewer people than B. Stop being fitness snobs and make the best smartwatch, oh wait, too late, Pebble already did. Perhaps, since you guys bought them, you might just make us a new pebble.

Pebble was way better. I didn't even have a problem syncing to a blackberry 10 device. It needed a 3rd party app, but it worked like a charm. Versa won't even sync with my LG V30. For some strange reason, they support the V10 and the G2. Does anyone even have one of those anymore?

Terrible at calorie tracking though. Was getting 2x as many calories burned during my week with it. Went back to my Blaze.

There is one point that no one talks about : compatibility problem with some phones ! For example the versa will not synch with any Huawei (and honor) phones ! I wanted to buy one but after taking a look in the Fitbit forum I changed my mind ...
Android Central Newsletter
Get instant access to breaking news, the hottest reviews, great deals and helpful tips
Thank you for signing up to Android Central. You will receive a verification email shortly.
There was a problem. Please refresh the page and try again.