How to control your TV with Amazon Echo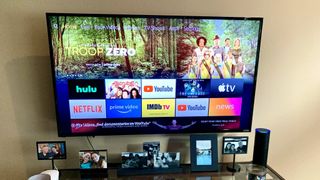 (Image credit: Jeramy Johnson / Android Central)
If you have an Alexa device, then you've probably wondered how to control your TV with your Amazon Echo speaker. As nice as it would be for every television to include a simple local network access function, most TVs still rely on good old-fashioned Infrared (IR) to receive commands. This isn't the best news for someone looking to convert their living room into Smart Home 2.0, but there are some tools available that make this a little easier to deal with than you'd think. If you have a newer, smart TV, you may be able to enable an Alexa Skill to help control your device. In contrast, if your TV is a bit older or doesn't support any Alexa Skills, there may be some hardware workarounds available. We'll show you three tricks we've found to give you power over your TV with an Amazon Echo.
Products used in this guide
How to control your smart TV through Alexa Skills
This solution works best with newer TVs that are enabled with smart functionality.
If you have a smart TV, check to see if it has an Alexa Skill. For this example, I chose to highlight the Vizio SmartCast Alexa Skill, as I have a Vizio smart TV (plus, it's super easy to set up!).
Open your Amazon Alexa app on your smartphone.
Tap on the menu icon (three horizontal lines in the top left corner).
Tap on Skills & Games.
Search for Vizio SmartCast.
Select the red icon that appears.
Enable the Vizio SmartCast Skill.
Log into Vizio from the Alexa app.
Now that your Vizio smart TV is connected to your Amazon Alexa-enabled device, you can ask Alexa things like "Alexa, turn on Living Room TV," "Alexa, turn down the volume by 5," or even "Alexa, switch input to HDMI 1 on Living Room TV." While skills like these won't completely eliminate the need for a remote for all of your viewing functions, they do serve as a convenient tool to help you enjoy your TV hands-free.
How to control your TV with the Logitech Harmony Hub
This solution works well on older or newer TVs.
Logitech's Harmony line has been the best option for universal remotes for a long time. However, recently the company moved from baking all of those smarts into a better remote control to building a hub that controls way more than just the TV.
On its own, the Harmony Hub can give you the ability to control just about anything connected to your Wi-Fi network, as well as anything you can control with IR in a single app. You can even build little scripts inside of Harmony, so a single button press turns on the TV, sets the input you want to be on, and can even be activated on a schedule. It's an impressive setup, made all the more impressive when you add an Amazon Echo.
Starting your smart living room conversion is fairly easy. Set up your Harmony Hub anywhere that lets you mount the IR sensor pointed right at the television. It doesn't have to be close, but if you want to set Harmony up with your entertainment center, you can. After it's set up and connected to your network, you can add Harmony to Alexa just like any other skill.
Open your Amazon Alexa app on your smartphone.
Tap on the menu icon (three horizontal lines in the bottom left corner).
Tap on Skills & Games.
Search for Harmony.
Select the blue icon that appears.
Enable the Harmony Skill.
Log in to Harmony from the Alexa app.
Once Alexa is connected to Harmony, you have the ability to turn the TV on and off automatically. Just about everything else requires a little bit of extra work. Harmony is aware of what channels are available with your provider, but you can't just ask for a specific channel out of the box unless your TV is connected directly to cable. If you use an HD cable box that connects via HDMI or something like a TiVo, you have to create actions in Harmony under the Smart TV settings.
Volume control is also available through Alexa through multiple command types. You can simply ask for the volume to be turned up, or you can specify an increase or decrease by specific increments between 1 and 20. Alexa currently does not have the ability to switch inputs through Harmony without actions, but an IFTTT trigger can be set up to allow this. Harmony and Alexa are being better integrated all the time with updates, but right out of the box, this is a great way to control your television TV with your voice.
How to control your TV with the Amazon Fire TV Blaster
This solution is best for those with older TVs that may not have smart functionality.
The Amazon Fire TV Blaster is an infrared (IR) controller that helps your Amazon Echo talk with your non-smart TVs and media devices. It doesn't have Alexa or any microphones or speakers built-in, so you'll need to have an Amazon Echo or Alexa speaker to operate it.
Note that the Blaster should be no more than one or two feet away from the TV and Echo, and the LED should be facing where you usually sit.
Download the latest version of the Fire TV app for your mobile device.
Select New Devices in the app.
Select Fire TV Blaster and follow the app's on-screen instructions to calibrate the device with the Fire TV app.
The Fire TV app will walk you through how to set up your devices.
Once you are all set up with your TV, Echo, Fire TV Blaster, and any other devices that you've paired with the Blaster, you can now ask Alexa questions or give commands like "Alexa, turn on the TV," "Alexa, volume up on receiver," and even "Alexa, tune to ESPN on cable/satellite." It's a pretty cool and inexpensive way to add some smarts to your older setup!
Our top equipment picks
We're going to assume that you're happy with your current TV and Echo setup, but if you have an older TV that might not have smart functionality, we recommend you consider one of the following devices.
Universal remote
A remote to control them all
This device allows you to combine up to eight remotes and even more apps through one app on your smartphone. Not only can you control your TV through an Amazon Echo, but you can also set up various scenes thanks to its integration with other devices and services.
Aside from consolidating all of those annoying remotes, apps, and devices, another great thing about the Logitech Harmony Hub is that it can work hidden away in a media cabinet, so you don't have to have yet another gadget on display for the whole world to see.
Make TV time a blast
A semi-smart way to connect a semi-smart TV
By itself, the Fire TV Blaster isn't much, but when paired with your TV, an Amazon Echo, and other compatible devices, it makes your media setup instantly smarter.
Don't waste money upgrading a perfectly good TV just to get some simple smart functionality, when for the cost of a family dinner at a fast dining establishment, you can control your TV through your voice with Alexa and your existing Echo speaker.
Additional Equipment
If you already have a fully-functional smart TV and you just want to use your Echo and Alexa to control it, be sure to look for the manufacturer's Alexa Skill in the Amazon Alexa app.
Vizio SmartCast Skill (Free at Amazon)
Simply download and enable this skill to control your Vizio smart TV through your Echo with Alexa.
Harmony Skill (Free at Amazon)
This skill will let you control your TV through Alexa and the Harmony Hub.
Sign up for Black Friday email alerts!
Get the hottest deals available in your inbox plus news, reviews, opinion, analysis and more from the Android Central team.