Honeycomb 3.1 update for Google I/O edition Galaxy Tab 10.1 now live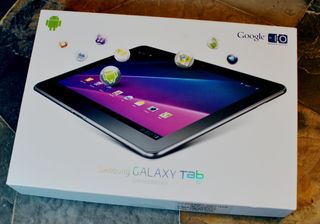 The 3.1 Honeycomb update for the Google I/O edition of the Samsung Galaxy Tab 10.1 is now live and ready to download. If you're one of the lucky 5,000 who has one of these, you can grab it now from your settings.
Open the settings menu, and choose About tablet > Software update
Select Check for update
Choose United Kingdom
Sign in or create a Samsung account. The same account I use for my TV and Blu-Ray player worked just fine
Read the terms, and sign in
You should be prompted that a Firmware update is required, and given the choice to download it
If you've rooted and installed a custom recovery, you might want to hold off. Jury is still out, but we're looking into all the options. I imagine we'll see a pre-rooted version flashable via Clockwork shortly.
Update: The update method for rooted + users who are having issues is here. Big thanks to CrazyCoder for the stock boot and recovery links.
Source: Android Central forums
Senior Editor — Google Ecosystem
Jerry is an amateur woodworker and struggling shade tree mechanic. There's nothing he can't take apart, but many things he can't reassemble. You'll find him writing and speaking his loud opinion on Android Central and occasionally on Twitter.
Oh hell yes. 3.1 is not a huge upgrade but some of the polish will be nice.

Yay! Been waiting for this.

Thanks Android Central and the community for the news! Just finished downloading and now installing! :)

Any of you guys having trouble with the update? I registered the device with Samsung, downloaded the update, and it asks to reboot then it hung for like 15 minutes, reboot and says it failed and to try to use Kies.

Yes, also having update issues. I'm tempted to restore tablet to factor settings and try again. The problems with Kies are:
(1) it sucks
(2) windows only (maybe mac now?)
(3) 32-windows only (a lot of people don't have this)
(4) it sucks hard Seriously. A free tablet is great and all. But the quality of the software on it is atrocious and this isn't helping.

They have a Mac version but it is a beta build - not something I'd want to use for a firmware update. Unfortunately my windows box is 64 bit so kinda SOL there too lol.

Ok it worked this time. Figured out what NOT to do - had it plugged into the wall charger during the update since I was only at 40% battery. Turns out being plugged into the charger was preventing the update from applying. Once I did the whole process without being connected it went smooth. Just be patient because when it applies the update it sticks on 99% for a few minutes.

It took awhile but it updated fine. All i can say is it is fast lots of nice little things. I was stock also

Anyone tried this with the 10.1v ? Am keen to know if it is compatible.

Is it me or is Samsung copying the look and feel of the iPad? Come on...differentiate yourself.

My bad...I meant copying the packaging of the Tab. Looks very similar to the iPad packaging. All white with a picture of the product. The only diff. here is they're adding Android Andy.

This won't work for the 10.1v If all you did is flash that allidoiswin zip, this will work. If you flashed a rooted boot image and fixed the double su bug, a fix is in the works to get the OTA. If you removed any stock system apps, you will need to put them back. EDIT: http://forum.androidcentral.com/showthread.php?p=986135#post986135

Mine downloads the update to 100% then waits 15 seconds and says "no update avalible" I have been trying this for 2 hours the same thing every time. Even factory reset it and still the same.

Finally! Installing now. 3.0 was painful to use. I hope 3.1 is a big step forward in terms of bugs and crashes.

I got the firmware update message and clicked ok/install. Now all I get is two dialog boxes in quick succession, "Connecting to server" then "Connection failed". Is anyone else getting this?

I'm seeing the exact same thing...

Same here... Anyone with this problem tried factory resetting yet? Thinking i'll try that next.

I finally got it to update. Marketplace does not offer movie rentals.

Does the existing root work on 3.1 as well?

All the stock honeycomb wallpaper are gone also.

Does this give you access to Movies in the Market app? Xoom WiFi still doesn't have that...

i made sure: /system/apps has everything
reflashed boot
reflashed recovery
wiped from the device itself and using fastboot and still it fails i'm really not sure what else to do what's more i notice that during the update the device vibrates as if it were crashing and it doesn't restart but powers off yay sumsung, once again you brought out a complete and utter failure of an update for one of your products (certainly there is no shortage of other updates failing for almost all your phones) once again the what is pretty nice hardware is completely compromised by the utterly incompetent mentally defective software engineers

Hi I live in Cape Town, South Africa. I bought the Galaxy 10.1. It reports that it is running Android version 3.0.1 When I try to upgrade to 3.1 using the instructions above, the first thing I notice is that there is no "Software update" tag under "About tablet", only a "System updates" tag. When I hit that, I get "Your system is currently up to date" and "last checked for update at 5:13am." No offer to choose United Kingdom. Any ideas? Thanks Neil

I harvey, I have this problem too. Based in Johannesburg. Have you been able to solve?
Android Central Newsletter
Thank you for signing up to Android Central. You will receive a verification email shortly.
There was a problem. Please refresh the page and try again.