Here are the 12 finalists from Motorola's Moto Mods developer contest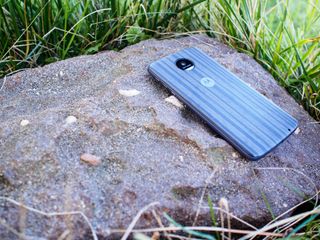 Motorola kicked off the "Transform the Smartphone Challenge" last November, in which the company turned to third-party developers to come up with innovative ideas for future Moto Mods. After receiving over 700 submissions from 55 countries and 30 states, Motorola has picked out 12 finalists, with the shortlisted submissions now raising money on Indiegogo to bring their projects to life. Each finalist received a Moto Mods Development Kit as well as a Moto Z handset, and their concepts are now ready to be crowdsourced.
The final selections include a solar battery mod, an add-on that brings RGB lighting to the phone along with wireless charging, a digital recorder add-on, and even one that can be used as a universal controller for your smart home devices. Here's the full list of shortlisted mods:
Some of the ideas for the Moto Mods are certainly interesting, and Motorola has said that it will pick ten grand winners next month based on originality of the concept, commercial viability, and "overall use of the Moto Z modular platform and crowdfunding success."
The grand prize winners will get to visit Motorola's offices in Chicago and pitch their mods to the company's executive development team, while receiving mentoring and guidance. They also stand to secure an investment from Lenovo Capital — which set up a $1 million fund to spur new Moto Mod development — to bring their product to market.
Android Central Newsletter
Get instant access to breaking news, the hottest reviews, great deals and helpful tips
Harish Jonnalagadda is a Senior Editor overseeing Asia at Android Central. He leads the site's coverage of Chinese phone brands, contributing to reviews, features, and buying guides. He also writes about storage servers, audio products, and the semiconductor industry. Contact him on Twitter at @chunkynerd.
I was hoping there would be an article about this sooner or later... thanks! I backed the Edge Mod! Looking forward to cool colored notifications on my Z Force!

wow really this is it? i fear mods will die if this is the best. I mean how about a digital tv tuner with a digital fm tuner and earphone jack. Or how about a windows mod you could plug in and use windows leveno has a stick comp that would fit, it must be hard to make something becase i wouldnt buy any of theses.

Right? The Edge is the only original and sensible looking one out of that bunch. The other ones are all massive and of dubious use. The tape recorder one is probably the most ridiculous....let's triple the thickness of the phone only to provide functionality that's built into Android.

ya its weird 50 bucks tho for led.....I kinda like it but I guess will have to see what lenovo brings to mwc. I mean if i had a 3d printer id print a back out, take my old zune or and old ipod rip it apart and try to soilder the power to work off the phone keep screen on the back it would be better then that didgital recorder. I know you couldnt try to sell that but you might as well make some kinda plug and play dyi cases that would allow you to do that yourself...seems more intresting. I ll have to look at buying the mod kit. I prolly got an old gameboy laying around and mod that thing to the phone lol.

digital recorder ≠ tape recorder alternatively, your challenge is to find a "4GB" tape.

If I have the Moto Z, I would consider the wireless charging Mod, I also would yearn for a slide-out landscape keyboard too (however, I agree that may not be popular with most users)

And I don't even use the edge thing on my S7 edge. The only useful mod is the solar power one and that's it.

You also have a colored led that flashes on your S7 edge phone, whenever a notification comes in... Moto Z's don't have a notification led, you have to hover your hand over your screen or turn the phone on to see the notification. The Edge gives back the functionality that some of us long time Note fans grew accustomed to...

I would get the Edge and the Mico, that's it.

No slide out keyboard or gamepad. Very sad. Will back the edge!

I like the wireless charging/IR blaster mod in something only minimally thicker than a style shell. I have wireless charging in my battery mod however the battery mod is unnecessary for daily use on a Z Play. I can appreciate the notifier mod but I have a Pebble. At this point I will migrate to Android wear in @ 2 years when mine lose functionality.

I wonder how effective the Z Sterilizer is. He shows the UV light turning on and moving it over a spoon, but I'd like to see a before and after analysis of the contaminants. I would anticipate that the exposure time would have to be more than just one swipe to really get it clean...

I was hoping for a high quality DAC/Amp, that's all I really want, so I can dump my mp3 player

I'd only go for the wireless charging/IR blaster mod for the IR blaster and because the fact that it's so thin. The Pico solar charging one looks cool as well. All the other ones though are either too big or are just pointless (voice recorder mod, I'm looking at you).

The voice recorder mod adds a headphone jack, something many potential Moto Z buyers have clamored for.

Why would anyone want their phone to act like a walkie talkie? Seems pointless.

It adds FRS, GMRS, and the 70 cm band, in addition to non-US frequencies. Useful during power outages, while out in the boonies, and more.

I like my Tumi battery mod that already has wireless charging (also has a nice indentation to protect my camera lens) but I'd love to have that IR blaster to use with one of the TV-B-Gone clone apps available in the Google Play Store to kill the incessant newsmuppet chatter when I go out to eat!

Was hoping for a high end dac with headphone out. Maybe I need to develop my own.

Crowdfunding? D*mn you, Lenovo!

IMO, the mod boat has come and gone in 2016. The Moto Z and Z Play are nice phones without the mods. Anything past the speaker and extended battery just seem to be too much of a hassle...Remember the Hassleblad camera mod? I recall seeing that heavily discounted a number of occasions just to get people to buy the phone. It was an interesting concept that came to fruition last year, but I don't think MODS are anything more than a fad. For me, 2017 is the year of virtual assistant integration and software improvement. Whichever manufacturer does it best will probably earn my business.

No, 2016 was the year of virtual assistant integration and software improvement. If only you'd been awake...

That voice recorder mod can't possibly be bulky.

The solar mod might be handy , a fold out tv mod ?
Here's an idea , how about just expanding on somethings already on mobile that is pretty mediocre and under utilized, I'm thinking video calls ?
Here's another , how about a mod designed solely to a decent keyboard ........ now to me a really nice fold out clip on lit up keyboard .
Every phone i have ever had ,even the best functioning ones where still fairly meh , to this day despite all the keyboards available on the play store , the experience could be a lot better imo.
Android Central Newsletter
Get instant access to breaking news, the hottest reviews, great deals and helpful tips
Thank you for signing up to Android Central. You will receive a verification email shortly.
There was a problem. Please refresh the page and try again.