The Google Pixel Watch is not the magic bullet Wear OS has been waiting for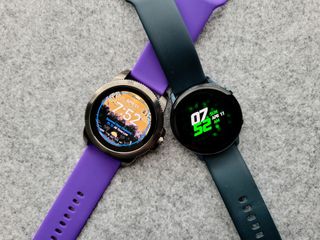 (Image credit: Ara Wagoner / Android Central)
I am currently wearing a Fossil Gen 5E on my wrist, and while it's just okay, I'm longing for my Galaxy Watch Active. In fact, I'd be wearing the Watch Active right now, even though it's two years older than the Fossil Gen 5e, but my dad's Fitbit broke, so I'm letting him test drive it before we buy him something new.
Wear OS has the best notifications on your wrist, but that alone can't help save it from the sluggishness of opening apps and updating Tiles. Wear OS needs major optimization and streamlining to help it just work better, and I'm firmly convinced Google will not do it alone. We know that OnePlus tried to make Wear OS work for the OnePlus Watch, but that eventually failed and OnePlus had to go it alone.
Considering that the Google Hardware division is essentially cursed when it comes to its software — major bugs have impacted almost every Pixel generation as well as the eight-month-old Chromecast with Google TV — I'm not sure why we think Wear OS's systemic issues are going to magically be fixed by the recently leaked Pixel Watch.
If anyone's going to help Google finally get its shit together around Wear OS, it's not going to be Google itself; it's going to be a partner like Samsung.
Yes, I know that the Google Pixel's software is seen by many as the "true" version of Android, but Samsung's One UI is the more polished and put-together version of Android that manufacturers are emulating. From OnePlus's OxygenOS 11 and now even Google itself pulling some of One UI's ideas into Android 12, there's no denying that Samsung knows how to design a user-facing experience that is geared towards what users need and expect.
Samsung also led the way on foldables, working with Google to improve app compatibility and help shape the way Android handles folding phones. And let's not forget tablets, where Samsung quite literally runs the table of best Android tablets and where its Dex desktop-like mode is leaps and bounds ahead of competitors like the Lenovo P11 Pro.
Samsung went to Tizen after the Samsung Gear Live, one of the first Android Wear watches but far from the last disappointing Android watch. Back in 2014, I could understand ditching Android Wear because it needed a lot of work and Samsung needed a system that could deliver a worthwhile experience right now. It also allowed Samsung to show off Tizen as a functioning platform.
Well, times have changed, and Samsung has hit a wall with its watches. See, Samsung's figured out how to get battery life where they want it, Samsung Health is better than Google Fit — not quite as good as Fitbit, but a step up from Google Fit — and Samsung has absolutely nailed smartwatch design. So what exactly is the problem? App support.
See, there may be a small assortment of apps you can download for a Galaxy Watch, but that number more than triples if you go looking for Wear OS apps on Google Play. Even more important, there are no Google services on a Galaxy Watch. You're stuck with Bixby over Google Assistant for voice searches and dictated messages. There's no integration for services like Google Pay, Google Keep, or Google Maps, and since it's not moderated through Google Play but rather the Galaxy Apps, that makes a Galaxy Watch a pain to use on any non-Samsung phone — like the Pixel 3a XL my dad is test-driving my Galaxy Watch Active on.
Swapping back to Wear OS could solve Samsung's app support issues, and Samsung has enough engineers and determination to actually succeed in taming Wear OS's performance issues where OnePlus failed. Google would bring some of the best Android smartwatch back into the Wear OS fold, and the fixes and optimizations Samsung brings to Wear OS could improve performance on any number of current or future Wear OS watches, something we desperately need if Wear OS is going to do more than stagnate into obscurity.
It's still asking a lot for these two companies to bury their wearable hatchets and come together, but given the months of leaks that has hinted heavily at this, I don't think I'm wrong to dream of it. A Galaxy Watch Active running Wear OS could be the best Wear OS watch ever because when Samsung and Google can put their differences aside and work together, they can move mountains.
Considering the shellacking both Tizen and Wear OS get from each new generation of the Apple Watch, it's about time for these two titans to team up and deliver a true competitor. Google can finally bring us the Pixel Watch we've been begging them to make for years — and maybe it'll be a pretty good watch — but Wear OS is still far too broken to produce a truly great watch.
For that, I'm waiting for August and the next Galaxy Watch Active.
Get the Android Central Newsletter
Instant access to breaking news, the hottest reviews, great deals and helpful tips.
Ara Wagoner was a staff writer at Android Central. She themes phones and pokes YouTube Music with a stick. When she's not writing about cases, Chromebooks, or customization, she's wandering around Walt Disney World. If you see her without headphones, RUN. You can follow her on Twitter at @arawagco.
Just like everything, Samsung makes the things that Google copies and puts into their android version.

I am sorry but you have to be clueless not to know that Samsung copies Apple at an alarming rate. Seriously get your head out of the sand.

Apple is routinely YEARS behind any Android innovation. Heck you Apple fan boys JUST got OLED recently.

delusional much? Apple is WAY ahead of android at this point. Google throws crapola at the wall to see what sticks. I have an S21 and iPhone 12 and trust me, iPhone is the CLEAR winner in ever category.

Apple doesn't innovate, it never ever has... In the early days they got the software right, it was more user friendly than competitors but that software largely stayed the same for years... My S20 Note Ultra was light years ahead of comparable Apple products at the time of release... They have only just gotten app drawers and default app selection... Show me an Apple folding phone... They have only just gotten 5G and still have 60hz screens... 🤣

I always love to see someone who doesn't understand how a contribution based open source software project works!

Will never purchase another Samsung product because of how they treat US customers. Absolutely ridiculous that you can't unlock the bootloaders of Samsung phones you own.

"Samsung leads the way on tablets and foldables. Why not on Wear OS, too?" You should know why. Android is Open Source, Wear OS is not. Samsung won't be able to tinker with it and is I expect why Samsung dumped Wear OS when it was still called Android Wear.

I don't think that's going to be the case, Samsung get special treatment. And Google probably know it's worth it to get a wear OS device that isn't a joke.

Maybe but it's still closed software they'd have to offer to everyone. More to the point OneUI integrates with Tizen because Samsung control both. You can't use Google Messages with Galaxy Watches you need Samsung Messages. All the integration relies on the control Samsung has built around Tizen. I don't see Samsung releasing a Wear OS watch personally.

It's closed because Google say it's closed. They wouldn't have to open it up to everyone if they allowed Samsung to do what they like with it. Likewise, if Samsung were given free access to the code they could integrate with one UI just as much as with Tizen.

After owning a Fitbit and Samsung watch and switching to a Apple Watch it's no wonder Apple owns half the market in wearables.

"that makes a Galaxy Watch a pain to use on any non-Samsung phone — like the Pixel 3a XL my dad is test-driving my Galaxy Watch Active on." This is simply wrong. You access the Galaxy App store from inside the Galaxy Wearables app. I did it for a while when I wasn't using a Samsung phone. All you really lose is Samsung Messages.

I didn't say you couldn't do it. I said it made it a pain. I tried to find a watchface for my dad, but searching in the Galaxy Apps that came up though the Galaxy Wearable app was difficult and trying to search for apps on desktop and send them to watch the way I can with Google Play.

A Pixel watch would complete me.

Android Central has had YEARS to find writers capable of more than just CLICKBAIT articles, so why do we think it's going to magically happen now.

And yet here you still are...clicking away and commenting...

Yeah we do like to leave feedback when we take a break from people. Hating on wear os might feel like it could create some results, but it's something that shouldn't be scrapped because it has so much potential. Nobody speaks to the potential side of it. Feels like a smear campaign funded by competitors, not balanced.

This is not the same Android Central. It's bad now.

Yeah, what happened to Android Central... I am deleting the app, Android Police is so much more informative. I don't know why there is so much hate on Android Wear, I don't have any issues with it.

Android Wear hasn't even been a thing for 3 years lol.

I really really hope Samsung doesn't switch to wear OS.
Yes, there might be missing some apps on Tizen. But think about it, all watches until GW3 has had only 4gb storage. There hasn't been enough available space for the users to explore apps. And Samsung has covered most of the needs pretty well

i use a Mi band 2 for notification since i hate sound notification from my S9+. Mi band vibrates, i quickly glance at it as to what app it's coming from, so i can decide whether to take a look at my S9 or not. 30 bucks, month long battery, heart rate / sleep monitor turned off, strictly notification, works for me

Its repeated articles like this that continue to compound the problem. I have a Ticwatch Pro 3 on the SD4100 platform and sluggish it isnt. Stop using rehashed watches from Fossil as a current comparison for the state of Wear OS. Its not accurate.
The next Samsung watch will probably come out with and SD4100 and the press will declare Samsung fixed Wear OS....

Uhh.. is the point of the article to say that Google needs a proven partner to make watches with, when they just bought Fitbit, presumably to do so? Is this then saying that fitbit was a bad choice, speaking in favor of samsung instead? Or am I missing something?

Ara, what's the name of that watchface?

this stuff is exactly why iPhone and apple watch win every time. google throws garbage at the wall, see's what sticks, then they cancel it a year later. They halfass everything they do, and it shows in their OS on phones and watches and everything else they touch. They never commit and you are left with trash in the end

Very happy with my Galaxy Watch, Note 20 Ultra combination... If Samsung can retain some of the best features (build quality, rotating bezel), and bring their apps across like Samsung Health, pay etc then they will hopefully be onto a winner... Will miss the Samsung wearable app integration though... Like having my watch and earbud control in one place...

Can someone please tell me what this "Shellacking" Apple Watch's OS give Samsung Tizen watch OS? I know it' a cut and paste, lazy blogging, to just say Apple Watch Good Everything Else Bad but please give us examples of how Apple get's it right where Samsung get's it wrong.
I've seem pleanty head to head OS features and I fail t see this "shellacking" you speak of Please enlighten us. and also let's not go reaching and starting "Apps" especially obscure apps nobody uses or manke any sense on a smart watch.