Google's software woes are holding the Chromecast with Google TV back from greatness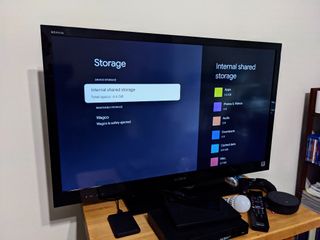 (Image credit: Ara Wagoner / Android Central)
I have been using the Chromecast with Google TV since October. I love so much about this product: it's a good size, the new UI has grown on me after my initial misgivings, and the remote is absolutely perfect in my hand. In fact, if I hadn't run out of internal storage two weeks ago, I'd say the Chromecast with Google TV was the perfect streaming experience for me, but that'd sound like a lie to the majority of Google TV users who have seen spotty compatibility and catastrophic software bugs since the device's initial smooth sailing last fall.
I'm going to preface my general lack of personally-experienced issues by saying that I've been using my Chromecast with Google TV with:
Using this setup allowed me to get an almost perfect Google TV experience on three different TVs in two different states — I brought it home to use on my mother's kitchen TV so everyone could get used to it before we set up the one I bought her for Christmas. Apart from needing to clear the cache in order to make room for a Prime Video app update, glitches have been infrequent and almost always app-based rather than impacting the core system.
The problem is that my experience seems to be the exception, not the norm.
BROOOOOOOOOOOO!!!! I got this error TWICE THIS WEEK on two different Chromecasts!!!BROOOOOOOOOOOO!!!! I got this error TWICE THIS WEEK on two different Chromecasts!!!— Florence "U4EA" Ion (@Ohthatflo) February 5, 2021February 5, 2021
Numerous users have had their Google TV randomly reboot into recovery mode, requiring them to either dig behind the TV and long-press the underbelly of the bottom of the dongle. That's just one of over a dozen commonly-occurring issues that have flooded /r/chromecast and Google's Chromecast support forum over the last few months, including but not limited to:
Chromecast with Google TV not playing nice with 5Ghz Wi-Fi
Issues adding the Chromecast with Google TV to speaker groups
Apps stalling out or straight-up refusing to update — possibly due to storage problems, or possibly related to the fact that the Google TV just uses a weird built-in version of Google Play rather than a dedicated Google Play Store app like regular Android TV devices
Spotty 5.1 support on top of a litany of spotty Dolby Atmos and Dolby Vision support issues that need an actual compatibility matrix to follow
Really, I could write three separate articles about how wonky the USB-C hub support is on the Chromecast with Google TV, too and all the cascading issues from that, but most of those problems boil down to the fact that Google cheaped out with USB 2.0 rather than USB 3.1 on the USB-C port here. Oh, and the Chromecast with Google TV only seems to accept FAT32 from most flash drives, which rules out playing high-def videos because of the 4GB file limit, so you'll want to invest in a NAS.
If this all seems like a lot of issues for a device that has entirely too many stable competitors in the same price range, you'd be absolutely right. The Chromecast with Google TV might still be hanging onto the top spot in Best Streaming Devices, but if Google can't get its act together soon, the Fire TV Stick 4K will probably steal its crown and its market share for all but the more die-hard Google fans.
Again, this little streamer was doing great in October, but the software experience has fallen apart in the months since, causing the hardware compromises Google made regarding the storage, RAM, and USB-C port to be more visible than ever. If you're using the Chromecast with Google TV with a 1080p TV and don't mind using 2.4Ghz Wi-Fi, you probably aren't seeing much of any issues, but the more advanced your TV and your network setup, the less likely you are to have a good time here.
Google's no stranger to launching half-baked ideas. Hell, when the original Chromecast launched, it only supported seven apps plus tab casting from your laptop. But we've come a long way since 2013, and Google's hardware division isn't some little startup; it's the hardware division of a multi-billion dollar business. Google needs these products to work so that we spend more time using its services and looking at its ads, so why has it allowed these problems to fester for months?
Google pushed out an update last week for the Chromecast with Google TV to improve the 4K60 experience, but it doesn't even begin to cover the spotty compatibility issues. The setup process for Google TV is still remarkably simple, and the UI is 90% sublime, but Google still needs to add back in a few things that were stripped away from the previous Android TV UI.
Considering that apps need to be force-stopped and closed far more frequently on the barebones hardware of the Chromecast with Google TV than the NVIDIA Shield, it boggles the mind that Google didn't keep the Overview menu where you could quickly hop between or close unneeded apps. Granted, the Chromecast with Google TV lacks the necessary RAM to run multiple apps at a time the way the Shield does. Still, the menu would at least offer a quicker method for closing apps than having to go into the settings menu and dig through each app individually.
If Google TV is going to roll out to existing Android TV devices this year, then Google needs to get it working perfectly on the Chromecast with Google TV first. After all, there's no reason to put a buggy, incomplete experience on anything that's currently functional, and Chromecast with Google TV owners deserve to have a stable experience after being sold on the easy, breezy, beautiful experience at launch.
What changes do you still need to see to the Google TV software? And what problems have you run into on your Chromecast with Google TV so far? Share them with us in the comments below.
Android Central Newsletter
Get instant access to breaking news, the hottest reviews, great deals and helpful tips
Ara Wagoner was a staff writer at Android Central. She themes phones and pokes YouTube Music with a stick. When she's not writing about cases, Chromebooks, or customization, she's wandering around Walt Disney World. If you see her without headphones, RUN. You can follow her on Twitter at @arawagco.
I haven't had any issues with the Chromecast with Google TV, it works way better than my FireStick 4k. I'm always running out of space on the FireStick. The only thing I notice on the Chromecast is that some apps don't play in 4k... Disney+. What's with that?

That's interesting as I have like MAYBE 7 Apps on the Google TV and it is constantly telling me that it's running low on storage. I mean it's literally the main streaming Apps: Netflix, Hulu, Disney+, Peacock, Pandora, and I honestly think that's it…it's now collecting dust after also constantly stating it needs to be factory reset once a week.

I did have a lot of issues for a few months but they all went away when I disconnected my usb-c hub with ethernet and then did a factory reset. I wonder if a lot of the issues people are having are related to this unsupported but common configuration?

How about instead of recommending the fire stick, you look at the tivo stream 4k? I'm really happy with mine and it's the same price as the chromecast, and it has the play store and normal android tv.

tivo still exists in some form?

I had one when it first came out and it was really bad, I experienced a lot of bugs , hdmi and hdmi cec issues, sound issues and the screen even flickered bad in some apps like Plex. I returned it and got the Chromecast with Google TV, which has worked well for me.
I'm glad you've had good luck with the tivo device, but I definately did not.

I had the exact same experience - the TiVo Stream 4K had way too many issues in my setup and the Google TV was much better. The 2015 Shield is still my preferred device.

I've had the recovery mode bug, and black screen when playing videos occasionally. I've also had issues with surround sound, but that could be the apps. My biggest problem is casting though. If a Friend wants to cast, say, Netflix from their phone we just get an error saying it needs to be logged in to the same account. So it's a Chromecast that doesn't work as a Chromecast... Pathetic.

That sounds more like a Netflix problem than a Chromecast problem. When casting from a phone app for which the Chromecast has a native app, it will load the native app and start the stream. Your Chromecast has your Netflix account logged in, this differs from the account on your friend's phone and you'd get that error. I believe the old Chromecasts worked differently since there was no interface into which to install and sign in to the apps so the "guest" sharing worked better. Yes, with the old Chromecast you could "link" your Netflix account, but I think that was just for using Assistant to start a stream.

I'm aware of that, it's actually my point. When you touch cast to cast to a Chromecast, it should cast, not give an error. It's failing at it's most basic (not to mention, eponymous) function because it isn't a Chromecast, it's a misbranded Google TV stick.

It's not an issue with the device, it's a rule imposed by Netflix.
If you try the same thing to a roku device which supports some sort of Chromecast like mode. It will return the same error.
It also does the same thing when casting to an Android TV device. You've got an issue with netflix the company, not Google the device maker

I haven't had any issues with my Chromecast with GTV. I don't have the USB-C hub added on though so I have to wonder, as someone else has as well, if that is the source of the issues. I'm just using the Google-provided power brick (it didn't like being plugged into the TV).

I don't have a USB hub plugged in and have had multiple issues, the software is just buggy.

It sounds like the New Google TV has more in common with the Old Google TV that was dropped when the Chromecast came out, and Cable TV boxes were becoming scarce, then Google would like people to believe.

I use mine sparingly and don't turn it on for a few days whenever I head of an update for the Google TV sticks so that I am not a 'guinea pig' for their code, as far as I can help it.

For being somewhat of a software company, Google is terrible at it.

Google TV with Chromecast would be a lot better name.

I have the Wi-Fi issue for sure. My network combines the 2.4ghz and 5ghz into one and I can't tell it which on to attach too. If it stays on the 2.4ghz I'm fine but when it flips I lose it. So frustrating because I find the interface the better between them and Amazon and the remote better than the Apple TV.

Haven't had any issues with mine but I find the UI is pretty bad. The changing of 'pages' is weird, almost like it needs to refresh before it shows me new content, and then it seems to show that content twice. Hard to explain unless you've experienced it.

I don't see enough mentions of how the "Continue Watching" feature does not work as described. Most of the shows I watch never end up on continue watching, and these are usually services that have more than one profile. I'm currently subscribed to YouTube TV, And those shows are often on my continue watching list, but it will also put on any random thing that just seems to accidentally get clicked on, and I don't see a way to get them off. Sure, it's minor, but the ability to aggregate shows from across multiple services is really the main reason I bought this device, and it fails at that.

I use a USB hub and haven't had any problems with my CCwGT. It's been better for me than my NVIDIA Shield. The software is a significant step in the right direction. Netflix's opting out of integration features is my MAJOR complaint.

Setup process is poor, never completes automatically - always needs manual intervention after it hangs. Get a 'WiFi disconnected' message for a few seconds occasionally. Otherwise it's been fine for me.

all Australia got the 5ghz wifi bug the Chromecast will connect just to 2.4ghz and this issue have been from October 2020 and till now they didn't bother to fix it as soon the new fire tv stick 4k 2021 comes out in Australia I will get rid of all Chromecast and buy fire tv stick 4k instead google you peace of ****

Never had an issue with 5GHz connectivity but I have had storage issues (they should have included 8GB) and one reboot. Removing live channels and other Android TV features is a questionable decision; I have to use button re-mapper to add it in, along with easier access to the Play Store, Google TV library and Prime "button" (using the input change button for those tasks).

Luckily I haven't run I to any serious issues. I'm on a 4K HDR 2016 Sony TV and using the ethernet power adapter from Google. Only issues I've seen lately is the YouTube app not showing my videos in history (need to force close and reopen to get it to work) and sometimes rows will show blank spots when backing out of video details (scrolling far left/right allows them to render on return). So far I still like it more than my other devices (Apple TV 4k and Roku Ultra), but it does have its awkward moments.

Read this opinion piece and I totally disagree with it and the issues called out. The core functions and intended use (meaning the apps that are offered and the hardware provided in the retail package) work. Yes there maybe a few apps that do not provide 4K, however those issues are most likely due to the app developer not working inside the boundaries of the ecosystem. In fact I would go as far as saying the Google TV device is the best TV streaming device out there at the moment. Having used FireTV, Roku and AppleTV I feel confident saying this. Promoting opinion pieces like this and allowing them to go beyond being some benign forum post will hold back users from adopting this platform over others.
Android Central Newsletter
Get instant access to breaking news, the hottest reviews, great deals and helpful tips
Thank you for signing up to Android Central. You will receive a verification email shortly.
There was a problem. Please refresh the page and try again.