Samsung's Galaxy Watch 3 successor might ditch Tizen for Wear OS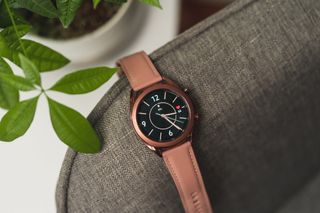 (Image credit: Hayato Huseman / Android Central)
What you need to know
A new rumor claims Samsung will switch to Google's Wear OS for its next smartwatch.
Samsung has been using Tizen OS for its wearables since 2014.
You can expect the company's next smartwatch to be unveiled alongside the Galaxy Z Fold 3 sometime in the third quarter of the year.
Samsung has been exclusively using Tizen OS for its smartwatches since almost seven years now. However, if popular tipster Ice Universe is to be believed, Samsung could finally switch to Google's Wear OS later this year.
Samsung's new watch will use Android to replace Tizen.Samsung's new watch will use Android to replace Tizen.— Ice universe (@UniverseIce) February 19, 2021February 19, 2021
Samsung's next smartwatch, which could succeed the Galaxy Watch 3, will apparently be running Wear OS instead of Tizen. It is worth noting, however, this is not the first time that Samsung has been rumored to be moving away from Tizen. When Samsung shifted to the "Galaxy" branding for its wearables in 2018, several rumors suggested that the company would be moving to Wear OS.
If Samsung is indeed switching to Wear OS, you can expect the next Galaxy Watch to have a vastly different UI from the company's current best smartwatches. Along with an all-new UI, Samsung's upcoming watches might also offer much better third-party app support. Even though Wear OS is far from perfect, it is miles ahead of Tizen when it comes to developer support.
According to the folks at GalaxyClub, Samsung is working on two new smartwatches for 2021, bearing model numbers SM-R86x and SM-R87x. Aside from the model numbers, however, there is nothing else that has been revealed so far. The smartwatches are expected to be released in the third quarter of the year, alongside the foldable Galaxy Z Fold 3 and Galaxy Z Flip 2 phones.
Nooooooo!!!!!!! Tizen has proven to be so much better than Wear OS!

About God damn time 🙏. The best watch hardware finally running the best watch software. Getting Samsung back on board with Google will surely improve the development of Wear OS too. Love my Galaxy Watch 3 and Watch Active 2 but they're sorely missing Google Pay and Assistant amongst others

This will be a boon to Apple because if Samsung can't replicate the battery life they get on Tizen in Wear OS. Their only differentiator from previous Wear OS watches will be the Samsung brand. The fact that their watches do better on Tizen than Wear OS watches indicates people aren't buying these watches for their apps.

The main battery advantages come from the Exynos processor, not Tizen.

If Samsung does for WearOS what they have done for Android in the past few years, I will be all over this. Every new Android release seems to be catching up on improvements Samsung has made in OneUI. They could make WearOS so much better!

You want Samsung to bloat WearOS and install their own annoying apps and stores?

Ditching watch 2 for this asap.

Hopefully it's heavily modified, both Tizen and the wearable app are significantly better than wear OS. A galaxy watch with Google services is a dream come true though.

This is what I've been waiting on. I chose to stick with the Galaxy Watch because of the slick hardware, battery life, and the health monitoring abilities and apps are unmatched on anything WearOS offers. But I gave up App support and quite a few cool watch faces when moving to the Galaxy watch.
If done right, wearOS on a Galaxy Watch would dominate. By "done right", I mean keeping the Samsung health apps and hardware, or finding a way to integrate Googles phone health apps with Samsung's health data. I also mean keeping that superb battery life as well. And reduced lag on the interface. Also, if the rumors are true that Sammy is getting a glucometer, this will be a beast.

I find this pretty hard to believe...tizen is great. Even if wear os has better third party apps I just don't know how much that matters. Isn't Samsung's market share about as large as all wear os combined?

I've never used WearOS. I had a Fitbit Iconic and now, I've been wearing the S3. The only real issues I have with the watch is limited memeory/storage, the occasional freeze of the OS and that dreaded Bixby. When Samsung updated Svoice to Bixby, I was in love with it for like the first day, then it stopped working and hasn't worked since I first updated. Samsung needs to just get rid of it altogether.

I hear this all the time. The only way Samsung can use wearOS is if Google allows them to modify the UI so it feels like a Galaxy watch. From what I know, Google doesn't want this. This is bad for innovation. I'm quite happy with my Galaxy watch as it is.

That is my concern, too. I would much rather Samsung improve their OS and devices. The only real thing I would appreciate is them doing away with Bixby, if they aren't going to fix and improve it in significant ways. Sooo, Bixby just made me a lier. Hasn't worked until just NOW. LMBO

I assume if you own a recent Samsung Watch ie Active 2 or Galaxy Watch 3 if they did switch software, the people that bought these watches wouldn't be ditched? I wouldn't be impressed if they gave up on Tizan and my GW3 after less than a year!
Android Central Newsletter
Thank you for signing up to Android Central. You will receive a verification email shortly.
There was a problem. Please refresh the page and try again.