Android 5.0.2 factory images posted for cellular Nexus 7s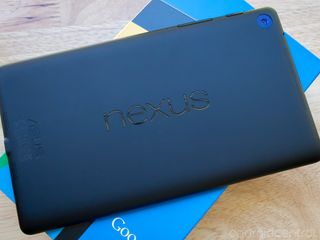 If you're still rocking a 2013-era Nexus 7 with LTE, or a 2012 mobile version, we've got some great news today. Google has just dropped the Lollipop factory images for the both devices, and they're version 5.0.2 to boot.
This particular build is labeled as LRX22G, the the very same build deployed a couple of weeks ago for the Nexus 10 and Nexus 7 Wi-Fi versions. This marks the official jump from Android 4.4.4 KitKat to Lollipop for both devices.
You can grab the images from the links below if you decide you can't wait for the OTA to arrive. If you need a little assistance with doing so, also be sure to check out our guide on the subject here.
Download 2012 Nexus 7 Mobile Factory Image (LRX22G)
Download 2013 Nexus 7 LTE Factory Image (LRX22G)
Got my update almost for 2 weeks now! Crazy how fast I got it. Posted via Nexus 7 (2013)

Glad it is finally out, even though I have to wipe my tablet. And then flash each part of the image separately for some reason.

Probably because you are rooted. Since 5.0 i could not update any of my android devices via OTA or just flashing the image, but had to do it separately. I found out its because of my devices being rooted. The devices are: Nexus 5 and Nexus 10, so im guessing its the same thing for your Nexus

Got my OTA update last week on my Nexus 7 2nd Gen

It only took about 3 months :) Posted via the Android Central App

I am going to wait for OTA. If I waited 3 months, I can wait a couple of weeks more.

No Nexus 5?? Or maybe later...? Posted via Android Central App on Nexus 5 or LG G2

Nexus 5 should at least have 5.0.1 Posted via my bloatware and needless skin free Nexus 6!

Mine has been having battery life issues since 5.0.1. Posted from my Nexus 5 via the cooler than cool Android Central App

My battery has been halved since 5.0.1

Same. Posted via Android Central App

Elemental X Kernel. You are welcome. Posted via the Android Central App

I have 5.0.2 on Euphoria ROM?
Nexus 5 doesn't have 5.0.2 yet? Posted via the Android Central App

Think they forgot about us nexus 5 owners. Posted via Android Central App

This is why i love my wifi only nex 7 2013 already have 5.0.2 up and running smoothly

Oh! time to dust off the Nexus 7 and play with Adb

Is the volume button as notification setting button still a thing? I'm sticking with kitkat. Posted via Android Central App

Nexus 7 3G 2012 no lollipop OTA update until now. Still kitkat here. Posted via the Android Central App
Android Central Newsletter
Get the best of Android Central in in your inbox, every day!
Thank you for signing up to Android Central. You will receive a verification email shortly.
There was a problem. Please refresh the page and try again.