The Google Pixel 6 series is hit with another charging-related fiasco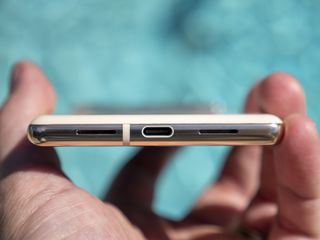 (Image credit: Nick Sutrich / Android Central)
What you need to know
Google's latest flagship phones apparently refuse to charge with third-party cables and chargers.
The Google Pixel 6 series works only with PD-certified USB-C charging gear.
Google already warned that other cables and charging bricks might not work with Pixel phones.
Some Pixel 6 owners may have been disappointed earlier this month when they discovered that their devices only support up to 23W wired charging rather than 30W, as many had assumed. Now, Pixel 6 users are in for yet another letdown.
Google's latest flagships appear to reject charging via non-PD-certified cables and chargers. Some Pixel 6 owners have taken to Google's support forum to express their disappointment with the phone's refusal to charge using a low-quality USB-C cable or power brick (via 9to5Google). Plugging in a cheaper cable appears to have no effect, and the phone displays no warning message or charging status. In some cases, the phones can charge extremely slowly over these cables.
On the other hand, the Pixel 6 and 6 Pro charge just fine with Google's own charging brick, but you'll have to buy it separately because the phone only comes with a USB-C cable inside the box.
This doesn't come as a surprise, though. Google's support page already explains that "other Android cables and power adapters might not work with Pixel phones." This is probably meant to protect the device's battery from potential damage.
While the Pixel 6 series is PD (Power Delivery) certified, low-quality or cheaper cables are not. It's not surprising, therefore, that these third-party cables can properly charge other devices, but not Google's best Android phones.
It may be disappointing, but it's also not a bad idea. However, the lack of compatibility between the Pixel 6 phones and third-party power bricks would not have been an issue if Google had included a compatible charger with the device, albeit not necessarily a 30W charger.
Google Pixel 6 Pro
Google's new Pixel 6 Pro is the company's best smartphone to date, thanks to its smooth 120Hz display, powerful Tensor chip, and impressive triple camera setup.
Android Central Newsletter
Get instant access to breaking news, the hottest reviews, great deals and helpful tips
Jay Bonggolto always keeps a nose for news. He has been writing about consumer tech and apps for as long as he can remember, and he has used a variety of Android phones since falling in love with Jelly Bean. Send him a direct message via Twitter or LinkedIn.
I wanted to get this phone but it just seems like a pain in rear with alot of these features.

I've owned many, many different phones, way back to my original Nokia 100, but a week ago i purchased a Google Pixel 6 to replace my BlackBerry Key2 which i know isn't for everyone, but for me the security is second to none, so I was a little apprehensive but was extremely pleasantly surprised, it's AWESOME! Every time I play with it i find something new I love, in fact so far i haven't found a single thing i don't love, everything is a better version, this phone is next level I'm in awe at its speed and total lack of bottlenecks and glitches, everything just "works" as it should since the people who made the software (Android) ALSO now make their own hardware, it's a marriage made in heaven ;) For now at least I'm going to take a chance here and give it a preliminary 10/10.

Man, such a shame that I can't use my wall wart and USB cable that came with the $5 random thingy I bought off Amazon 5 years ago. Whatever will I do. Pretty much any half way decent charger or cable will work.

It sucks that they don't include the brick, but they are just following suit. The fact that a cheap cable or brick won't work doesn't bother me.

I have no problem with this. Too many people buy expensive devices and cheap out on quality cable and chargers (a non sense - it's like buying a Lamborghini and filling up the tank with regular gas) to only complain when their battery gets damaged or worse their device is fried... And yes, I work in the industry, I see this every week. Investing into a good cable and charger will make your device last longer.

I have had this issue in the past with buying cheap cords particularly that are using my car. I learned with my Pixel 4 XL to spend a little bit extra money on good quality chords and plugs. This is nothing new.

Pixels are junk I'm so over my 4XL. The thing has been in the shop and out of my hand for over 45 days total. I've had to have it repaired 3 times now all were hardware failures. Total junk stay away from them.

Fiasco ? Exaggerate much AC ? Mind you the writer of this article spit out 8 others articles in 24 hours for AC, so perhaps his brain was puddy.

My sentiments exactly. I love me P6 👍

I have not experienced charging my 6 with generic cables or my Anker charging brick that's about 3 years old.

I've been able to charge my 6 Pro in every room in my house & all 3 of my vehicles with cables, bricks & car chargers that I had long before the device. Some are several years old. I don't see the problem I guess because I don't by junk. A lot of people just buy any old charging accessories as long as it's cheap. You don't have to spend much money but you've got to look at the numbers & limits, i.e. amps, volts & so on.

Look, I'm an Android enthusiast and always will be and as such, a site like Android Central is largely right up my alley but for quite some time now, I've found myself rolling my eyes while reading articles that are littered with self promotion and (very poorly) disguised advertisements, as if it's natural to always say (and obviously take such opportunities to link articles of the same title) "best Android phones" every time an article references anything pertaining to an Android device, which as expected, is very often. You've got a devoted readership and I imagine this site is very highly trafficked. Do you really need to inundate us with a constant barrage of links to your "best of" lists, which ultimately just comes off as pushing readers to click on as many affiliate links as is possible. If you're not careful, tactics of this nature could well backfire and discourage tech enthusiasts that would have organically visited the site and read your articles, best of lists and even clicked your affiliate links from visiting the site at all. Speaking on behalf of just one such individual, I'm teetering right on that line. Please, I urge you to consider not forcing placement of XYZ unless its relevant and contributes something to the conversation. And now, getting back to what made the site in the first place, Android/tech news and discussion; I'm a Pixel 6 Pro owner and while there are certain things that don't sit particularly well with me, overall I'm very happy with the device. Prior to owning this device I was an avid OnePlus fan and owner, with my previous 5 devices having been OnePlus devices. Sadly, they sold out and I took my business elsewhere. And with that, my comment has come full circle.
Android Central Newsletter
Get instant access to breaking news, the hottest reviews, great deals and helpful tips
Thank you for signing up to Android Central. You will receive a verification email shortly.
There was a problem. Please refresh the page and try again.