The Pixel 6 is facing a lot of criticism, but that's good for Google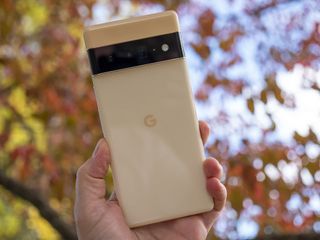 (Image credit: Nick Sutrich / Android Central)
A heightened level of public and media scrutiny towards a new flagship phone isn't unusual, experts say. But some agree that there has been an extra level of criticism towards some of the hardware and software features on Google's Pixel 6 lineup, and that's because of how much the company has created hype for these new phones.
Google's Pixel 6 and Pixel 6 Pro were announced about a month ago, and many people have had some time to test and play around with the phones. The phones use Google's first-ever in-house developed chip, Tensor, and Android Central's Ara Wagoner and Nick Sutrich (in their reviews) have expressed that the phones are compelling. In fact, the Pixel 6 is even considered one of the best Android phones currently available.
But more recently, a multitude of reports have indicated a slew of hardware and software issues with the phones. Some users have reported that the Pixel 6's fingerprint sensor has not been very reliable. Others have said that a weird bug in Android 12 is making Google Assistant ghost dial random contacts even when they aren't near the phone.
Some users are experiencing a weird screen flicker problem when pressing the power button while the phones are switched off; others say they see a green tint on the display. And Android Authority recently reported that despite Google touting the phones can be charged with a 30W charger, the phones are only reaching 22W, not taking full advantage of what was announced.
Negativity comes from a strong fanbase
The intense scrutiny isn't new, says Jitesh Ubrani, IDC's research manager of worldwide device trackers, and as a matter of fact, many companies have faced this in the past.
"There's no doubt that Pixel has some very dedicated fans who have high expectations from Google and perhaps may even be putting them on a pedestal. And when a device isn't perfect, the group tends to voice their frustration even more as they have stuck with the underdog brand for years," he says. "There has certainly been negativity like this in the past for other brands so Pixel is not necessarily an outlier."
And while it seems like many consumers are trying to knock Google down, the case isn't because the fanbase considers Google to be the "big guy," Ubrani says. He notes that it's important to remember that Google is still new to hardware. It's important that consumers, the media, and bloggers call Google out for any issues.
"The company is spending quite a bit on marketing and has been slowly building awareness of the brand. More importantly, they have been hyping up the Pixel 6 for months (ever since the early leaks) and while the hardware failure rate may be well within acceptable margins, the fact that they set extremely high expectations is likely what's causing the excess backlash," he says.
"I'm not sure what the rate of failure is, but I assume it's in line with others as often the components and manufacturing facilities are shared amongst many brands. What's more difficult to swallow is the software issues as those should have been ironed out before release."
Maurice Klaehne, a research analyst at Counterpoint Research, agrees with Ubrani in an interview that Google has definitely created a lot of buzz around these phones. He adds that because of wanting to create a pure Android experience, the company went a "step further in cultivating this experience by introducing its own SoC, the Tensor chip."
"This created a lot of buzz over the last several months as Google made the first announcement of the Pixel 6 and Tensor chip in August 2021," he says. "When the phone was first launched, there was a lot of anticipation about the device, how it would perform given the new Tensor chip, and naturally how it would compare to other premium devices from Samsung, Apple, and OnePlus. The flagship killer question again came up."
Klaehne explains that because of this, it naturally led to the device being heavily scrutinized by the media and influencers, and this also created a lot of hype and demand for the device, leading to more people purchasing a Pixel device than just the "core" followers.
Google's smartphone hardware mission has been a bit inconsistent
It's worth adding that since Google started getting into the hardware business of smartphones, it has been inconsistent in how it designs and categorizes its phones. The Pixel 4 was considered to be a flagship phone, the Pixel 5 a mid-range device, and now the 6 and 6 Pro flagship devices.
Carmi Levy, a technology analyst, says that this inconsistent nature has caused some scrutiny by consumers. He adds that the company has followed a unique and hardly consistent pattern, which includes varying strategies around pricing and feature sets. As a result, Levy says, this has caused an inability to broaden market support for its Pixel phones because consumers don't know if Google really wants to be in the market in the first place.
"From one generation to the next, Google has failed to convince consumers that it is fully committed to being a significant player in this market… If consumers perceive that the company's strategy is not deeply rooted in a long-term commitment to the space, they'll either complain loudly, or they'll say nothing and shop elsewhere," he says. "Apple, in comparison, has never wavered from its iPhone mission, so while consumers may complain about certain aspects of a particular device, they never doubt Apple."
Levy explains that die-hard Pixel fans have been waiting over a decade for Google to deliver the smartphone hardware goods. Google's Nexus, a brand that has now been discontinued, failed to garner much support over the first half of the decade, he says, adding that today's market reception is a "direct result of that long-term indifference."
"Google needs to commit to its hardware, period. It needs to telegraph its long-term plan to build hardware that sets the bar for its OEM partners to follow, and it needs to reassure consumers that it's willing to stick it out with market-leading designs not just for one generation, but for multiple iterations."
Google hasn't always had the means to deliver
Ubrani counters Levy's notion that Google hasn't figured out its hardware plan, because he says the company has always known what it wants to do but has not had the "means to deliver."
"Google didn't always have the hardware chops to create a phone and so they relied on partners for design and manufacturing. But over time and by spending plenty of money they acquired or built the teams that were necessary to deliver and that's why the Pixel 6 lineup is in many ways the first truly Google phone," he says.
The company spent $1.1 billion in a deal to acquire part of Taiwanese smartphone maker HTC's smartphone division and its 2,000 employees to engage in research and development to boost handset capabilities, according to Nikkei Asia. The site adds that Google now has a hardware team of more than 4,000 in Taiwan, its largest outside of the U.S that focuses on hardware development.
And it's not like the company doesn't have money now to shell out and expand in areas where it's lacked previously. In Q3 2021, Google made more than $65 billion in revenue, up 41% from the same quarter last year.
Anshel Sag, senior analyst at Moor Insights & Strategy, says that at the end of the day, it doesn't matter if Google hasn't figured out their device plan.
"As long as Google produces good phones that work well, it doesn't really matter if Google is going for flagship or mid-range or both," he says.
Combining hardware and software will naturally cause issues
Sag notes that it is entirely normal for phones to have issues when they are first released to the public. In this circumstance, he says, people's expectations were higher because Google developed both the hardware and software.
"[The issues] are about the same as any other brand. I just think that because these are made by Google, people's expectations are a bit higher because they're the ones building the OS and should be able to build a device that matches the Android vision best," he says.
Klaehne agrees, adding that Google can only learn and get better from its first real attempt to marry hardware and software.
"There are naturally some integration issues that need to be solved, but Google is going into a positive direction with this vertical integration of their own [chip] that will only improve with more iterations, potentially leading to Tensor chips being used in other Google products such as tablets or laptops, just like how Apple is doing with the M1 chip."
Get the Android Central Newsletter
Instant access to breaking news, the hottest reviews, great deals and helpful tips.
Shruti Shekar is Android Central's managing editor. She was born in India, brought up in Singapore, but now lives in Toronto and couldn't be happier. She started her journalism career as a political reporter in Ottawa, Canada's capital, and then made her foray into tech journalism at MobileSyrup and most recently at Yahoo Finance Canada. When work isn't on her mind, she loves working out, reading thrillers, watching the Raptors, and planning what she's going to eat the next day.
"Google has a strong fan base that expects a lot from it." Not sure why this is the case, since Google's smartphone history is not replete with excellence.

Try writing that over at Android Police at the right time and see the crazies come running.

Any phone, by any manufacturer, of any level, has issues. The Pixel 6 Pro is no different. That stated, the current crop are, in my opinion after about two weeks of use, the best-designed and most issue-free I've ever owned from Google - and from any OEM, for that matter. Consider the 4 key criticisms cited in this article: FPS not very reliable.
- a large number of new Pixel 6 / 6 Pro users are returning Pixel users whose only experience has been with the capacitive FPS on the rear. In-screen FPS are different ergonomically, not having a physical and tactile guide for positioning, and their operation is fundamentally different, so to a large degree this is due to those users having to adapt. Without question, this is not the fastest in-display FPS, and it seems to have more issues of compatability with certain tempered glass screen protectors, but it has, in my experience, been on par or better than other optical FPS I've experienced. I have close to 100% success rate with it when I conciously position a 'known' fingertip and press against the screen for about 1/2 second. Far better than the predecessor it replaced for me (S20 FE, also an optical FPS) which managed about 75%. Ghost dialing bug in Android 12.
- If it's a bug in Android 12, it's not the phone, so criticism should be addressed at the OS rather than at the new Pixels themselves. Also, iirc, already confirmed to be addressed by Google in an imminent software patch. Screen flickering when powered off and tapping power.
- Legitimate phone concern. Fortunately not one that would frequently be impactful to user experience, but I can understand it would definitely be disconcerting. Already confirmed to be addressed by Google in an imminent software patch. Not charging at rated wattage of recommended charger.
- Google never announced the new Pixels would charge at 30W, only an expectation of how long it would take to charge to 50%. The Pixel Stand 2 has been stated to charge at 23W (Pixel 6 Pro) when using the same 30W charger, but people seem to miss that. Likewise, the iPhone 13 Pro Max peaks at 27W on its 30W charger (which sells for about double the price of Google's). People are wanting to hold Google accountable for their own incorrect assumption, which is invalid. In short, the FPS isn't state-of-the-art, and could have been better, but does do its job appropriately when compared to other FPS of the same nature; ghost dialing and screen flicker are legitimate issues, but both have been confirmed in less than 2 weeks since the phone was released to be resolved shortly by software patches. Charging speed is a consumer error in the form of mistaken inference.

I hope mine, when received next week, works as good as your phone. It is a new phone, designed from the chip out and any intelligent person would expect some problems. Problem I see on the Pixel 6 forum is there are some who do not necessarily fall into that category, plus it appears there are some who are just there to bash the Pixel. (I would imagine other people see the same problem.) And some of those who are Sammy freaks; forget to mention the FPS on the S20 series was a disaster at release; something I discovered in person, and the reason I purchased my first Pixel (4XL).

" it appears there are some who are just there to bash the Pixel. (I would imagine other people see the same problem.)" I've had the same impression. At times it almost seems like an organized campaign.

Not sure if organized, just some who hate Google, but have Android phones? I had a bad experience with the S20; however, I came close to ordering a S21 vs. the P6. But I went with the Pixel.
Even got a mild reprimand for questioning one who constantly hit the phone and talking about Samsung. However, after their explanation it made sense.

"At times it almost seems like an organized campaign" Wow, conspiracy theory much? All the criticisms of the phone came out at around the same time. Of course that's why there were comments about it.

I have had my Pixel 6 Pro from day one and mostly just experienced software issues related to Android 12. Most new versions of any OS has issues and most of my bugs are app related with some crashing. And also refresh rate is sometimes going back to 60hz when unlocking the screen then changing back to 120hz again. Have the screen flicker bug but it's hardly anything at all. Had no other issues at all and certainly no green tint either. Cameras have been fantastic especially that zoom. Even using the zoom with night sight works well. Battery has been fine. Had no build issues either

A lot of these things can also be fixed in monthly patches. No phone is perfect. Out of the gate it will take time to fix some of these issues, however, the pixel 6 pro is probably the best phone I've ever owned.

I have a Surface Duo, absolutely love it, warts and all... 😊

I got a new 6 Pro, husband a 6, to replace our Pixels 4 and 3 respectively. We love the new models. It took a couple of days to get used to the larger sizes, but I really love the bright, clear screens and snappy performance. So far the cameras are proving to be excellent, as well. We've not experienced any of the "bugs" others have claimed.

First time Pixel user... 6Pro is running fine, I use four digits to unlock so no FPS issue. Reception, display, brightness, sound clarity, all good. Sammy's phones were good, their customer service, not so good. Haven't had to deal with Google's customer service yet. One thing is for certain... after twenty one years with Verizon Business, getting someone from the U.S. or a manager to handle billing problems with the trade in, owed credits, the bloated bill itself... NEXT PHONE WILL NOT BE FROM VERIZON, WILL BE UNLOCKED AND WILL PROBABLY BE WITH A MVNO. Verizon's customer service has hit a solid rock bottom... and this from a guy who's been with them 21 years.

Google has always mentioned that the 6 and 6 Pro would charge at 22W or 23W. (Which is faster than the current iPhones I believe.) Was no one paying attention to the press releases and press leaks of the past few months. Some literally from this website.

They actually only mentioned charging wattage for wireless on the Pixel Stand 2 when running on Google's 30W PD3.0 PPS charger. For wired they made no mention whatsoever of the wattage, only the 0-50% speed. But people are wont to complain about Google, even if the subject of their complaint is their own mistaken assumption.

I've met a ton of people here in comments that wish being widely mocked meant you were actually great...

No one seems particularly excited by these phones. Most people say they are good, fine or no problems. Where's the excitement? Or are we just bored in general now?

Who's told you nobody was excited?? Is this why they always sell out?? And as for phones having issues early on I have had the same with EVERY manufacturer. By the way Google Camera just updated in Play Store for me in UK this last hour if anyone hasn't noticed. Not sure of any improvements

Being SOLD OUT also may mean that Google did not make that many to begin with…also can be used a marketing ploy. Remember, almost every Pixel released sold out quickly early on……..yet past Pixel sales numbers were horrid.

That's 2019 Samsung camera tech in your 2021 Google Pixel 6.

It's a smartphone. Nearly identical in basic form and overall function to every other capable smartphone out there. Nobody cares if a phone is exciting; it just needs to be capable and reliable while keeping up with our collective and incremental expectations. Everything else is just confetti. Inanimate objects shouldn't require cult-like fervor.

Selling out is a typical Google understock thing, not a great indicator really. And I'm referring to people who are using the phone, not waiting on it.

Exactly. Google has done this before. Under stock to give impression of demand.

I will see by next year (going to give Google 6 months to correct anything, while waiting for the price to drop on the Pixel 6). I honestly haven't read that many negative reviews regarding the Pixel 6 or the Pixel 6 pro (and this is coming from a Nexus fan).

Yeah in 6 months this will be a great phone ....lesson learned ..back on my s21 for now

I'll wait until the 7 comes out.

I like a lot of things about the my 6 . But honestly it's just to big for me. I ended up back on my s21 due to size .

Early adopters to new tech often get burned... It has always been so. The Pixel 6 isn't anything special... 2019 Samsung camera sensor, etc... I wish Google well, but the Pixel 6 should be avoided for now... Maybe the 7 will be better... But no expandable storage, etc... It's no screaming tech bleeding flagship for Android OS... I've got a Note 20 Ultra... I don't expect I'll have a compelling reason to upgrade for several more years... Seriously. The best phones don't need frequent replacement, and it's irresponsible to your bank account and the environment to frequently upgrade.