Actually, the Pixel 2 is the best Android for Windows phone converts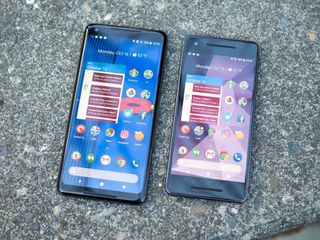 Recently Windows Central Senior Editor Zac Bowden proclaimed the new OnePlus 5T as the best Android phone for Windows folks who were finally moving on to another phone and another platform. I don't deny the OnePlus 5T is a great phone (I haven't used one for more than 60 seconds, but still) and that company is doing some great work.
But I disagree that it is the best. And this isn't just because I prefer a different phone. I've been using Android in some form since 2010. I've seen a lot of phones come, and that OS is even responsible for my employment at Mobile Nations. Until November, I was using an HP Elite x3 every day, until the curtain dropped on Windows 10 Mobile and I decided I should probably buy a new phone.
There are many good reasons to buy phones from Samsung, LG, and OnePlus, but there's always been one great reason to buy a phone with Google's badge on it. And now, with the Pixel 2 and Pixel 2 XL, there are two really great reasons to buy a phone with Google's badge on it.
Software updates don't get any better
Windows phone users are used to not only (mostly) getting updates quickly but also enjoying support on devices for a long time. Software updates aren't just critical for cool new features, they're important for security.
Google has a monthly security patch for Android which is there no matter who made your phone, but with a Google phone, you know you're going to get them on time. I have a Razer Phone and a Galaxy S7 both still on the October patch. And we're now in January. That's not acceptable, and it's one of the many frustrations with the Android ecosystem. The Pixel 2, by contrast, has the January patch available and will get the February and March patch as soon as they're ready.
The same applies to OS updates. The Pixel 2 is on Android 8.1 right now; virtually all other Android phones are not. The OnePlus 5T has a beta of Oreo out based on Android 8.0, but that's still a point version behind. Samsung hasn't updated its big 2017 phones yet, either.
" />
Besides being first, Google also promises three-years of software updates for the Pixel 2. That's a long time to have a single phone, and based on previous track records it's longer than you'll likely get from the other big players.
Google also makes it simple to update your phone yourself. OTA updates still take some time to roll out, but you don't have to wait to get them that way. Google posts both factory images and OTA update images for the Pixel 2 every time a new release is out. If you're mildly comfortable with some command line and willing to use the necessary Android SDK tools it's not that difficult. Not as easy as the Windows Phone Recovery Tool or the Insider program, but it is also not terribly hard.
How to get the latest version of Android on your Pixel 2
The best phone camera there is
At some point in 2018, a phone will come out with a camera better than the Pixel 2. We'd expect a Pixel 3 for one thing. But the Pixel 2 is widely accepted as the best all-around smartphone camera right now. Yes, it only has one lens, but what Google has done in software is mindblowing.
It's fast, it takes amazing looking pictures in good and low-light, and the portrait mode is both accurate and effective. It's all done in software, and it's frankly astonishing. The camera app isn't the most feature-packed, but it covers all the bases. I'd love a physical shutter button, but at least a double-press of the power button will quick-launch the camera, and volume up will take a picture.
For folks who clung to their high-end Lumias because of camera capabilities, the Pixel 2 camera is probably the one you'll want. It takes hardware-related problems and solves them with software. And you get unlimited storage for a couple of years in Google Photos to automatically back up your snaps.
The bottom line on Pixel 2
I'm not reviewing the Pixel 2. We've already done that. But these two features, in particular, are ones I think are important to the Windows converts. Sure, there are all the apps you ever want in the Play Store, and it has pretty good battery life, USB-C, and a decent screen, but when you're used to having the latest software and the best cameras, the Pixel 2 will not disappoint.
I'll admit, it's pretty boring to look at, but if you're tired of giant phones or don't want an 18:9 screen, you've got the smaller Pixel 2. If you want something bigger, the same phone can be had with that bigger screen and all the same benefits. But for me, the smaller version ($649) easily won out. And it's a hell of a lot cheaper than an iPhone X.
Go Pixel 2, Microsoft it up, and have a great time. The Pixel 2 lets you do that more effectively than the OnePlus 5T. (Sorry, Zac.)
If you made the jump to the Pixel 2, be sure to drop into the comments and share what you think.
Get the Android Central Newsletter
Instant access to breaking news, the hottest reviews, great deals and helpful tips.