Gold trimmed Samsung Galaxy F press render appears once again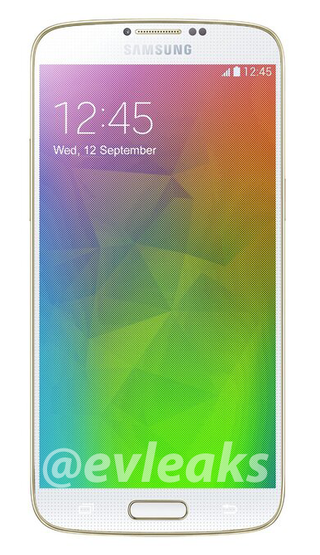 While the first press render of the Galaxy F only showed off a partial view of the device otherwise known as the Galaxy S5 Prime, another render has now appeared courtesy of @evleaks and this time around we get a full look at the device with its 'glowing gold' trim.
The render doesn't offer any further insight into the device so all the previous rumors are still applicable. In case you've not been following those, it's expected the Galaxy S5 Prime will release alongside the alongside the Galaxy Note 4 in September, will offer thinner bezels than those found on the Galaxy S5 and will only be available in the gold color.
As for the specs, rumors indicate that the device will boast a Snapdragon 805 for international markets, and a Samsung Exynos SoC with LTE Cat 6 connectivity in select regions, 3 GB RAM and a QHD AMOLED display but we all know to take rumors with a grain of salt, right? Yeah.
Source: evleaks.at
Get the Android Central Newsletter
Instant access to breaking news, the hottest reviews, great deals and helpful tips.
I'll buy it... My m8 is buggy

How so? The camera is crap but the rest is kinda great. Posted via Android Central App

By the way, I've always found your username intriguing.

it may not be my username, but it for sure is my motto.

i think different carriers have different bugs. my att x has different bugs than my brother's verizon for instance.

Wow...it must be nice to go from phone to phone for petty reasons like that. Enjoy your M8 and don't give in to phone lust!

I'm not sure being buggy qualifies as a petty reason! That's something which materially degrades your ability to use and enjoy using the phone.

My thoughts have been why an F series? What is the distinguishing factor that makes it an GALAXY "F"? Posted via Android Central App

Maybe theres more to it than just the specs? Posted via Android Central App

Either galaxy fancy or galaxy fail

Or galaxy fu? Posted via Android Central App

GALAXY FLOP? Posted via Android Central App

Don't worry about it. I'm confident the S5 will receive 'honorable mention' in this year's best smartphone of the year awards just like the S4 last year. Sales, hearts and minds, replaceable battery, and profits is what really counts.

Holy Galaxy Fucking Screen Batman!!! Posted via the Android Central App on my Nexus 5

A = 1, B = 2, C = 3, D = 4, E = Galaxy S5, F = 6. Galaxy S6. Posted via Android Central App

The reason they call it the F is for the word flog, as in flog a dead horse

Ha. Haha. Ha. Ha. Ha. Haha. Wait... That's not funny. Posted via Android Central App

Who is this Chris Parsons and what have you done with Bla1ze lol This fall is going to be bananas for techies. I'm definitely going broke.

You and me both, man. Mostly because of the smart watches. I love gadgets and I love watches. These people may as well just stab me right in the wallet this year. Posted via Android Central App

Make sure to keep your wallet out of your front pocket. Your dumb if this makes you mad.

no microsd or no removable battery would really kill the point of having a korean phone. i hope they keep it on the F

Hopefully metal, and it won't sell, and we can the metal phone is premium and people want it argument to rest. Your dumb if this makes you mad.

I don't think anyone can understand what you wrote, anyway.

No kidding. I'll leave it for the world to mock. Your dumb if this makes you mad.

Hmm... misspelling "you're" in the same sentence with the word dumb.... Not sure what to make of that.

I think that's the joke in his signature. But I can't be sure. ಠ益ಠ

It's It's in fact the joke, and proves if you're worried about grammar on the internet, then.....well I'm sure it proves something. Maybe a scientist can help me out.
Your dumb if this makes you mad.

No, but NoNsense can steer you in the right direction.

But... You will hold it wrong Posted via Android Central App

What the hell are you talking about? Posted via Android Central App/GS5

Looks exactly like a galaxy s4 Posted via Android Central App

^ Posted via my M9, X+1, N910, G906, D6653, G4, or G Pro 3

Wait you meant s3...no sorry s5...no sorry If you have something that works, you let it be Posted via Android Central App

don't stereotype Samsung phones that's racist Posted via Android Central App

What the S5 should have been...Period...

Yeah if you wanted to pony up 1250 Posted via Android Central App

Excellent. So it's still in play. *rubs hands together creepily* Posted from my caseless GS5, because I believe in myself

Lol Posted via Android Central App

I wish the Galaxy F well this September at IFA but it's the Galaxy Note 4 for me hands down. At the end of the day the Galaxy Note products are the GOLD standard of technology today nothing else matters. From my Galaxy Note 3 via Android Central App

What about Metalica? Your dumb if this makes you mad.

Stop.. Just stop... Richard has learned from his timeout and we should encourage his good behavior... Unlike me Posted via Android Central App

I didn't even notice, his avatar changed...makes me chuckle Your dumb if this makes you mad.

Not the real Richard people. The real one just commented the other day. Posted via Android Central App

At least with the Note 4, Samsung is going to get rid of their archaic 'old school' physical button.

I hope not dumbo Posted via Android Central App

Physical home button is the only thing that's keeping me from moving. Posted via Android Central App

Please use Qualcomm in the US. Exynos chips lag not sure why Samsung can't get their own chips to work better with their software

Oh and with the new generation what phone do you have with the next chip? Please write a review Posted via Android Central App

I Fahey want to make it different and not have people freak out, it needs to have on screen buttons. At least then it's more than just a spec bump from the S5. Posted via Android Central App

There are downsides to on-screen buttons, mainly the fact that they take up valuable screen space. Although KitKat has tackled this problem with Immersion Mode, some app developers are too lazy to update their apps to be compatible with it and thus, ending up wasting screen space. The solution is an Xposed module called Immerse Me, but it requires a rooted device. Posted via Android Central App

Release this phone already...

Looks pretty good! I prefer the gold and white instead of the S5 black and gold.

Shore iz purdy. However i think ill simply await the Gs6. My s4 is only 6 months old.

I have a feeling the phone Samsung released in Korea is similar to what we'll get when the iPhone is announced. Posted via Android Central App

Looks better than the S5. Wait, what? Posted via Android Central App

I was hoping for other colors than gold:/ If it comes in black I will upgrade from my n4 :) Posted via Android Central App

+1 on this. I don't want a gold phone, and don't want to have to put a case on it to hide the color. And I'm not sure I want to make the jump in size to the Note either. Posted via Android Central App

Anyone notice the date? Hint maybe? Posted via Android Central App

I'm not trying to hate, but that date is a Friday, and the phone says Wednesday. Could be though, maybe they're just trying to throw us off with the wrong day? Posted via Android Central App

The galaxy F has been listed in a site in saudi arabia complete with specs dont know about the auntheticity of it though
http://www.mobile57.com/samsung-galaxy-f-3158-in-saudi-arabia-5002.php Samsung Galaxy F Comes with Android OS, v4.4,3 (KitKat), Quad-core 2.7 GHz processor Qualcomm Snapdragon 805 APQ8084 Chipset, Andreno 450 GPU, AMOLED capacitive 2560 x 1440 pixels, 5.3 inches touchscreen, 16M colors, 16 GB internal storage, 3 GB RAM, microSD, up to 64 GB,16 MP, 3456 x 4608 pixels, optical image stabilization, autofocus, dual-LED flash Back and 2 MP front Camera, EDGE, GPRS, Bluetooth, GPS and wifi Smartphone Powered by Samsung Samsung Galaxy F Other Features: Multitouch up to 10 fingers Samsung Latest TouchWiz UI, Accelerometer, gyro, compass Sensors, SNS integration - Active noise cancellation with dedicated mic - MP4/DivX/XviD/WMV/H.264/H.263 player - MP3/WAV/eAAC+/FLAC player - Organizer - Image/video editor - Document viewer - Google Search, Maps, Gmail, YouTube, Calendar, Google Talk, Picasa - Voice memo/dial - Predictive text input (Swype) NETWORK
2G Network GSM 850 / 900 / 1800 / 1900
3G Network HSDPA
4G Network LTE
announced 2014, June
Release Date Coming soon. Exp. release 2014, Q3
DISPLAY
Type AMOLED capacitive touchscreen, 16M colors
Size 2560 x 1440 pixels, 5.3 inches (~554 ppi pixel density)
SOUND
Alert Type Vibration, MP3, WAV ringtones
Speakerphone Yes
MEMORY
Storage 16 GB storage, 3 GB RAM, microSD, up to 128 GB
DATA
GPRS Class 12
EDGE Class 12
Speed HSPA+; LTE-A
WLAN Wi-Fi 802.11 a/b/g/n, dual-band, Wi-Fi Direct, DLNA, Wi-Fi hotspot
BlueTooth Yes, v3.0 with A2DP USB Yes, microUSB v2.0, USB Host
CAMERA
Primary 16 MP, 3456 x 4608 pixels, optical image stabilization, autofocus, dual-LED flash
Video Yes, 1080p@30fps
Secondary Yes,2 MP
FEATURES
Operating System (OS) Android OS, v4.4.2 (KitKat)
Processor Quad-core 2.7 GHz
Messaging Email, Push Mail, IM, RSS
Browser HTML5
Games Yes, via Java MIDP emulator
Colors White, Black
GPS Yes, with A-GPS support and GLONASS

Holy shit. 2.7 ghz??!! This phone is already a monster. Posted via Android Central App

The only problem I see with this is that the site contradicts itself several times. The first section mentions Android 4.4.3 and microSD support up to 64 GB. But under the Memory section, it lists microSD up to 128 GB instead of the 64 GB it listed before. Then, under Features, it reports Android 4.4.2 which is inconsistent with the 4.4.3 it indicated first. This may just be mistakes on the site's part—I'm willing to give it the benefit of the doubt—but I agree, we'll find that out later.

Could be a translation mistake. Posted via Android Central App

dont know if that site is accurate or not we'll see lol

If Sammy gets rid of the physical home button, I'm keeping my s5 for as long as possible. On screen buttons are retarded and take up valuable screen real estate. Posted via Android Central App/GS5

+1 Posted via Android Central App

I'm a sucker for on-screen buttons, but I have to agree to this. Immersion Mode is a great first step. Unfortunately, many app developers are far too lazy to make their apps compatible. Result? Wasted space. And no. Immerse Me is not an actual solution since it requires a rooted device. There are several advantages, like slimmer bezels and greater customization, but wasted screen real-estate is a deal breaker to quite a few.

I sooo want this phone. I currently have the Galaxy S4 & love it but I just love the gold trim on this one. Posted via Android Central App