Galaxy S20+ hands-on confirms high refresh rate, 20:9 display and ultrasonic fingerprint scanner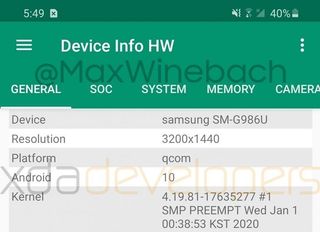 What you need to know
Further details of the Galaxy S20 series have been revealed, thanks to a hands-on leak.
The phones feature a 3,200 x 1,440 screen with a 20:9 aspect ratio.
The fingerprint scanner is still using ultrasonic tech, and there's no headphone hack, just like the Galaxy Note 10.
Thanks to a hands-on of the Galaxy S20+ by XDA Developers, we now know almost all of the phone's major specs. The leaks confirm the previous buzz about Samsung's upcoming flagship series and indicate all three models will feature a taller screen with a 20:9 aspect ratio. In the case of the S20+, that comes to a 3,200 x 1,440 resolution.
The phones were also confirmed to have one of the highest refresh rates in the mobile space at 120Hz. However, as per a report just earlier today, users may have to choose between a smoother display or a higher resolution, as the 120Hz option is only available at Full HD+. The phone will automatically switch back to 60Hz at higher resolutions.
Underneath that display is an ultrasonic fingerprint scanner, much like the previous generation, and contrary to some reports that Samsung may drop the ultrasonic tech in favor of an optical sensor. However, the report could not establish if the company is using the same sensor as last time or if it's upgraded the phone to include Qualcomm's latest tech, which offers a 17x larger scanning area and the ability to scan two fingers at the same time.
As far as the nuts and bolts of the phone go, it's set to feature 12GB of memory (as reported earlier) and a base storage of 128GB. Samsung will no doubt offer larger storage options for an additional cost. The battery capacity is rated at 4,500 mAh. Processing duties on the phone are, of course, likely to be shared between Qualcomm's new Snapdragon 865 and Samsung's own Exynos 990 based on where the phone is purchased.
Much to our dismay, the S20 will follow in the Note 10's footsteps and drop the headphone jack, making it the first Galaxy S smartphone to do so. So long 3.5mm audio; vive la wireless audio!
While more leaks about the phone — and its two siblings — are likely to follow in the coming weeks, any remaining mysteries about the phones will be answered by Samsung at its Unpacked event on Februrary 11. See you there!
Definitely hoping for a fingerprint sensor upgrade. I'll miss the headphone jack but no surprise there though they do need to use the extra space for better speakers. Given the popularity of the ultra wide front camera, I'm surprised to see everyone abandon it

Did you not see the video?

"and there's no headphone hack, just like the Galaxy Note 10." To the surprise of no one I hope.

Kinda disappointed that everyone keeps calling it the "S20"... has it been actually confirmed that it is the "S20"? No? Then stop calling it that... yes? Then screw Samsung for being stupid idiots... The year 2020 is just a year, its nothing huge and nothing big. So people need to stop spamming their devices with '20' at the end like its some big deal... you didn't see anyone slamming '10' at the end of everything when ti was 2010, and you definitely didn't see them spamming '00' at the end when it was 2000... So for the love of all things good in the world: STOP NAMING THINGS 20!

Well, I currently have a Galaxy S8. It is highly doubtful that I will purchase another Galaxy phone. In fact, I am just about ready to pull the trigger on an Iphone 11. I am fed up with slow Android updates, having to have a Samsung account to use my phone (and thus tracked by Samsung as well as Google), inability to completely disable Bixby, and the final straw for me a buggy Android Spotify app. Looking forward to Imessage, Facetime, and better apps. Let's face it app developers -- other than Google -- are more interested in IOS. I also like to use a tablet, and the state of Andriod apps on tablets is a really sad joke! I had Iphones before, and I ready to jump back.

Well...most of those problems are because you went with a Samsung, so...

Don't keep an iPad too long, you won't be able to download any apps after Apple stops support for it, and it becomes a useless paperweight. Even though we don't upgrade tablets every year, like we do phones. Apple store wants you to spend a bunch of money every 2 years on a new one. No thank you.
A touch screen Chromebook is the way to go and Google updates those all the time and it syncs with my, always updated, pixel. There, fixed that Samsung problem.
Android Central Newsletter
Get the best of Android Central in in your inbox, every day!
Thank you for signing up to Android Central. You will receive a verification email shortly.
There was a problem. Please refresh the page and try again.