Galaxy Note 4 with curved screen may turn out to be the 'Galaxy Note Edge'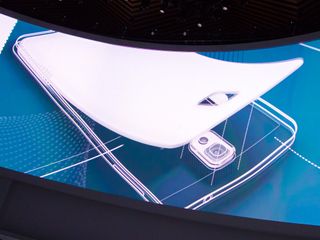 Samsung's next-generation Note device, the Galaxy Note 4, is heavily rumored to be offered in two variants — a standard variant of a device like the one that was leaked earlier today, and a version with a three-sided curved display. While information on either version is scarce, Samsung recently filed a trademark for the Galaxy Note Edge, which may turn out to be what the device with the three-sided display is called.
A trademark in itself does not reveal anything, or confirm that a Galaxy Note 4 with a curved display exists, as organisations like Samsung trademark names all the time and never use them. Furthermore, even if Samsung were to launch a Note 4 variant with a curved screen, the device will likely be available for sale in limited quantities in niche markets, as has been the case with devices like the Galaxy Round.
It is interesting to see if Samsung does manage to launch two variants of the Galaxy Note 4 in a month's time at the IFA. What do you guys think? Would you be interested in a Galaxy Note 4 with a three-sided screen?
Harish Jonnalagadda is a Senior Editor overseeing Asia at Android Central. He leads the site's coverage of Chinese phone brands, contributing to reviews, features, and buying guides. He also writes about storage servers, audio products, and the semiconductor industry. Contact him on Twitter at @chunkynerd.
(Heavy Breathing) Posted via Android Central App

you know Apple has a patent on a device with a wrap around display so it's going to be interesting.

Yeah, Apple's "research department" is notorious for just patenting everything they see on film. They recently patented transparent phones too... Clown company with no sense of innovation since 2007. "Let's try to make something different"... And they build a trash can shaped PC.... :D

And Samsung has been working on YOUM for at least a couple years - with public demos.

I wish my UK friends well if they are able to get their hands on this masterpiece as a threesided display. It would be a wonderful device and great addition to the Galaxy products and lineup. Either way when the Galaxy Note 4 we are suppose to get here in the States launches I it will be another day one purchase along with the Galaxy Solo Smartwatch on Tmobile. It's pretty much plain and simple nothing beats Samsung or the Galaxy Note products they are Android nothing else matters.
 From my Galaxy Note 3 on T-Mobile via Android Central App

But the question is: would you still buy Samsung if everything went Tizen Posted via the 64 GB OnePlus One

Why not? Posted via Android Central App

Yes I would that means it would have even better battery life and better features. From my Galaxy Note 3 on T-Mobile via Android Central App

Lol no Posted via Nexus 7 2013 or Galaxy S5

3 sided screen will make using a book cover a lot more enticing. Also sell more of the book style covers.

I have no desire to fiddle with a book cover while actually using the phone. As such, adding a book cover just to see a little bit of the screen poking out still sounds ridiculous.

I'd be interested in playing with one, but as most things, probably would just be gimmicky until a second version. Posted via Android Central App

+1 Posted via the 64 GB OnePlus One

I just don't get how you'd hold it without touching that part of the screen. We'll see tho. I thought the G Flex looked lame and I ended up loving it.

If this does come out I hope its available in the US but I'm not holding my breath Posted Via AT&T Galaxy Note 3

can I say hell yea.. I would hold off buying the note for the Note edge as long as it stayed large screen!

Give me 4 of them please. Posted via Android Central App

That's like 12 sides of screen in your face.

Samsung Galaxy Note Edge Glass HUD?

Im sure it would be utilized for notifications and what not, we will see if and when it is announced Posted via Android Central App

It'd be nice for game controls. In landscape the bottom edge/side could have the controls and you'd have the whole screen for everything else Posted via Galaxy ace plus running Speedmod 2.5 with Xposed

...or simply just for moving the annoying on-screen buttons out of the way.

Random thought. If they do have a screen on the edge wouldn't that defeat the purpose of a watch since it would display notifications?
Maybe not defeat the purpose entirely of course but it would display stuff. Posted via Android Central App

You still have to take your phone out of your pocket Posted via the Android Central App

Cant wait to use that curved S pen!

I'm going to have to look up the Samsung Curve 3 edge display on YouTube. I still don't know what it's good for or what it does besides show notifications when you tilt the phone. Is it useful or is it nothing more than a sammy gimmick? Posted via Android Central App

look up YOUM and watch the video from CITA in 2013....the display is useful and could be made to do a ton more...

This is the one I want... Come to the US! EITHER that or I might have to go to AT&T but I don't want to pay those prices. No T-Mobile is not an option Posted via Android Central App

Plain and simple.... T-Mobile is not an option.

To hear the stories around here, I am the only one in the universe Posted via Android Central App

I wonder what the price would be? Posted via the Android Central App

me too...I would say +100 over the Note 4. I would also say I would buy it...

too many phones... too many variants... too many rumors. Posted via Android Central App

too many commentor...too much uselessness

I want the three-sided version so bad...please, Samsung...don't make it N. Korea only...

I am right there with you on that. I have been eyeing up since they showed it off last year

Lel. North Korea. Posted via Android Central App

Yea yeah yeah, I meant South, obviously.

I have purchased many Note products from Samsung. If the Note Edge is a real thing I would be very interested in buying one to replace my Note 3.
Posted via Android Central App

Very interesting but I won't believe it until I see it.

Pictures: http://rootzwiki.com/news/will-samsungs-youm-usher-in-the-next-mobile-ge... Or video: http://youtu.be/N3E7fUynrZU

Yes Youm, the sweetest hangover. I honestly hope they do it but I don't want to get my hopes up too high. I wanted this on the S5 and that didn't go my way.

I'm interested in a Note Edge, I would get rid of my Note 2. Posted via Android Central App

This will be my next phone if it's good and comes to TMUSA.

Samsung started to piss of customer by coming up with so many devices and trying to cover all people and what they want from devices. Actually they just put so many stuff and software to their devices and make it more laggy and slow. And this is why I switched to HTC. More easy to use more fun and no lag at all. Posted via Android Central App

So you're the guy who bought the HTC phone... =)

A curved screen? Like the new curved tvs? I can't keep up with all these new expensive things!!

3 sided screen.... Not sure if it will handle any drops as well as a normal phone. And what about getting a rugged case for a 3 sided phone? Posted via Android Central App

I'm always interested in a new device :)
Android Central Newsletter
Get the best of Android Central in in your inbox, every day!
Thank you for signing up to Android Central. You will receive a verification email shortly.
There was a problem. Please refresh the page and try again.