Galaxy Note 10 series will not have the latest Snapdragon 855 Plus chip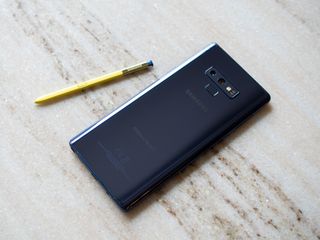 (Image credit: Android Central)
What you need to know
WinFuture has reported that the upcoming Galaxy Note 10 will not use Qualcomm's latest Snapdragon 855 Plus chipset.
The Galaxy Note 10 and Galaxy Note 10 Plus units sold in the U.S. will instead come with the older Snapdragon 855 chipset.
In most international markets, the Galaxy Note 10 series will be powered by Samsung's 7nm Exynos 9825 chip.
If you are expecting the U.S. variants of the upcoming Galaxy Note 10 and Note 10+ to be powered by Qualcomm's all-new Snapdragon 855 Plus chipset, you may end up disappointed. A new report by WinFuture claims the Galaxy Note 10 models that will be sold in the U.S. will have the older Snapdragon 855 instead of the Snapdragon 855 Plus. The international models of the Galaxy Note 10 will have a new 7nm Exynos 9825 chipset under the hood.
The move isn't completely surprising as the Snapdragon-powered variants of flagship Galaxy smartphones have usually been slightly superior to their Exynos-powered counterparts when it comes to benchmarking performance. Since the Exynos 9825 chipset will deliver slightly improved performance compared to the 8nm Exynos 9820 powering the Galaxy S10 series smartphones, we can expect the U.S. and international versions of the Galaxy Note 10 to be nearly identical in terms of performance. Samsung will be launching the Galaxy Note 10 and Galaxy Note 10+ at its Unpacked event at the Barclays Center in New York on August 7.
Qualcomm's new Snapdragon 855 Plus is a minor upgrade compared to the Snapdragon 855 chipset, offering a slightly higher clock speed of 2.96 GHz and up to 15% improvement in GPU performance. The first smartphone to have the latest Snapdragon chip under the hood will be the ASUS ROG Phone II, which is expected to be unveiled on July 23. A few other smartphone makers such as Realme, Vivo, Nubia, Lenovo, and Redmi are also expected to roll out devices featuring the Snapdragon 855 Plus before the end of the year.
Samsung Galaxy Note 10: News, Rumors, Release Date, Specs, and More!
Android Central Newsletter
Get instant access to breaking news, the hottest reviews, great deals and helpful tips
Bummer. Would have been smart.

Not sure why anyone jumped on that bandwagon. The Note 10 is likely well into production for its Aug 7 release, so why would it have a processor announced a little over two weeks prior?

well, Asus managed to squeeze it into a phone they'll release 2 weeks before the Note 10. I know that quantities are different and the whole production system behind it too, but someone's doing it. And chances are, Qualcom themselves have working production lines for any new processor way before they're publicly announced.

Yeah and Asus might sell 100 phones to the Note's 1 million

Call me old fashioned but without the headphone jack & micro s/d support it's a hard pass. Very disappointed in Samsung, their getting alittle too Appleish for me. Your paying more & getting less!

Not having a headphone jack is disappointing, I'm hoping the no SD card is just fake news. But your still getting 100x more for your money with a Note than you will with any apple device ever..

A little???....youre just now noticing this now???

Interesting the the flagship 855 chip is now "old". How time flies.

With a phone as big as the note10 and 10+ i dont get why they took out the earphone jack...and maybe no sd card slot?! I mean they should be putting in extras like an ir blaster.... Now with the exynos, I guess that means no fm radio as well? My lg g5 was smaller and had all that!
Android Central Newsletter
Get instant access to breaking news, the hottest reviews, great deals and helpful tips
Thank you for signing up to Android Central. You will receive a verification email shortly.
There was a problem. Please refresh the page and try again.