The Galaxy Note 10 is now rumored to have an Exynos processor in the U.S. [Updated]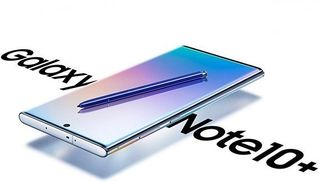 What you need to know
Tipster Evan Blass says that the U.S. version of the Note 10 will have the Exynos 9825 processor.
Samsung hasn't used Exynos chips in the U.S. since 2015.
However, the Verizon Note 10 is said to ship with the Snapdragon 855.
Updated August 2: Just a few hours after Blass made his initial claim about the Note 10 using an Exynos processor in the U.S., he's now come out to take that back.
Just like we were previously expecting, it seems quite certain that the Note 10 will use the regular Snapdragon 855. Carry on, folks.
We're just a matter of days away from Samsung unveiling the Galaxy Note 10 and Note 10+, and right before Samsung's Unpacked event on August 7, a new rumor suggests that the phones might have a different processor than what we were expecting.
Reliable tipster Evan Blass recently took to Twitter, saying that the Note 10 on all U.S. carriers (sans Verizon) will be powered by Samsung's own Exynos 9825 processor. For whatever reason, the Verizon variant of the Note 10 will apparently use the Snapdragon 855.
Personally, I'd take this with a big grain of salt.
For one thing, this is the first time there's been any indication of U.S. Note 10 models using the Exynos 9825. It's widely expected that the Note 10 and Note 10+ will use the Snapdragon 855. Blass previously claimed that the series would use the newer 855+, but he's now backtracking on that.
Furthermore, the last time Samsung had an Exynos chip in a U.S. Galaxy phone was the Note 5 from 2015. While it's not impossible that Samsung could start using its own chips in the U.S. once again, the company has a strong relationship with Qualcomm and has been using its processors in the U.S. exclusively for the last few years.
Then again, we don't have much longer to sift through these rumors before the phone is made official. August 7 will be here before you know it, and when it rolls around, we'll have plenty of coverage on everything you need to know about Samsung's two new flagships.
Samsung Galaxy Note 10: News, Leaks, Release Date, Specs, and Rumors!
Joe Maring was a Senior Editor for Android Central between 2017 and 2021. You can reach him on Twitter at @JoeMaring1.
So no 855 plus. Evan Blass is pretty reliable so I would believe him

Dude's changed his mind three times. He's grasping at straws. At this point, we've heard that the Note 10 will have...every possible flagship processor.

How is he "changing his mind?"
He clearly gets his information from somewhere reliable and he's usually right.
It's not like he's just making stuff up out of nowhere.

He's named them all, based on reliable sources.

Yet... Evan needs to take a break. Especially since we'll all know in just a few days.

It used to be that the Exynos held the advantage, but not the last two generations. If they do go Exynos, I wonder if the motivation is cost.

I seriously doubt it's coming with a Samsung processor.

Why? I doubt it too, I'm just curious about your rationale. My guess has always been that it's cheaper to use a Snapdragon than incorporate CDMA support into the Exynos, but as I understand that's less of an issue these days.

Does that mean dual sim in the Exynos?

Not necessarily, Snapdragon SoC's are completely capable of running dual SIM. Presumably Samsung don't support it in the US because of a deal/strong arming from one or more carriers.

So would it be best to just buy unlocked? No micro sd, no dual sim, same processor as international model w/ dual sim. You can download carrier update 3rd party. Maybe minus wifi calling with at&t. But you definitely get it with tmo. Will the number sync work with LTE active 2 w/unlocked note 10? Correct me if I'm wrong anywhere. But one less purchase that I have to make from the death star the better I feel.

I thought the Exynos version didn't work with CDMA?

Well
Was hoping the US used the new superior 7nm euv 9825

If Samsung has a better CPU than qC, then maybe they should just not worry about 5G for now and use it. Doesn't seem to hurt Apple, and its getting hard to differentiate in ways that actually make a difference to users, these days. Definitely skipping out on this generation. Keeping my Note 9 and waiting g for the 2020 iPhones - unless Google actually gets good at designing and manufacturing smartphone hardware, and hires new UI designers for their Android apps.

Aaaaaaand...he's changed his tune. Again.

Snapdragon 855 or less = NO BUY.
If this is the case, i will keep my old trusty crusty Galaxy Note 9. I would have seriously considered the Note 10 if it had the Snapdragon 855+ or even that Exynos 9825.

Well clearly nothing is confirmed yet. The info keeps changing daily. 😂

The Samsung Galaxy Note 10 will have 8k video recording at 30fps u heard it here first
Android Central Newsletter
Get the best of Android Central in in your inbox, every day!
Thank you for signing up to Android Central. You will receive a verification email shortly.
There was a problem. Please refresh the page and try again.