Five things you need to know about Lollipop on the Samsung Galaxy S5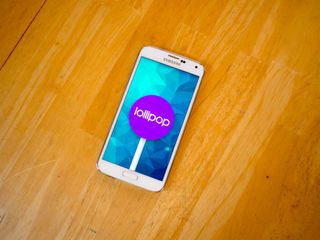 TouchWiz is far from dead. In fact, it's Material Design that feels like the stranger.
Samsung surprised everyone recently by rolling out the update to Android 5.0 through some of the notoriously difficult update channels, leaving many Galaxy S5 owners with a whole lot of new buttons to press and a couple of curious interface choices. While every upgrade to Android 5.0 is going to cause something of a learning period, the way Samsung meshes together Google's new user interface decisions with their existing user interface is likely to leave a few folks somewhat lost. Here's quick roundup of the good, the strange, and the slightly broken things about Lollipop on the Samsung Galaxy S5.
Read more: Five things about Lollipop on the Samsung Galaxy S5
Lollipop notifications work well, but the lock screen and system tray do not
Anyone who has used Android 5.0 so far knows that the update notifications system is one of the new stars of the show. The animations are slick, you can expand a great deal of notifications to interact without leaving the app you are currently in, and to be able to do all of this from the lockscreen is a genuine pleasure. Samsung made sure to get the pretty part of the notifications right, but everything else about this system is competing with TouchWiz. For example, on the lockscreen you can't just double tap on a notification to unlock the phone and launch the app. You have to unlock the lock screen notifications with a downward swipe, and only then are you able to expand notifications and jump to apps.
The notification tray once you've unlocked the phone is equally confusing to any who have seen Lollipop already. The notifications can be swiped and expanded as you would expect, but the top of the notification tray and the two-finger swipe to access to extended notification tray is classic TouchWiz. The darker blues and simple circles for activating features aren't going anywhere, and if you were hoping this part of the phone would start to look more like stock Android you're unlikely to be particularly happy.
Ultimately, if you're happy with the Galaxy S5 right now the lack of change may be a good thing. The only real functionality issue is when notifications tell you to tap in order to get an answer when the lockscreen on the Galaxy S5 has added an extra step without telling anyone.
Material Design is awkwardly sprinkled throughout TouchWiz
There are a lot of places on the Galaxy S5 that look exactly the same as it did before updating to Android 5.0. Most of Samsung's apps, for example, look and function identically to the previous version of Android. Samsung's launcher still functions the same way, thought the status bar is now transparent. Where things really start to get interesting are the seemingly random Material Design elements that pop up all over the place.
The card that pops up from the bottom of the screen to confirm which app you want to use to open something, the floating action button in the bottom right of the contacts section of the dialer, and the sort of hybrid Material look of the Settings panels now are the biggest places you'll notice this split UI. It's a lot of little things, and for the most part what you get is an experience that feels like Samsung only used the parts that were easy to add and left everything else on the cutting room floor.
There's plenty you can do to get more of that Material goodness in your life if you so desire, especially through replacement launchers, but if this is a sign of what we can expect from Samsung moving forward it'll be hard for a lot of folks to get excited about Material Design.
Individual Chrome Windows are enabled by default
Love it or hate it, Google's decision to let individual Chrome windows exist in the multitasking tray as separate items instead of tabs on a single window is a big part of Android 5.0. The design decision is one that users constantly discuss as though it is either the best feature ever or something to be turned off immediately after you boot the phone up.
Like the Nexus 6 and the Moto X, this Lollipop feature is enabled by default on the Galaxy S5 but is just as easy to disable as it is everywhere else. You can hop into Chrome and flip the switch to turn this feature off by heading to Settings in Chrome and flipping the toggle labeled "Merge tabs and apps", or you can give it a try and see how you like this new way of doing things. Especially with the new Lollipop multitasking window, you may find that the colorful windows created by Chrome make this your new favorite feature.
Mute and Priority mesh well together in the audio settings
Folks who have just started to get a hang of Android 5.0 have noticed there's a button missing from the volume settings on some phones. For reasons passing understanding, Google has decided most people don't actually want to mute their phones. Instead, there's a Priority mode and a None mode for volume controls, and the lack of something in between bothers a lot of people. Samsung's new volume controls are a hybrid of what was available before and what Google thinks is best, and their implementation is one of the better changes that have been made.
If you want to mute on a Lollipop Galaxy S5, you can either hold down the volume button until the mute setting pops up, or you can tap the gear and select it out of a list. The expanded volume controls offered by tapping the gear gives users access to Priority notification controls, as well as the ability to set a timer on Mute. It really is the best of both worlds, and the granularity found in Priority notifications gives users the ability to thoroughly customize their setup.
Just a touch faster, but battery life is about the same
Android 5.0 brought with it a bunch of performance enhancing and battery extending software. The existence of 60fps animations and better battery life on any Android device is exciting, but it's honestly a little tough to see on the Galaxy S5. The biggest places you'll see improvements in performance is the camera app and the notification tray, which both feel smooth and launch faster than the previous version of the software. This is coming from an over the air install, so while your mileage may vary slightly based on usage you should have some subtle improvements.
As for battery life, after a week of use there was no obvious difference between the previous version of Android and Lollipop. We know that the big battery boosting bits of Project Volta require developers to do their part in the apps they release, so it's likely this will get better over time, but expecting any huge shift in battery life isn't likely to happen on this phone.
What do you think of the Lollipop update?
We've had some great feedback from a lot of people so far, and while there's some discussion on whether or not the Galaxy S5 is any faster with this update, the lack of any obvious outstanding bugs has been a huge relief for many. Samsung's deployment of Android 5.0 seems to be going smoothly, which is great news not only for the Galaxy S5 owners who have yet to see the update, but also owners of Samsung's other devices.
Don't forget to head to our Galaxy S5 forums for more info on this update!
Get the Android Central Newsletter
Instant access to breaking news, the hottest reviews, great deals and helpful tips.
I can't remember, which US carrier got the update first? Posted from my Droid Turbo, Kelly and Ozone

Lol the one that occasionally surprises us! Posted via the Android Central App

The one which has the ugliest logo and makes even the well designed phones to look crap. Posted via the Android Central App

No...it wasn't T-Mobile Posted from my Droid Turbo, Kelly and Ozone

T-Mobile doesn't modify the phone's appearance with carrier logos obnoxiously placed everywhere. And they're the only one with a cute logo.
http://3.bp.blogspot.com/-SHMEHtyHA38/TnAww07zQLI/AAAAAAAAFkA/gCnpWYE2MX...

Sprint, also The Samsung Active 2014 is getting updated right now as well on sprint

I got it a week ago on Att for my SG5 Active.I was crying for a day but now I came to terms with it.

I have an Active unrooted with 4.4.4, how did you get Lollipop?

I was working on it when suddenly the update popped up and told me to reboot.It didn't say that it was Lollipop.I have to assume it was from the carrier,ATT.

I updated my S5 the day the update came out and I definitely recommend a factory reset after the update. It was fine the first day but started acting funky until I did the reset this past Sunday and it has been fine since then.

Agreed. I've reset a couple times and now we seem to be smoother.

The only thing you need to know about Lollipoop - It sucks. I'm going back to Kit kat this weekend. Posted via the Android Central App

He doesn't like hard candies...he's going to eat a chocolate wafer bar on Saturday.

It is rough. It is beta and never should have been released. But it is better Posted by my soon to be retired Note 3

O please stop with the beta crap.
It's been released their might be bugs but no OS is perfect. Posted via the Android Central App

It definitely needs some bug fixes...i've factory reset and still I get random slowdowns, especially with Facebook Messenger.

I have that problem too get's really hot as well. How many resets you done?

That'll show em... Posted via the Android Central App

nailed it Posted via the Android Central App

Good for you, your note 3 on the useless carrier is not going to get the beta software until at least the next beta version is released. Posted via the Android Central App

Its okay. New things are scary. Posted via the Android Central App

No its not okay Posted via the Android Central App

First thing you need to know is Touch Wiz is still there.. Posted via the Android Central App

One has to be an idiot to think TW won't be here.

Do you like it more now? Posted via the Unrivaled Note 4 or Tab S 10.5

Yeah can you now stfu about the FUD you spread? Posted by my soon to be retired Note 3

Material Design is awkwardly sprinkled throughout TouchWiz Section 'headline' within the article.

Other than the bright blue quick toggles in the notification panel, I think it looks good throughout the OS Posted via the Unrivaled Note 4 or Tab S 10.5

Ya i just think performance went doen the drain Posted via the Android Central App

"Yeah can you now stfu about the FUD you spread?" -Elmer FUD himself

Thanks Russell. Good read. I'd love to see more articles like this detailing large Android version jumps on popular phones. Thanks!

+1 Posted via the Android Central App

Agreed Posted via Android Central App

Question, I hear people say that Samsung phones are prefect for individuals who are new to Android. Who here besides me thinks Samsung's phones require more of a learning curve than stock Android? Posted via the Android Central App

They are, out of the box. Posted via the Android Central App

Yeah you are. There are more options for beginners than any phone. Notice I didn't say any other, I said any Posted by my soon to be retired Note 3

I think there are two sides to it. On one it looks harder, but on the other it also has an easy mode and, which might be more important, it does more out of the box. From what I've noticed average users or beginner often care more about what it can do out of the box and not what it can do after searching for hours through the Play Store with some hit & miss experience.
"Normal" users often just install apps after they got recommendations from friends, but otherwise they don't even know what they should search for. Just look on phones of average people, doesn't matter if those are Android,iOS or Windows phones. They've a whole bunch of crap installed because they read about those apps in magazines, but they barely find the apps they could really need or look for.

Great explication! Posted via the Android Central App

Explanation? Posted via the Android Central App

Yes LoL Posted via the Android Central App

+1 Posted via the Android Central App

Samsung phone have an Easy Mode, that many have said is good for older users. Also since they are popular phones, it is likely easier to get assistance with them.

I hear people say a lot of things about Samsung phones. The truth is that they were never that good to begin with. It's amazing what commercials can make you believe. I'm glad people are starting to realize that Samsung is nothing special, and are buying handsets far more deserving from Moto and HTC etc. Sent from my Galaxy S5 Posted via the Android Central App

Sure, Lol Posted via the Unrivaled Note 4 or Tab S 10.5

After this abomination of a blend of Touchwiz and Lollipop filters down to all regular Samsung Galaxy S5 and S4 users it seems less probable the S6 will ameliorate plummeting acceptance of the brand. Remember BlackBerry and Nokia! Shit happens!

It sucks that is all Posted via the Android Central App

You think it's ugly? Posted via the Unrivaled Note 4 or Tab S 10.5

Mlyp Posted via the Android Central App

No i dont i just think it's slow Posted via the Android Central App

That sucks man. Factory reset?? Thst sucks too but it's the big fixer Posted via the Unrivaled Note 4 or Tab S 10.5

Wow sounds like GB and HC all over again Posted via the Android Central App

I heard Samsung left out the tootsie roll in the tootsie pop....er....lollipop....

" is equally confusing to any who have seen Lollipop already" How many GS5 owners will have seen lollipop before seeing it on their phone? Posted via the Android Central App

Nexus tablet owners? GPE owners who had to do an emergency phone replacement?

I'm sure many users (atleast I hope they do) watch reviews on YouTube regarding hope stock Android works vs skinned Android. Posted via the Android Central App

Normal people don't have time for such shit. Most don't even know what is a TW. And a majority of them will never update their phones even if an update is available.

"Normal" what are you trying to say? Do you think reading newspapers and only having a landline is normal? Are you saying people who actively pursue the knowledge of tech are abnormal? Here's the NEWS! People that don't take the time or make the time to learn about advancements in technology are LAZY! Posted via the Android Central App

Exactly! Lazy... And that's most people. You just inadvertantly supported his claim Posted via the Android Central App

You're so disengaged from reality it's amazing...

Those of us who read sites like Android Central and follow the news are something like 0.01% of Android users. Most "normal" users (+80%) don't even know that there is a new version of Android out, let alone what it looks like. It's not "laziness", it just doesn't matter to them.

I did and I dreaded the update.My battery life on my Nexus went downhill since LP.Plus my qq doesnt work,now I have to use the chinese version which I dont understand.

Samsung needs to learn from other OEMs: your skin is supposed to compliment the OS, not the other way around. It looks like they freaking threw touch wiz with material design in a blender and threw it on the phone. Posted from the Nexus 5 or Xperia Z3

Lol that is laughable. They should enhance the the crap that Google puts out Posted by my soon to be retired Note 3

Yea, Android is crap. Samsung makes some seriously sick software, they should be showing Google how it's done and enhance the experience. We should go check out their new Tizen phone and switch to it. Its so amazing, just a brilliant OS. I like how you can't even put apps on home screens, it really let's me put my focus on the two other apps it comes with. Posted via the Android Central App

You're such a blind fanboy its not even funny. If you wanna say what google outs out is crap, the stop using Touchwiz and switch to Tizen, or whatever the heck you think is good. If you think that Samsung got Lollipop right with what they did with it, you're sadly mistaken. It looks bad. They could have done much better. They had all the time in the world to get it right, and it's awful. You can't deny that. Posted from the Nexus 5 or Xperia Z3

Aweful? Other than The launcher, what's so aweful about it? Ya because Sony's ui just looks great doesn't it. lmao Posted via the Unrivaled Note 4 or Tab S 10.5

What do you mean other than the launcher? First of all, the launcher happens to be one of the more important components to Android. Its the first thing you see. It says a lot when you have a messy launcher. Secondly, I never brought Sony into this conversation but since you want to (even though Lollipop hasn't formerly debuted for it) Sony's launcher and software in general is a heck of a lot better than touch wiz. It looks better and it functions well. Like I said, Samsung could have done way better skinning Touchwiz. They had plenty of time. Posted from the Nexus 5 or Xperia Z3

Preference in software aesthetics is subjective. I happen to think Sony's ui looks 3 years old, crappy, and like it should be running ICS. So do alot of other people. If you don't like a launcher, then change it. Most android users are aren't even aware that 3rd party launchers exist, but I assume you do, right? Lol. Complaining about an android devices stock launcher is a petty, insignificant gripe unless you don't know any better. Posted via the Unrivaled Note 4 or Tab S 10.5

Dialer app, with the cartoon character
Notifications area
Settings menu Posted via the Android Central App

I hate those goddamn contact icons. Samsung needs to get they're heads out of they're asses on that one Posted via the Unrivaled Note 4 or Tab S 10.5

You mean OEMS like Xiaomi? Because vendors like HTC are dinosaurs - they are extinct.

HTC is making a comeback. They make arguably the best built phones out there. Posted via the Android Central App

+1 Posted via the Android Central App

nonsense Posted via the Android Central App

Notifications are certainly wonky, wonky, wonky from the lock screen. Gestures like swipe down anywhere in Launchers like Nova (tested many of them) no longer bring down the notifications which works on the Nexus 6. Clearly they've renamed that action unlike stock Android. Takes me like 4 taps minimum to get to an app from the notification on the lock screen (even with smart lock enabled to my watch). Screen pinning and guest modes are reportedly coming in the next update(s) but come on, man.

I'm looking forward to seeing it on my Note 4. Soon enough I suppose. My buddy noticed that the buttons are switched in the dialer which is aggravating for him I guess.

I'll say it again, do not understand how anyone can like TW Posted via the Android Central App

Check the dictionary for 'preference'.

in the definition it specifically mentions touchwiz and states that preference has nothing to do with it.. it just sucks... its not me, man, yell at oxford Posted via the Android Central App

I think people (I did) get sucked into the Samsung vacuum by the allure of SD cards and replaceable battery. You kinda have to trick yourself into thinking you like touchwiz in order to have the SD card and replaceable battery option. Posted via the Android Central App

I've used everything. Everything. And honestly, for me, tw isn't any worse or better than the rest. Posted via the Android Central App

Well, according to the commercials if you didn't use Samsung you were a complete idiot incapable of thought for yourself. Seemed to work. I don't understand why Samsung can't offer a tool to unlock their bootloaders at the cost of the warranty. Then and only then would I really like their phones. They're attempting to be some sort of Apple clone, but its more like an attempt at becoming Apple's shameful deformed brother who lives in the shed and whom bangs his club foot all over the walls to try and get people to notice. Stay in the shed. Posted via the Android Central App

Verizon Note 4 here so not much to add on the subject yet. Must say though, that this is the most hilarious post I've read in a while. Keep up the good work! On Galaxy Note 4

Hahaha that last paragraph made me laugh, trying to picture it made it worse XD Posted via the Android Central App

Don't understand the differences really. Maybe I'm missing something. All androids have those same icons and same widgets right? Or are they different in other phones? Posted via the Android Central App

Great article! Would love to see it for HTC and lg devices too! Posted via the Android Central App

Sense on Lollipop looks good. My brother got it this morning and I must say HTC did a good job implementing Material Design and the new features that come with Lollipop. Posted from the Nexus 5 or Xperia Z3

I like sense on lp... They keep pacing the skin game. Posted by my soon to be retired Note 3

just no raw support... everything else is fantastic Posted via the Android Central App

Until Samsung decides to update the Qualcomm S4s I've been using a close to stock Lollipop rom which has been working without great hickups so far. Battery life has been vastly different as opposed to Samsung's take on Lollipop apparently. I'm even more more sure now I will no longer own another Samsung after this one. Updates are ridiculous, Touchwiz is even more ridiculous and the ability to quickly switch batteries is no longer a good enough reason to come back anymore. Just like every other Great phone manufacturer before them they have lost their way and can be seen by how rapidly they are now falling.

Ever since my phone updated, it's ridiculously slower, my wallpaper resets to default randomly, my battery drains more than before, and my phone gets very hot even when not in use or charging. If there is something I can do to fix these things, I'd appreciate any feedback. But as of right now, I'd prefer to go back the way it was. I do like the colorful, vibrant chances. And some of the new aspects are nice, but the issues I'm having are out weighing the good qualities. Please fix this!

Honestly, factory reset it, let it boot and factory reset it again. Then rebuild. Much smoother experience for me after that. Posted via the Android Central App

I too was having issues with the update so I went to best buy and talked to a Samsung service rep. They were really helpful even though he said there was nothing they could do to fix the bugs, there are options to ease the fustration. He said the first thing I need to do as soon as I leave the store is go by a hardware store and buy a ballpin hammer, next go home and use the device just like I normally would and the next time it starts acting buggy "bashthemshits with the hammer" the next step was a little trickier. You'll need to find a skinny jeans imporium and wait outside till you see some dipstick come out with a phone that has a huge NEXUS logo and a peeling back panel with an equally unsightly vagizon logo underneath. Then just simply mention " your phones in boot loop" and while they're in panick mode swipe their ID, take said ID to vagizon add a line to their account and get an iPhone 6. I mentioned this seemed a little sketchy but the rep was adamant and said " these guys spent $650 on cheapest made phone with buggiest software on the market...and think its the greatest thing since sliced bread, how smart could they be?" Again I mentioned this doesn't seem like a quick easy fix but after some debate, we both decided it was easier and faster than trying to fix lollipop on an s5. Hope this helps.

Well played sir, I almost shit myself with laughter reading that. The best part was the suggestion to get the iphone 6, lmfao. I hope you were being sarcastic with that one assclown, Or else you ruined the whole fucking thing ! Lol Posted via the Unrivaled Note 4 or Tab S 10.5

Hmm, that mute section doesn't seem to correlate with what I've got on my G900F GS5 Lollipop OTA in the UK (or many other people, from searches). If I hold the volume button down, I just get vibrate mode or max volume (depending on the button). The gear option just brings up the separate volume controls, not the settings screen in the photo. However, the photo is showing a "no notifications, not even alarm" option, which isn't much use to me anyway. I also don't have fine grained control over priority notifications in mine. As I understand it, stock Lollipop (as seen on Nexus) allows each app to be configured to be priority or not -- that isn't possible on my GS5. Priority mode is still okay for me, as an alternative to silent, but I'd quite like a proper "silent for everything except alarm" setting, as was in Kitkat.

I love the folks who claim lollipop sucks and are returning to KK etc. Probably the same people who claim Win8.1 is unusable garbage. Lollipop is amazing. If you think it's buggy I direct you to iOS 8, an operating system so messed up that rumors are floating around that IOS 9 will mostly be dedicated to bug fixing and stability.

By "rumors" you mean your "bro" with a nexus device.

Exactly! and apparently his Nexus Bro also works for Tech blogs and Apple blogs... http://www.theverge.com/2015/2/9/8005669/apple-ios-9-stability-bug-fixes
http://www.slashgear.com/ios-9-said-to-focus-on-bug-fixes-and-performanc...
http://www.gsmarena.com/apple_ios_9_tipped_to_focus_on_bug_fixes_and_sta...
http://9to5mac.com/2015/02/09/apples-ios-9-to-have-huge-stability-and-op...
http://www.redmondpie.com/ios-9-focuses-less-on-new-features-more-on-sta...

I own a nexus 9. Also, I literally just got a nexus 6 today to replace the garbage that was my s5. In the process of flashing Franco and liquidsmooth. I've also owned every nexus phone to come out since the galaxy nexus. Lollipop works fine for most people most of the time. On my nexus 9 all the problems have been hardware related. I've had a whole 2 strange bugs since I've purchased it, and both were problems that I think pertained to the apps not being updated for 5.0. Am I saying I don't think the problems exist? No. There's just a lot less of them and they're a whole lot less severe then competing platforms. Both my bruhs with nexus devices say whaddap BTW.

Kinda glad its not ready for the Note yet. Here's hoping we get 5.0.1 and its a more consistent experience. Posted with the sexy GN4.

I agree, but I'm getting anxious to finally get it Posted via the Unrivaled Note 4 or Tab S 10.5

I'm with you on that! Not hoping they rush it out with a bunch of bugs.. But hope it is soon:)

As long as there are minimal bugs, it'll be worth the wait. Alot of the complaints I've read about the Verizon S5 update are just unacceptable. Posted via the Unrivaled Note 4 or Tab S 10.5

Is it possible the problems are more Carrier related? Note 4

Absolutely Posted via the Unrivaled Note 4 or Tab S 10.5

I noticed that they took out the screen pinning feature as well..... y'all might want to mention that.

Many random reboots since update. I'm not complaining yet as I don't want to go through a factory reset and reinstalling everything again. Battery drain is bothersome though. Posted via the Android Central App

I'm looking forward to this- any update from Samsung is a good thing. Not holding my breath for it before April though. NZ is usually pretty slow with updates

I was estimating mid march...When do you reckon approx for NZ?

Get rid of my magazine for google now and I might actually use TW. But till then, google now launcher it is.. Posted via the Android Central App

You know you can disable that, right? Lol Posted via the Unrivaled Note 4 or Tab S 10.5

not on my tab pro. Posted via the Android Central App

I assume He's talking about the S5 Posted via the Unrivaled Note 4 or Tab S 10.5

It is possible, but then it just is blocked. When you swipe left, it give the message app turned off or what ever. Google now belongs to the left IMO. When disabled it doesn't remove it from the system. Just annoying. Posted via the Android Central App

Pinch the home screen, select "home screen" settings, and uncheck "show my magazine". It should completely remove it from the launcher and give you an infinite scroll. But if you don't like the stock launcher, just find one you do like. Stock launchers have far less functionality and are weak in comparison to customs anyway Posted via the Unrivaled Note 4 or Tab S 10.5

My S5 is junk with the lollipop update.

So true, according to the S5 user forum link at the bottom of the article.

I'm very happy with my s5 after the update. Posted via the Android Central App

Yea since I got the update my heart rate monitor has activated every time I get near it and battery life is atrocious Posted via the Android Central App

With all this BS I've been hearing about Lollipop (on any device), I'm not looking forward to this update. I have absolutely no problems with 4.4.4 running Nova pro... Posted via My Beastly Galaxy Note 4...(T-Mobile)

I don't think it's Android 5.0 (which seems to be generally fine now that it's up to 5.0.2) but rather Samsung's implementation of it.

Android 5.0 is a system for iDi*ts, still removing features.
Android without Samsung would start falling like tablets have started.
Android without Samsung is a dummie iOS so we have no reason to buy an Android device anymore.
If Samsung makes a pure Android I have no reason to buy a Samsung device anymore.
We need features for work and home: Knox, IR, miracast, app split screen, restart button, more volume settings, microsd etc etc etc.
For monkeys there is an iPhone, but we need to USE our pohone or tablet.

Felt like I was reading Oscar Wilde's preface to The Picture of Dorian Gray for a moment there.

based on facts: tablets are in a fall

I believe manufacturers are going to have to come to the realization that tablets are not like phones, where people upgrade every 1 to 2 years, and stop doing yearly refreshes of devices. That would probably help their bottom line in that department. My Oscar Wilde comment was about the rhythm and style of your comment, not the actual content :) http://classiclit.about.com/library/bl-etexts/owilde/bl-owilde-pic-pre.htm

I'm still missing features on my S5 like the multiple accounts and the thing that locks people in a app. But I'm just glad it didn't effect my battery life. Still getting 3-4 days out of my S5 and that rocks :P

I looked at TouchWiz , but it's going to have to go a long way before I will use it. Galaxy S5

Got 5.0 official on note 3 and it's amazing. There is a review on xda that pits it against a n5. Check it out haters Posted via the Android Central App

Ok, I have a question, and any feedback would be greatly appreciated! I have the Galaxy S5 on T-Mobile. So, obviously I have yet to receive the update to lolipop, but I have been reading every post I can find to make sure that once I do get the update, I am prepared to make the transition easy and make the most out of the new OS! The one thing that I keep seeing is the suggestion to do a factory reset after the update in order to prevent and/or remedy any possible issues. My question is this, I have done a full backup of my device through Kies, so, once I do the factory reset, would it be advantageous for me to use that backup, or, might that just re-install any elements that may have caused problems, thereby rendering the whole factory reset, useless? Obviously, I would like to be able to just use my kies backup to get back my apps and such that the reset deleted, but if that is going to cause the reset to be essentially useless, then it will definitely be worth the extra effort to rebuild my apps and such from scratch! Any recommendations on this matter would be greatly appreciated!! Thank You!

Kies backup is great if you have a lot of information that is only stored on your device that you want to keep. Things like text messages are only stored in Google services if you are using apps like Hangouts or Google Voice. Ultimately it depends on your usage, but you really could be fine with either. Posted via the Android Central App

Only thing I can say is that I also have a GS5 on Tmobile and updated to lollipop last week on Feb. 18th. and have not had any issues. The update was smooth, phone is faster and battery life is slightly better. I didn't need to do a factory reset.

Thanks, in advance, to anyone willing to take the time to reply to my post! I love the fact that there are still people out there who are willing to help! ☺

But I'm really liking 5.0. Even though I have no use for TouchWiz. It's like a new phone since the update. Thanks... Galaxy S5

Ok, so, just to simplify my question a bit... Obviously the purpose of doing a factory reset after an OS update, is to wipe out any old system files, data, info, ect... That may conflict with the update, thereby causing stability issues and various other problems. With that in mind, What I really want to know is: If I use my Kies backup to restore the apps and data that I DO want back in my phone, will that also restore the files, data, or whatever, that I DO NOT want back in my phone, (those type of files & such that may cause problems after the update?)

Not sure as I haven't used Kies to backup apps on my S5. I used it on my S3 but it was too buggy and kept crashing so I stopped using it and now you Helium (carbon) for app backup and restore. I would use Kies to backup things like contacts & wifi settings etc and keep your files on SD card. Unless there are specific apps that you heavily customise and the settings can't be saved anywhere, I would just install the majority from scratch from Google Play. One tip would be to backup your Whatsapp folder (if you have it) then copy it back after you reset.

I completely disagree with the audio controls opinion in the article. If anything, they have been made worse. I used to put my S5 on mute while at work so that all of my notifications would come through on my Moto 360. It stopped my phone from vibrating on my large wooden desk and thus stopped everyone in my shared office from constantly hearing it go off throughout the day. Now though, with my S5 on mute, everything is on mute regardless of the exceptions I setup. I can check that I want interruptions from Events and reminders, phone calls, and messages from everyone. Doesn't matter, my phone does not push notifications to my Moto 360 which has also been set to mute by my phone. Why can't the two be independent of each other like with Android 4.4.4? It's an absolute mess. The volume rocker adjusts audio levels when it actually feels like it. There are some instances when I'm playing music and want to turn it up. I reach for the volume rocker and my phone is taken out of vibrate and into loud mode. That's not what I wanted. I've resorted to using my Moto 360 for adjusting the volume of music. Battery life for my S5 has also been reduced. It was fine before after I wiped the cache partition but it is now back to getting maybe 12 hours before needing to be plugged back in. Yeah, yeah, I can factory reset it but you know what? I shouldn't have to. I am also not going through that process when I will likely get a new phone here in another two weeks (either the Flex 2, HTC One M9, or the S6 if Samsung really impresses me). My fiance's S5 has even worse battery life and her phone restarts itself about once every 45 minutes for no reason (I've wiped the cache partition on it too). There are lots of things I like about Android 5.0 but I think Samsung screwed the pooch when it came to this update. They should have implemented Android 5.0.1, taken TouchWiz back (I hate not knowing if I'm going to get Material Design or TouchWiz when I open something up), and the TouchWiz launcher still doesn't operate smoothly.

hi I have Virgin Mobile and got the update about two weeks ago and I am still finding cool stuff about 5.0 on my S5 but overall I absolutely love it and it feels like a new phone and the features for me or great the battery life is still the same that I can see. really love it and my S5! :-)

I have been using Lollipop on my S5 for almost a week now but I have so far failed to find the multi-user or guest mode and screen pinning. I want to know that does it even exist on Touchwiz dressed lollipop..?

No,no,no...
Since i updated phone runs slower.
This update SUCKS !!!

The heart rate scanner on my phone (near the camera) goes on whenever I touch it, but it doesn't seem to do anything, no matter how long I hold it or what app I have open.

I wasn't even aware you could disable the individual chrome windows until after seeing a post from nexus 5 owners somewhere saying it caused great lag on their devices, so I did the same and I really could see the difference, it is now a lot more fluid on my S5 Posted via the Android Central App

New interface is significantly brighter, which is stupid because it causes eye strain to occur faster and drains battery life more quickly no matter what anybody says in a press release. Before I updated my S5, the device used about 1/3 of its RAM on essential processes. Now that I have updated, there is a delay in almost every button I push, tab I open, and playback errors in every video I watch. With no apps open, the device uses 1.30 out of 1.60 gigs of RAM. Dolphin is all I have open RIGHT NOW and it takes a second for every letter I type to register (same goes for Chrome, this happens off-and-on). This update is a travesty and people should be working around the clock to fix it.

My god are you serious about the ram .....? it takes that much ?

I am VERY serious. As of a couple of seconds ago, idle RAM usage was 1.16/1.66gb. It fluctuates north of 1gb at all times.

I did the update yesterday on my S5 and I'm not having any of the issues mentioned above. The phone is responsive, apps still launch, battery life is the same, and it doesn't really seem any harder or easier to use than it was before. For those fearing the update - considering the numbers of devices out there - I'd guess my experience is closer to the norm than some of the ermagerds posted here and elsewhere. For those having problems I will sacrifice a kitten in your honor in hopes that the gods will cure your woes.

I'm currently using Google now launcher, is there a way to run completely stock android lollipop? The drop down menu is better than before, but still don't like it that much. I'm on Verizon, if that makes any difference. Posted via the Android Central App

Still waiting on lollipop for the galaxy s5 g900h

be glad you don't have it. It was not ready for release. It's destroying the battery life of everyone I know that has it and causing phones to over heat. Apps are also more sluggish and crash constantly

The absolutely worst update ever. Gallery takes 15 seconds to load, responsiveness of all apps is pathetically slow, and it drains battery life faster than a crackhead smokes a rock. I've always been #teamandroid, but I'm probably going iPhone with the next phone

Battery life is not the same. My phone now burns through its full battery life in just a few hours even when I'm not using it. It also over heats constantly. Users all over Verizon's forums are all complaining about the same issuea

Hate hate hate the update. It was a great phone now it sucks

I have a GS5 on Tmobile and my phone seems to be faster since updating to lollipop and battery life slightly improved. My brother also has a GS5 on Verizon but the battery was running really hot and draining really fast after he updated to lollipop. After searching the web and reading lots of blogs and posts from others with the same issue and how they fixed it, I told my brother to uncheck the smart network switch in wifi settings and also to power down his phone completely and take the battery out and then put it back in and power back on. Sounds simple but it worked!

Is there a way to mute the phone but allow alarms to still work?

The new update has some cool fetures. However, the battery life on my galexy s5 has gone way down since the update, additionally, my phone is extremely glitchy and simple apps such as contacts have been crashing daily. I'm hoping these bugs will get worked out, I've been told that it's usually better to keep technology up to date.

Don't know who is responsible for Galaxy S5 O.S. update. I suspect they are in hiding. My once very nice smart phone has become a device to short out its own battery. The battery life has gone from a day-day and a half to half a day, on a good day. Is it possible to uninstall the latest update or the people responsible for destroying my phone doing something to fix it?

I just got the update on my S5 and I'm gonna be honest, the design got me very upset. First of all the 'recent apps' looked way better in kitkat! Secondly, if anybody knows how to switch the color of 'settings' and the notification panel that would be very nice, cause I think the dark colors looked way better than this white and blue crap. And lastly, the new 'lock' and 'unlock' sound is just plain awful and I can't seem to find where to change that. I thought about downgrading to kitkat, but it seems like a ton of unsafe work and maybe there are ways in which I can "personalize" or change those little issues with lollipop.

Anyone know if I can change the orange colour in the messages app? I switched to Samsung for the customization, but hate the orange. Can't figure out how to change it. Also, how do I get my message notifications on the lock screen? Thank you!

The lollipop is a piece of shit software update. Please, how do I get rid of it and go back to the kit kat? Lollipop is not user friendly and needs to go away.

Just got an update on the alpha, at&t. If you want a consistent look them install the Google now launcher. It cuts out most of that annoying Samsung crap and provides a universal look across all your devices.

Hi I'm trying to get the s5 lock screen effect on my s4 plz help my phone is running on lollipop
5.0.1

The Galaxy S5 lollipop update is so glitchy and sluggish. My phone used to be able to compete with tablets on battery life and now with lollipop, even iphone users are laughing at my battery life.

The notification bar must have been designed for superman , I wear glasses (reading) and I don't always wear them so everytime I get a notification I have to open my phone to see who sent me something .