Fitbit Versa 2 vs. Versa Lite: Which is right for you?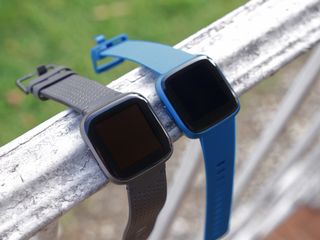 (Image credit: Joe Maring / Android Central)
Fitbit Versa 2
Released nearly two years ago, the Versa 2 is one of Fitbit's best smartwatches. It has a fantastic design, a sharp AMOLED display, and offers 24/7 heart-rate monitoring. Compared to the Versa Lite, the Versa 2 has considerably more smarts with the inclusion of bonus perks such as Amazon Alexa and Fitbit Pay.
Fitbit Versa 2
Comfy, lightweight design
Waterproof up to 50 meters
Built-in Amazon Alexa
Fitbit Pay is included
Over five days of battery life
Doesn't have GPS
Fitbit Versa Lite
If you really like the Fitbit Versa 2 but don't need all the extras, the Versa Lite is a perfect alternative. It has the exact same design, a great display, and solid battery life. It's lacking a few fitness features, such as on-screen workouts and floors climbed tracking, but the savings in cost is a great trade-off.
Fitbit Versa Lite
Same exact design as the Versa
Available in more vibrant colors
Waterproof
Heart-rate sensor
Lacks on-screen workouts
No local music storage
Doesn't track floors climbed
The Fitbit Versa 2 is one of the best-priced Android smartwatches in the wearable space right now. It's a great choice for fitness enthusiasts thanks to its access to Fitbit's top-notch health platform, and compared to the Versa Lite, it does a lot more. It has a better display, longer battery life, Fitbit Pay, and a microphone for Alexa commands and replying to texts. If none of the extras matter that much to you, then the Versa Lite strips away those features (and a few more) to create a straightforward experience without the bells and whistles.
Fitbit Versa 2 vs. Versa Lite: Two great watches for two groups of people
When Fitbit launched the Versa 2 in September 2019, it struck a winning combination. The Versa 2 has the look, feel, and feature-set of a great smartwatch. At the same time, it does an excellent job of providing you with all of the features you'd expect from a Fitbit wearable. For someone that's in the market for a fitness-oriented smartwatch, it's a solid choice.
In regards to those fitness features, the Versa 2 does it all. It tracks your steps, distance, calories, floors climbed, and a variety of exercise types. There's a heart-rate sensor for 24/7 tracking of your ticker, a female health tracking platform, and you can even follow on-screen workouts right on the Versa's display.
As for the watch itself, the design is lightweight, comfy, and slim. It's also easy to swap out the interchangeable Fitbit Versa 2 bands when you want to switch up your look. Not to mention that Fitbit somehow still manages to cram over 5 days of battery life out of just a single charge. Compared to most Wear OS watches, which last around a day to a day and a half, being able to go nearly a full work week without charging up is pretty magical.
As for the "smart" features, the Versa 2 brings a lot to the table. The touchscreen AMOLED display (which looks fantastic) showcases FitbitOS — a clean, simple UI that's really easy to navigate. Notifications from your phone are seamlessly synced to the Versa 2. When your watch is paired with an Android device, you can reply to these using emojis or pre-set messages. You can even reply with your voice thanks to the Versa 2's microphone. You'll enjoy having the ability to download apps, including big names such as Uber, Starbucks, Pandora, and Walgreens. The app selection still has plenty of room to grow, but it's making decent progress.
Speaking of the microphone, this perk also allows you to talk to Amazon Alexa. You can use Alexa on the Versa 2 to see what the weather is going to be like for the day, check your calendar, find out how tall the Empire State Building is, and much more. You also get access to Fitbit Pay, a mobile payment service that allows you to use the Versa 2 to pay at stores that accept other contactless payments (such as Google Pay and Apple Pay).
There isn't a built-in GPS, meaning you have to bring your phone with you to map outdoor runs/bike rides. If you're set on having GPS on your watch, you may want to consider the Fitbit Versa 3 instead. You could even get real serious about your health and invest in the Fitbit Sense The good news is that thanks to local music storage for up to 300 songs, you can use the Versa 2 with a pair of Bluetooth headphones and listen to your tunes at the gym while leaving your phone at home.
Swipe to scroll horizontally
| Header Cell - Column 0 | Fitbit Versa 2 | Fitbit Versa Lite |
| --- | --- | --- |
| Step and calorie tracking | ✔️ | ✔️ |
| Sleep tracking | ✔️ | ✔️ |
| 24/7 heart rate monitoring | ✔️ | ✔️ |
| Female health tracking | ✔️ | ✔️ |
| Floors climbed | ✔️ | ❌ |
| On-screen workouts | ✔️ | ❌ |
| Swim lap tracking | ✔️ | ❌ |
| Local music storage | ✔️ | ❌ |
| Fitbit Pay | ✔️ | ❌ |
| Amazon Alexa | ✔️ | ❌ |
| Display | AMOLED | LCD |
| GPS | When connected to phone | When connected to phone |
| Battery life | 5+ days | 4+ days |
With the Fitbit Versa Lite, it does just about everything that the regular Versa 2 does — save for a few omissions. These include the following:
Local music storage
On-screen workouts
Floors climbed
Swim lap tracking
Fitbit Pay
Amazon Alexa
Depending on your needs, these missing features will either be deal-breakers or have no impact on your buying decision whatsoever. If it's the former, the Versa 2 is the better fit and still provides a lot of value for its price. However, if you fall into the latter camp, you might find yourself leaning toward the Versa Lite. You'll enjoy a wonderful wearable experience that does not include paying for features you won't use or need.
Fitbit was smart about the corners it cut with the Versa Lite. It doesn't feel like a lesser version of the Versa 2, just one that's geared toward people looking for a simpler experience. Once upon a time, the Versa Lite was significantly cheaper than the Versa 2. Now that both of these watches have aged, their price tags are closer than ever before. Both of these watches are pretty great, and no matter which one you end up choosing, you're in for a real treat.
Fitbit Versa 2 vs. Versa Lite: Which should you buy?
When choosing between the Fitbit Versa 2 and Versa Lite, there are a few key factors to consider. If you want the extra features that the newer model offers, like on-screen workouts, music storage, Fitbit Pay, and Amazon Alexa, then you'll likely prefer the Versa 2. Considering that it's not going to require you to spend a lot more, you might as well take advantage and get more bang for your buck with this smartwatch.
If the extras aren't all that appealing to you and you'd prefer a more basic fitness smartwatch experience, you can choose the Fitbit Versa Lite instead. It doesn't feel like a downgrade by any means, it's just a bit less robust than the Versa 2. You'll still get all of the essentials, including heart-rate monitoring, activity/sleep tracking, and female health tracking in a beautiful package that's stylish and comfortable to wear.
Our pick
Fitbit Versa 2 Health and Fitness Smartwatch
Fitbit's best smartwatch yet
For people that want a powerful smartwatch with one of the best fitness/health tracking platforms on the market, the Fitbit Versa 2 is a phenomenal gadget. It does all of the great Fitbit stuff we've come to expect, in addition to offering things like local music storage, Alexa, Fitbit Pay, and more.
Best for less
Fitbit Versa Lite Smartwatch
Still plenty of features
A lot of what we love about the Fitbit Versa 2 is also available on the Versa Lite. It is lacking some fitness features, doesn't have as nice of a display, and misses out on Alexa. If those things don't matter to you, however, the Versa Lite is a great choice (not to mention it's easier on the wallet).
Get the Android Central Newsletter
Instant access to breaking news, the hottest reviews, great deals and helpful tips.
Joe Maring was a Senior Editor for Android Central between 2017 and 2021. You can reach him on Twitter at @JoeMaring1.