Facebook working on 'Moneypenny' virtual assistant for Messenger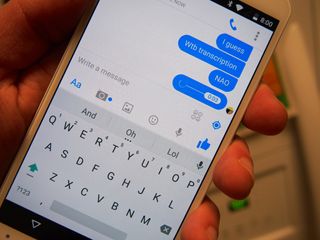 Facebook is reportedly working on a new virtual assistant feature, much like Cortana, Google Now and Siri, but with a slight twist. According to The Information, the social giant will introduce the assistant (codenamed 'Moneypenny') on Facebook Messenger, and this new feature will help you purchase goods as opposed to revealing the weather and setting appointments.
Sharing the same name as the assistant from the James Bond franchise, Facebook's assistant would actually allow Messenger users to ask real people for aid in the research and purchasing of products and services. It's also reported that Moneypenny would be able to help out with various tasks, though specifics as to what tasks would be supported were not confirmed.
It's still early days and there's no currently release date for the feature. But we put it to you: would you use such a feature, should Facebook eventually release Moneypenny into the wild?
Source: The Information (opens in new tab)
Probably not; I don't use FB messenger now, and the last thing I need is another utility to separate me from my $ Posted via the Android Central App

The only idea worse than buying things with imperfect voice recognition software is buying things through facebook with imperfect voice recognition software. Terrible idea.

Reorder on amazon echo is pretty awesome.

Another FB me-too product. But then again I can see this easily being used an a big scale due to the billion plus FB Messenger users. Posted via the Android Central App

How about working on the massive memory leak!!! I have to shut that app after every message or my phone becomes unusable.

Same here! I'm a Classic man

Just really hate the messenger app as it is because of how big it is and how it's now forced for everyone to use it for no real reason except for them to get more information about us. now this whole "voice assistant" that's going to send money to people via messenger just makes me wonder what the hell Facebook is doing Posted via the Android Central App

No thank you Facebook Posted via the Android Central App
Android Central Newsletter
Thank you for signing up to Android Central. You will receive a verification email shortly.
There was a problem. Please refresh the page and try again.