Facebook says new battery issues can be fixed with an app reset, no update on old battery issues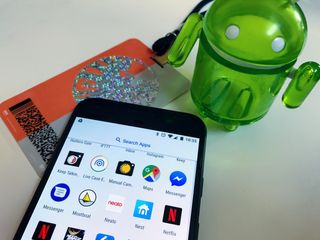 You don't use Facebook and also get surprised by battery drain issues, especially with the ocean of data to support just how hungry both Facebook and Messenger can be, but recently several users noticed a dramatic spike in power consumption. Some users reported as much a 1% every minute when Facebook Messenger was open, and it turns out that's not the intended battery consumption rate for that app.
Facebook's Messenger lead David Marcus responded to a recent complaint about power consumption on Twitter recently with an explanation and an apology, and it looks like whatever was going wrong has been fixed.
Facebook itself is still a significant battery hog, but even when you're playing games with friends Messenger is usually not too bad. As the tweet suggests, if you're still experiencing higher than usual drain from Messenger, force close the app and restart it so the new connection is no longer affected by the server-side issue that has been addressed recently.
If you feel compelled to do this more than once because of continued battery drain, chances are you're experiencing something entirely different from this problem. Fortunately for you, it looks like the guy in charge is pretty responsive.
Get the Android Central Newsletter
Instant access to breaking news, the hottest reviews, great deals and helpful tips.
I uninstalled and reinstalled yesterday. Seems to have fixed it.

Seriously, people. Uninstall the app entirely and use facebook from chrome and turn on notifications. It saves on battery and it's a lot less annoying in general.

exactly this. uninstall facebook and you can save at least 30% battery

Using Facebook on Chrome is a pain.

u can use metal. its a web wrapper and works better

Swipe is another option. https://www.androidcentral.com/e?link=https2F2F...

Metal is freaking awesome, my wife loves it! I bought her the premium add free version she loves it so much. Another added bonus with Metal is no Spyware permissions like the ones you have to except before installing the official Facebook app.

I actually think that it works quite well

And way less functional in a lot of key areas. Sharing to it, or uploading photos, among other things, is way harder and sometimes impossible. Also, as far as I'm aware, they've started requiring the Messenger app even if you're using the web interface.

Turn on Computer View in the Browser and it works just as before. Unfortunately my Internet browser on Samsung Galaxy Note 4 defaults back to "Mobile" when it's relaunched but it's fairly trivial to switch it back to "Computer" whenever I want to Message someone.

I'm using Swipe for Facebook, and it has managed to work around the issue. I can send and received messages without any problems.

More reason to sa F--- you facebook and avoid the app. They have tried to force people to the app by crippling the web version over the last couple years

Easier said than done when it's a vital communication tool in your social network. That's the problem. They've got us pretty well locked-in.

Ya ya ya ya ya... Whatever.. Facebook isn't worth it.. My battery drained insane... It's funny because I rarely use the app and would use the website or a FB wrapper anyway.

I deleted the app, and messenger, and downloaded metal for Facebook. Since I have a 6p, I can lock the app using my fingerprint, and you don't need a separate app to see you messages. Highly recommend

I'm gonna give this a go - thank you.

Metal is a great app, I bought the pro version, but it unfortunately doesn't really replace messenger in my opinion. But it depends how you use it, I suppose.

This looks good and has Twitter support too? Replacing 3 apps for one sounds great.

What do they mean by app reset?

uninstall and never install it again. use metal

Kill the app and relaunch it. This usually can be done by tapping the square button and swiping the app away. Alternatively, you can "force stop" it within the app section of settings.

my goodness.. I was really pissed off.. and frustrated. trying to figure out wtf was wrong with it.. never had issues before.. my s7 was running hot all day and battery life tanked miserably.. glad to know.. I'll give it a shot.

I was so desperate that I swapped my SIM card into my Lumia 640! lol

Good to see that it wasn't just me. Yesterday the Facebook app had a field trip with my battery, it drained it like water through my fingers!

Ditto... even when plugged into a 1.8A charger it was still draining faster than it could charge. Thank goodness for "Cool Tools" as it told me that it was com.facebook.katana so I did the Force Stop on my own (there were two, presumably for Facebook App and for the Facebook Messenger App. Unfortunately one of them came back with a vengeance. I should have just uninstalled them both yesterday and reinstalled today but glad it's fixed anyway!

all the nonsense that has been posted since the election and this battery drain issue was enough to push me over the edge. Uninstalled updates and disabled the app. Facebook has become a cesspool of negativity and a vehicle for launching personal attacks.

so true, that is why i uninstalled it awhile back

Too true. FB is really a waste. Messager has some utility, but not at the cost of my Note 4's battery life.

Facebook app has been a battery eater for YEARS not just recently. For some reason Facebook is unable to develop an app for Android which doesn't constantly eat the battery. Others can seemingly figure it out so I'm not sure what exactly Facebook isn't getting.

For some reason, I feel like 2017 will be the year I put on my tin foil hat. My privacy settings were magically reset, allowing friends to view events I have been invited to, posts i commented on, etc. One could argue that I need to monitor those settings a bit closer, but I don't have the desire to. I figured its time to eliminate the nonsense completely by just removing myself from the equation.

You saw this reset too? I thought it was just me. Maddening.

This just fixes the bug, not the overarching issues.

Glad I wasn't the only one experiencing this. Messenger alone took 13% of my battery yesterday and I never opened it.

I uninstalled... But forgot to reinstall oh well..useless

Trying out Facebook lite right now. I like it better than any of the wrapper apps.

use Facebook LITE for android

I solved all of my fb and messenger issues by uninstalling the former and not installing the latter.

I froze both the official facebook app and Messenger and use Metal for it. If I ever need to something that is not possible with Metal I just unfreeze it and freeze it back after using it.

disable/uninstall the facebook app and use the browser, get messenger version 85 from apk mirror = problem solved