Every Samsung Galaxy Note 8 Case We Could Find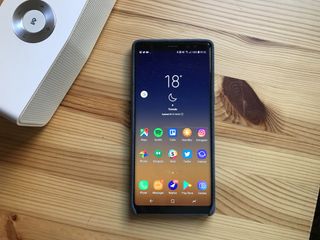 As is the case with every major phone released like the Samsung Galaxy Note 8, there are a crazy abundance of cases available. Whether you're looking for something slim and stylish, thick and rugged, or crystal clear, we've got you covered.
We've rounded up the best cases across all of these categories and more and combined them into a sort of master list for finding the right case for your Note 8.
Samsung LED Wallet Cover case
Samsung is always good for creating cases that feature some awesomely unique features for its phones, and few are as cool as the LED Wallet Cover.
This brilliantly-designed case blends screen protection with functionality, allowing you to see the current time and view notifications via LEDs without exposing the screen — all you do is press the power button and presto! This case also features an interior pocket for storing your cash or cards, which can help you cut down on your pocket carry.
You can get yours for $60, or check out Samsung's website to learn about the other cases they offer, too.
OtterBox Commuter case
The Note 8 might have been the most expensive flagship phone released in 2017, so you're going to want to keep it protected. When it comes to the best cases, many people instantly think of OtterBox. It has built a solid reputation of making great cases backed by outstanding customer service.
We'll recommend the Commuter Series case since it's a great combination of the rugged protection that OtterBox is known for and a slimmer design so it's easier to slip into a pocket or purse.
However, you really get what you pay for from OtterBox, which includes the aforementioned customer service that's there to help if any issues pop up.
Spigen Rugged Armor case
For those who don't want to sacrifice pocket space for protection, Spigen's Rugged Armor case is a great option.
This sleek, one-piece case is rugged and sleek with carbon fiber accents that looks really nice on taller devices like the Note 8. It's made of rugged TPU material so it's easy to install and features a matte finish for a great look and feel. It's a really slim case, too, so you won't be adding a ton of bulk in exchange for a case that will provide rugged protection. Best of all is the price — you can get this reliable case for just $11 on Amazon.
RhinoShield CrashGuard Bumper case
Alright, I know what a lot of you are thinking: I need a case that's going to provide maximum protection for my Note 8; a bumper case just won't cut it!
But as I learned from reviewing the RhinoShield CrashGuard for the Galaxy S8, this isn't your average bumper. RhinoShield has developed a bumper case that offers truly rugged protection where your phone needs it most — in the corners, around the edges, and lips that come up around the front and back panels of glass.
It might be one of those instances where you need to actually try it before you're fully convinced, but if you love being able to show off your brilliant new phone but also want to keep it protected from drop damage, you really can't beat the RhinoShield CrashGuard. You can get yours for just $25.
More: The Best Cases for the Galaxy Note 8
Caseology Skyfall Series Slim Case
Caseology's Skyfall Series of cases are always stylish and popular, mixing a clear acrylic back plate with colorful accents provided by the polycarbonate bumper.
The slim build of this case compliments the Note 8 well, while the two-layered design is capable of absorbing any drops that may occur. There's a raised lip around the front of the phone as well around the camera and fingerprint sensor, so all the features of your phone will be protected and functional.
There are four color options to choose from designed to match the different colors of the Note 8 itself, starting at just $12.99.
Ringke Slim Case w/ slot card holder
Ringke's slim case for the Note 8 is pretty basic as you'd expect, but it has included a pretty nice accessory for cutting down your daily carry.
Along with this ultra-thin case that only adds about 2mm of bulk to your phone, Ringke includes an adhesive card slot holder that's capable of holding two cards — say your photo ID and a credit card. It's the perfect accessory for traveling or going out to the bar if you want to keep your carry light.
This one-piece case is made of rugged polycarbonate will keep your phone safe from bumps and scuffs while keeping the sleek design intact. You can get it in classic black for just $8, or opt for a powder blue or salmon pink option for $10.
More Ultra-Thin Cases for the Galaxy Note 8
DAVIS CASE Genuine Leather Case
We'll start out with some cases made from genuine leather. This option from DAVIS CASE has some great aesthetics especially if you love the look of old leather-bound books.
These cases are handmade with genuine leather that's got a nice weathered finish to it. On the inside, there's a pocket that will accommodate some folded bills, along with five card slots including a clear one for IDs. It also supports wireless charging and like most folio-style cases it can be folded into a kickstand for hands-free viewing.
At $34.99 it's certainly on the pricier side, but you should get your money's worth with the genuine leather and hand-crafted quality.
Spigen Wallet S
Back to folio-style cases, Spigen has offered its Wallet S case for the Note 8.
The Wallet S was one of my favorite cases for the short-lived Note 7 last year, so it should be a reliable option for the Note 8 as well. While it shares many of the same features as the other folio wallet cases on this list, one feature you might appreciate is the cutout around the ear speaker on the front flap, which allows you to talk on the phone with the cover closed.
It's only available in classic black and features a magnetic strap to keep it closed. Get this premium-looking wallet case for just $17.99.
More Leather Cases for the Galaxy Note 8
Supcase Unicorn Beetle Shield Series Case
Are you the type that can't be trusted with nice things? Needs to keep your phone fully encased in plastic to protect it from yourself? No judgments here — the first step is admitting you have a problem.
The next step is finding the right solution, which just might be the mighty rugged Supcase Unicorn Beetle Shield Series case. Combining a polycarbonate outer shell with a flexible and shock-absorbing TPU sleeve, this case goes an extra step further by including a built-in screen protector around front to prevent scratches from ruining your Note 8's display.
It's otherwise a pretty standard design for a rugged case — beefy in the corners where it needs to be yet slim and sporty enough as to not turn your phone into a thick brick of plastic. You can get yours from Amazon for just $20.
UAG Plasma Rugged Case
The go-to rugged case for many smartphone users, the UAG Plasma is a rugged and lightweight case that's arguably the coolest looking case on this list — although that's always a matter of personal opinion.
It's a remarkably slim case with a great amount of texture and ridges along the side edges and back to assist with in-hand grip. With reinforced corners to take the brunt of any falls that also provides relief from your screen when you put your phone face down, this is a case style that's been perfected over the years to offer maximum protection for premium devices such as the Note 8. It's also thin enough to remain compatible for NFC and Qi wireless charging functionality.
But you will pay a somewhat steep price for all that premium design and build quality — $30 for some color options and up to $55 for the all-black model. Completely justifiable for smartphone peace of mind.
More: Best Heavy Duty Cases for the Galaxy Note 8
Spigen Liquid Crystal
A great clear case is going to offer protection for your phone without drawing attention to the fact that you've got a case on your phone. In that regard, the Spigen Liquid Crystal is an outstanding choice.
Made of lightweight and flexible TPU material, this single-layer case is easy to pop onto your phone while adding next to no bulk to the phone. Precise cutouts and buttons means that your phone's functionality is never affected, and it's thin enough to allow for wireless charging, too.
Spigen has a couple other clear case options you might be interested in — the Rugged Crystal ($12) features reinforced corners to help with drops, and the Ultra Hybrid S ($15) features a built-in magnetic kickstand for hands-free media viewing. But if you're just looking for a reliable and slim clear case, the Liquid Crystal is your best value at just $11.
Ringke Fusion
The Ringke Fusion case is one of those case styles that's offered for nearly every major phone release, and it's a reliable option if you want to keep your phone protected without impeding the look and design of your new phone.
This is a two-layer case with a soft, shock-absorbing TPU bumper paired with a hard plastic back plate that offers serious protection against drops and scratches. There's tapered lips around the corners to ensure the screen isn't in direct contact with surfaces if you put your phone screen down on a table, and it's been precisely designed so that all the ports and buttons are functional.
You can get the standard all-clear version for just $7.99, or opt to add some character to the bumper — Rose Gold or Smoke Black — for just $9.99.
Get the Android Central Newsletter
Instant access to breaking news, the hottest reviews, great deals and helpful tips.
Marc Lagace was an Apps and Games Editor at Android Central between 2016 and 2020. You can reach out to him on Twitter [@spacelagace.