RhinoShield Galaxy S8 CrashGuard Bumper Review: Sleek S8 protection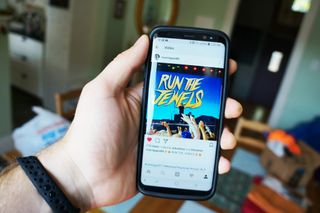 I'll be entirely honest from the outset : I did not think I would feel comfortable using the RhinoShield CrashGuard with my Galaxy S8. I'm a habitual phone dropper, so the idea of leaving that gorgeous glass of my phone exposed felt like a dangerous opportunity for the worst case scenario to occur.
And yet, after spending about a month using the Galaxy S8 with just the RhinoShield for protection, I feel quite confident recommending it to any Galaxy S8 owner — especially if you're the type who hates cases because you can't stand any added bulk on your phone. It really lets you show off the S8 in all its glory while offering great drop protection.
So what makes it so good? Well, for starters its precisely crafted to the dimensions of the phone and as such, it's a bit tricky to install and remove — absolutely a good thing when we're talking about a phone bumper. RhinoShield includes a little warning not to twist or bend the bumper before installing it and it's a good thing they did as I instinctively wanted to pull and stretch at it to see how tough it really was as soon as I got it out of the box.
There's a lot to admire despite its minimalist design. On the inside of the bumper is a hexagonal pattern that makes contact with the phone itself, and greatly improves the CrashGuard's ability to disperse the shock of a drop. It's thick and rigid around the top and bottom of the phone and especially in the corners while managing to hug the side edges tight with raised covers for the power, volume, and Bixby buttons. The bumper is noticeably thinner than the phone along the sides, which allows the curved edge of the screen to accomplish that spill over effect as if the bumper wasn't there.
I'm one of the people who think these all-glass flagship phones are too slippery, so I really appreciate the CrashGuard's matte finish, and the little extra grip it provides without adding any bulk. Using the CrashGuard feels like an overall improvement on Samsung's initial design of the phone, almost like an optional accessory that should come packaged with a new phone. It frames the nearly bezel-less display nicely and I've frequently forgotten that there's even a case on it when I'm showing it off to friends and family.
I've never seriously considered a bumper case as a viable option for a phone, at least not since the days when I was rocking an iPhone 4, so just the idea of replacing my Spigen Rugged Armor for a bumper case in 2017 gave me pause. But I've been more than satisfied with the results of using the RhinoShield CrashGuard. While I'm not the type of reviewer to purposefully try and cause a case to fail, the CrashGuard has been called into duty on several occasions and has the battle scars to prove it. I shudder to think what may have happened to my phone if the CrashGuard wasn't there.
The one downside with a bumper case, of course, is that it does leave much of the phone's glass exposed. A falling phone will crash land violently and randomly, and the CrashGuard will offer protection in ideal situations — landing on a flat floor or sidewalk, for instance. But all bets are off if your phone clips a table's edge or lands on an uneven surface like a gravel road. The CrashGuard isn't the most screen protector-friendly case option for the Galaxy S8, but RhinoShield does sell its own protectors for both the screen and the back glass of the phone, which I did not test but would be the missing pieces for those looking for maximum protection.
At $25, the RhinoShield CrashGuard Bumper certainly isn't cheap, especially for a bumper case that doesn't even cover the back. But it does work surprisingly well and will pay for itself when it takes the brunt of an otherwise phone-destroying drop. Furthermore, shedding my usual case for the RhinoShield CrashGuard has led me to fall back in love with the Galaxy S8's design all over again. RhinoShield also has a bumper available for the larger Galaxy S8 Plus for the same price.
Android Central Newsletter
Get instant access to breaking news, the hottest reviews, great deals and helpful tips
Marc Lagace was an Apps and Games Editor at Android Central between 2016 and 2020. You can reach out to him on Twitter [@spacelagace.
I too was concerned about coverage, but I love this bumper case, 3 of my coworkers have seen it an have ordered it as well.

I sent back two of them to rhinoshield. Both were plagued by loose fit especially around the sides. It would bow out near the power button and volume/bixby button. Making very difficult to press buttons.

They fixed that design. That was the one thing that stopped me from getting one for my S8 plus, people saying how it was loose on the sides and the uncomfortable button press. I had one on my S6, they never made one for the S7 edge, but now I will get the redesigned model with a better fit.

I had the same issue on my N6P version and had to send that back. It was during their 2 for one deal too.

I would never trust something like this lol

Look though: https://youtu.be/DnjwXK2qMYg
I love bumper cases...it literally protects from everything except maybe a drop onto a very uneven surface (like a bed of rocks)! and yet your nice new phone is still exposed - so you can still appreciate its beautiful design.

I like the s8 but it's a disgusting finger print magnet. Sleek phones are cool looking on a display but in reality they need to wear a diaper to protect the phone from everything, including your hand.

Got one on my Galaxy S8+, its a great protector. I hope they make one for my very next phone, Pixel XL 2.

What type of screen protectors work with this case? Heard the rhinoshield one wasn't that good :(
Android Central Newsletter
Get instant access to breaking news, the hottest reviews, great deals and helpful tips
Thank you for signing up to Android Central. You will receive a verification email shortly.
There was a problem. Please refresh the page and try again.