Here's every device with Google Assistant built in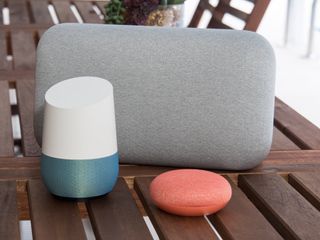 Whether you prefer using it on your phone, tablet or with a speaker, Google Assistant is working its way into more and more of our gadgets. Smart speakers are ubiquitous at this point, but Assistant is also making its way into other appliances.
Here is every device with Google Assistant!
Your phone
The easiest way to use Google Assistant is to use your phone or tablet. Assistant is available for every Android phone running Android 6.0 Marshmallow and later — about 60% of all Android phones. Just hold down the home button, and ask away.
If iOS is your preferred mobile operating system (it's OK, we still love you), you can also download and use Google Assistant on your iPhone and iPad. Because Assistant isn't part of the operating system like it is with Android, you'll need to manually open the Assistant app whenever you want to use it.
Download Google Assistant on the App Store (Free)
Your car
Android Auto has had access to voice commands since day one, but just received Google Assistant support a few months ago. In reality, the Assistant voice commands are limited to the few things the older voice commands already handled — starting navigation, handling notifications, and a few other specific features, so you don't get too distracted from the road.
Your watch
One big draw for the dozens of people with a Wear OS watch is the ability to use Google Assistant right from their wrists. Lift your wrist, say "Hey Google," and you'll be able to ask questions, control your smart home, and do everything else that you could do if you were using Assistant on your phone.
Chromebooks
More specifically, a Chromebook. The Pixelbook is currently the only Chromebook with Assistant — even including a dedicated key to launch it — but there is evidence to suggest that Assistant will be rolling out to more Chromebooks in the near future.
Smart speakers
Google Home served as the launch vehicle for Assistant, and is still probably the most famous use case. As nice as the Google Home family is, there are speakers from third parties that may sound better, be cheaper, be portable, or just fit your decor better. The following manufacturers are making speakers with Google Assistant:
Your TV
If you have either of the excellent NVIDIA SHIELD TVs or one of Sony's newer TV's with Android TV built-in, you can use Assistant right on the big screen. The SHIELD TV's remote and controller and the Sony TV's remotes feature microphones that you can use to talk to Assistant. You can use your voice to control your home, browse your favorite YouTube channels or ask to watch shows and movies on Netflix.
Coming soon: Smart Displays
Smart speakers are great for small bits of information that can be spoken to you, but there are some things that are better represented with visual cues. You'll be able to use the new Smart Displays for video calls, seeing your Nest camera feed, seeing the weather forecast, music playback with album art, and more. LG's Smart Display is available for pre-order, so you won't have much longer to wait for a dedicated Google Assistant screen.
More: These new Smart Displays include Google Assistant
What say you?
Where do you use Google Assistant the most? Let us know down below!
Get the Android Central Newsletter
Instant access to breaking news, the hottest reviews, great deals and helpful tips.