Is the NVIDIA Shield TV controller worth the extra $20?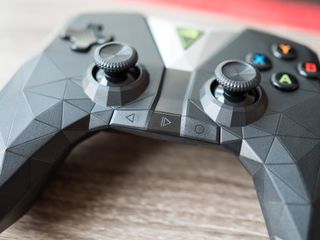 (Image credit: Android Central)
On October 18, 2017, NVIDIA is set to release an updated Shield TV package that comes without the game controller and will cost $179. That's a $20 saving on the current price of $199 with the controller. Both will still come with the regular remote, so you'll still have a way to interact with the box.
The question is, should you stump up the extra $20 for the controller? Unless you absolutely 100% will not ever use it, then yes, you should.
The first thing you should know is that it's a really good controller. Not just for Android TV, but generally. The Shield controller is console quality, which is important since you're able to play console quality games on the Shield TV.
And honestly, if you're buying a Shield TV, are you buying one and never ever playing any form of games on it? Sure, it's the best Android TV box on the market, but if you're not using the full potential of it by exploring the gaming capabilities, you can spend much less on a set-top box. The Xiaomi Mi Box is a 4K capable Android TV offering, and Amazon's latest 4K HDR enabled Fire TV will only cost $70.
So, we're going to assume you're buying a Shield TV with at least some intentions of playing games on it, be those Android-based or PC games streamed to your TV. So, if you don't have a Shield controller to this point, $20 extra is well worth it. Especially since the controller on its own is more than double that at $60. It's worth it.
Best Android games for the NVIDIA Shield TV
There is, however, one scenario where you might find yourself better off with that $20 in your pocket. If you have an Xbox One or a PlayStation 4 console then you can use your existing controllers for these consoles with the Shield TV. Both are excellent in their own right and you're probably well used to them for gaming.
We've also got a handy guide on how to get set up with them. But even so, you could always sell the controller on for most likely more than $20.
How to pair a PS4 or Xbox One controller with the NVIDIA Shield TV
But the bottom line is this: The controller is absolutely worth spending the extra $20. Had NVIDIA knocked $50 off the price, the argument could be a lot different, but as it stands, it feels like a marketing exercise to compete with the (controller-free) Apple TV 4K on price at $179.
Sign up for Black Friday email alerts!
Get the hottest deals available in your inbox plus news, reviews, opinion, analysis and more from the Android Central team.