Android Auto is fantastic with the addition of Google Assistant and wireless connectivity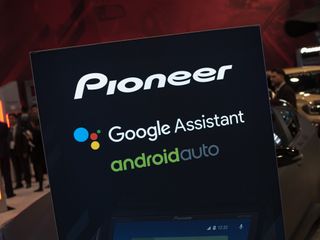 In case you hadn't heard, CES 2018 is Google's platform for showing how Google Assistant can be deployed everywhere. One of the places where it makes perfect sense to have a hands-free intelligent assistant is in the car, so naturally Google added it to Android Auto. At the same time, it announced the public availability of wireless Android Auto, which was first shown off conceptually at Google I/O 2017.
Android Auto already had a basic set of voice commands available, but with the move to Google Assistant branding you're getting feature parity with Assistant on other platforms — at least, for the features that are feasible in the car. Just start with "Hey Google" and then rattle off whatever you'd normally ask your phone or Google Home. Directions, messages, reminders, navigation-related queries and more work perfectly.
Here at CES Google demonstrated Android Auto controlling smart home devices as well, which it sees as a great way to make a few home adjustments — like lights, thermostat, etc. — on your way to or from the house. Because it's effectively just using your phone, you don't have to do any extra setup with the IoT devices, either. Assistant's voice recognition and capabilities are so great, it's fantastic to have it in yet another place.
Google says that multi-user voice detection isn't available yet, but voice training for you is here just like on your phone so only the driver can activate the system. Obviously many cars with Android Auto built-in from the factory will have steering wheel controls for audio input as well.
Thank you Google, you finally figured out how to make wireless Android Auto happen. Two new head units from Pioneer are the first to offer it, though right now they're only being shown off as prototypes and don't have pricing or release information.
Just like we saw back at Google I/O, the system is dead simple. The head unit has a Wi-Fi network that your phone connects to and has a local connection, leaving your mobile data active. After that setup, every time the car is on and your Android Auto app is opened on your phone, the two will connect automatically and launch. To my eyes the speed of the head unit connected wirelessly is indistinguishable from the USB-based version, and it has the exact same capabilities. A little toggle in the home screen interface of the head unit lets you select between multiple connected devices if your passenger happens to have Android Auto, which is neat.
While wireless can certainly have its own set of issues, it's hard to think that maintaining a simple Wi-Fi connection would create problems anywhere near the constant stream of complaints I see about the old wired system. By doing things wirelessly, you skip the frustration of having the wrong kind of cable or incompatibilities at the hardware level with customizations of phone USB ports.
Of course these head units still have a USB cable if you want to go that route and charge your phone while you drive, but for shorter trips it's clearly preferable to not have to think about plugging in. Wireless was a key missing component that makes Android Auto feel so much more integrated to your car.
Be an expert in 5 minutes
Get the latest news from Android Central, your trusted companion in the world of Android
Andrew was an Executive Editor, U.S. at Android Central between 2012 and 2020.