Android distribution numbers: Everything you need to know!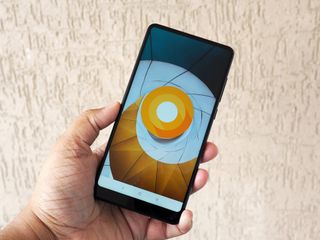 (Image credit: Android Central)
About once a month, Google releases distribution numbers that outline the various Android versions and the percentage of current devices they're running on. This data is meant for developers so they can create and update their apps according to which Android versions are the most popular, but they also give enthusiasts like us a glimpse into how quickly OEMs are adopting the latest and greatest the platform has to offer.
To source this data, Google tracks the Android versions of any devices accessing the Play Store over the course of a 7-day period. This ensures that only active Android gadgets are being accounted for and not your HTC Dream that's been sitting untouched in a drawer for the past few years.
Any version that accounts for 0.1% or more is listed, but versions that have less than that are ignored.
Without further ado, here's the current state of Android.
October 2018
Two months on, and there's still no Android Pie on the Android distribution numbers. Android Oreo is still steadily rising, and is now the second most used version of Android, behind its predecessor Android Nougat. The numbers for KitKat and below are still basically the same, with Gingerbread still hanging onto to the edge of the chart by its fingertips like a Ninja Warrior contestant, while we all sit on the sidelines screaming "Fall! FALL!! FALL!!!!"
Fruitcake is the holiday treat that's supposed to last forever, not Gingerbread! And with the holiday season about to be upon us, can someone please pass the Pie??
September 2018
August saw the release of Android Pie, and September saw the new version start pushing out to more and more devices, but alas, Pie is not on a big enough percentage of devices to warrant a slice on the pie chart, pun intended. Last year's Android version, Oreo is now available on 19.2% of Android devices, but over half of the Android devices that visited the Google Play Store this month were still running Nougat or Marshmallow.
While conventional wisdom says the holiday treat that lasts forever is fruitcake, Gingerbread is still hanging on at 0.3%, alongside Ice Cream Sandwich. Here's to hoping that Google can replace one or both of them with Pie in their pie chart by Christmas.
July 2018
It's been a hot minute since we got our last batch of distribution numbers, but after skipping over June, Google's back with an all-new set of data for July.
The biggest highlight for this month shows Android Oreo (8.0 and 8.1) now available on 12.1% of all devices — a huge step up from the 5.7% it saw just a couple months back. That's still not a great adoption rate, but at least we're getting somewhere.
The rest of the changes compared to May are as follows:
Gingerbread — 0.1% decrease
Ice Cream Sandwich — 0.1% decrease
Jelly Bean — 0.7% decrease
KitKat — 1.2% decrease
Lollipop — 2% decrease
Marshmallow — 2% decrease
Nougat —0.3 decrease
Oreo — 6.4% increase
May 2018
The data for May corresponds to Play Store activity for the seven-day period ending on May 7. Oreo has picked up another percentage point over the course of the month, and is at 5.7% overall — 4.9% being 8.0 and the other 0.8% for 8.1.
Nougat also saw a slight increase from 30.8% to 31.1%, followed by Marshmallow by 25.5%. Here's the breakdown of how things changed:
Gingerbread – No change
Ice Cream Sandwich – No change
Jelly Bean – 0.2% decrease
KitKat – 0.2% decrease
Lollipop – 0.5% decrease
Marshmallow – 0.5% decrease
Nougat – 0.3% increase
Oreo – 1.1% increase
April 2018
For April of 2018, Google tracked Android devices accessing the Play Store for 7 days with the collection period ending on April 16.
The last report from February showed Oreo just barely accounting for more than 1% of Android devices, but that number has since climbed to 4.6% (4.1% being 8.0 and the other 0.5% going to 8.1). Nougat also sees an increase with a jump to 30.8% compared to 28.5% (7.1 and 7.0 combined), and Marshmallow is still trailing in second place at 26%.
Comparing these numbers to February's findings:
Gingerbread – No change
Ice Cream Sandwich – No change
Jelly Bean – 0.5% decrease
KitKat – 1.5% decrease
Lollipop – 1.7% decrease
Marshmallow – 2.1% decrease
Nougat – 2.3% increase
Oreo – 3.5% increase
February 2018
February's report was the first time Android Oreo crossed the 1% threshold despite that version of the OS being released back in August of last year.
Marshmallow continued with a tight grip at 28.1%, but this also marked the first time that Android Nougat jumped into first place with a combined total of 28.5% – that including versions 7.0 and 7.1.
Additionally, Ice Cream Sandwich (4.0.3 to 4.0.4) also finally dropped to 0.4% from last January's 0.5%.
January 2018
In January 2018, Android Marshmallow still reigned supreme as the most popular version of the OS at 29.7%. This also saw 8.1 Oreo make an appearance on the board for the first time with 0.2% adoption, and 8.0 remained at the same 0.5% it was at in December.
Jellybean and KitKat both decreased compared to last month's check-in, but Ice Cream Sandwich and Gingerbread are still holding on at the same 0.5% and 0.4%, respectively.
What version of Android are you running?
What about the phone you're using? What one is it and what version of Android is it rocking? Sound off in the comments below and let me know!
Android Central Newsletter
Get instant access to breaking news, the hottest reviews, great deals and helpful tips
Joe Maring was a Senior Editor for Android Central between 2017 and 2021. You can reach him on Twitter at @JoeMaring1.
I'm on Android 8.1 April security patch Nokia 8. God knows why anyone would wanna still be on Ice Cream Sandwich or Jelly Bean

The people still on those versions probably don't have a clue what any of that means. As long as their phones turns on and is usable, they'll deal.

Or, like me, they use an old phone with Jelly Bean or Ice Cream Sandwich as an alarm clock

Honestly my wife doesn't care really... As long as the apps she needs work, all is well... She also doesn't care about having the latest features a new version would give. I'm actually starting to feel the same... I always bought premium phones (currently a Samsung S8) but m not upgrading my phone anymore because I wouldn't have the latest version of Android anymore.

I'm rocking 7.1 don't what I should be rocking please give me a answer to my question thanks.

Most likely older people who do not care nor want to upgrade their devices. Most like how their phone works as it is and not have to worry about updating and not liking or knowing how it works.

I'd love to see this split according to device manufacturers...

Yes, that would be interesting...

I agree. Some of these are companies that release a phone and never upgrade it from the software it started on. Entry level, inexpensive phones, before Android one and older devices. My parents haven't updated since the s6. So people like that have no idea

Anyone know which phones, besides the Pixel, have received 8.1?

The Huawei P20 Pro launched with Android 8.1

8.1 on Essential phone!!!!!!!

I can tell you my Google Fi, AndroidOne, Moto X is not. Why not, I haven't a clue.

Nokia phones like 8, 6, 5 and the new ones 7 plus and 6.1

LG stylo 4 came with it preloaded on the prepaid carriers.

A friend of mine recently changed her phone. Knowing her quite well I wasn't surprised to find the phone was still on Ice Cream Sandwich. She had absolutely no idea what I was talking about. This survey shows implementation of new versions is much slower than one thought.

Mine is on Nougat 7.0 Feb 5th security patch.It works great. But I have new phone fever so Oreo is in my near future.

Running Android 8.1.0 and the April 5 security patch on a Pixel 2 XL.

How come no "H"? Just realized that! Lol

H was Honeycomb and was only used on Android tablets I believe. I have never seen any phone that used Honeycomb but did own a couple of Android tablets that ran Honeycomb

Yes it was tablet only. But almost every 3.0 device got upgraded to 4.0 so that's why it isn't in the list any more.

Honestly this isn't surprising, Oreo is only on 4.1% in adoption, I'm already bored of Android 7.0 Nougat (which is up to 30% now) which my Leagoo M9 is on (on the January security patch), I can't wait till I get my Pixel 2 XL so I'll never be behind on the latest version of Android ever again.

I never knew how boring my life was until someone told me that I was on an outdated version of Android.

Did someone say "pathetic and sad" ?

Android 7.1.1 with March security patch on Motorola G5sPLUS

Essential PH-1. 8.1 with April security patch.

BQ Aquaris X Pro on Oreo 8.1 (beta) and April 5th security patch.

8.1 on my Pixel and 8.0 on my Galaxy Note 8

Nexus 5 with Marshmallow, guess I'll update if I get hit with whatever 2+ years of security patches supposedly would protect me from, otoh it seems a bit like security theatre when critical security updates only go to a minority of devices.

Pixel 2 XL
Android 8.1.0
May 5 2018 security patch

Android P Beta May 5 security patch, Pixel 2XL And it is very clear that to most people, all of this means nothing. When my wife's LG V30 gets P sometime next year..she is going to be mad that the way it works changed....all the while complaining that the LG is wonky and lags. When she is done with this phone, it's going to be a Pixel for her too.

I have a Galaxy S7 Edge with AT&T. Nougat 7.0. Would like to try Oreo. Still paying off the phone.
Does anyone know if the S7 Edge will get Oreo.

My S7 Edge (AT&T) has Oreo. Got it about a month or so ago. I'm still paying off my phone too. Check for the update again. It breathed serious new life into my lagging S7.

OnePlus 5T
Oreo 8.1 I don't understand how there's such little adoption. Just about most people I know have one of the modern phones. Heck, even my old HTC 10 I donated to my mother is on Oreo. Samsung, LG, HTC, Google, OnePlus, etc...they all have updated their devices to Oreo.

People like my wife who has a Pixel (on 7.1) just won't update as she hates change.

Essential phone running Lineage OS 15.1 (based on 8.1 Oreo) 👌👌👌👌

I assume the breakdown takes into account all types of devices, is that the case? For example my cheapo android box (with Google services) I use for Kodi, would that be part of the breakdown? It's on 6.0 and will never see an update but doesn't really affect me in anyway for how I use it. I'm sure there are millions of similar situations.

https://datastudio.google.com/reporting/1Zgw58QIBeK2Nez2FVuxRVQh9L6pu-6h...

My Verizon Samsung Galaxy S4 has been stuck on Lollipop 5.0.1 for at least 2 years. I've had the phone for 5 years now. I just ordered a pixel XL unlocked, no carrier refurb. I hope Google keeps updating it for a much longer time I also have an older cheap Samsung Tab A, that got updated OTA, ( thanks Samsung!) from Marshmallow to Nougat.

My S8 is on Android 8.0 and February 2018 security patch. My Note 5 on Android 7.0 with March 2018 security patch and my S3 on Android 7.1.2 (Lineage OS) with April 2018 security patch.

People with Gingerbread and Ice Cream Sandwich obviously don't use apps that much and if they do they are most likely outdated too

Why anyone would use an Android phone running Gingerbread in 2018, is baffling but I'm glad Nougat is now the most used version on Android devices currently.

Keep your phone long enough, and it will eventually stop being supported for new versions on Android OS. Manufacturers stop creating Android updates that work on their phones. Three years of updates is expected, but not guaranteed, for most premium phone made in 2018. I'd argue at least 5 years of security updates should be the bare minimum. Three years of Android OS updates seems reasonable.

Part of this is the customization 'allowed' on Android devices. If you have limited resources, are you going to put them towards customizing the latest version of Android for you new devices, or re-customizing and testing them for your older ones. If you left it alone, you just need to test it on the hardware and release it, but that's not typical. Security updates are simpler, just test and release. The thing that makes Android special is also what drives the fragmentation. No good answer it would seem.

My Lenovo tablet is still on jellybean... it was abandoned the day it left the factory! Lol. U11 has been on Oreo since last year.

I have an Asus and Acer tablet running Jellybean & KitKat, respectively. No more updates, but no big deal, since I only use them mostly for videos (streaming/downloads) and music.

Feel free to use any of these charts! https://datastudio.google.com/u/0/reporting/1Zgw58QIBeK2Nez2FVuxRVQh9L6p...

12% on the latest version a year later.... Solid lol.

Not sure if this is cause for celebration or despair.

Why do Google even bother with district numbers of Android? The new versions will never be adopted as quickly because the lazy OEMs being slow with updates. But with that being said, I'm proud to say that I'm on 8.1 with the July security update on my Pixel 2 XL

I'm surprised more people are not upset who aren't up to current OS when P is just around the corner. I dislike android for this very reason.

Essential Phone running 8.1 and July security patch. Asus ZenPad 3S 10 running 7.0 with June security patch. Don't think Asus is pushing out the Oreo update for this tablet like they promised.

This from the AC News Editor? LMAO

Gingerbread: The pitbull/crocodile (or any other metaphor involving an animal with immense bite force) of Android versions just refuses to let go.

Nokia 6.1 on 8.1 with July patch. Been impressed with Nokia/HMD so far

Stoked 9.0 Pie is taking over. /s

And with the changes they made to Pie in the notification and clock area I will remain on Oreo indefinitely. I will not sacrifice usability and design just to be on the latest version of Android when it makes my Pixel 2 act as if it has an ugly ass notch. I love the clock on the right, a clean notification area with the ability to see as many icons as can fit when I do get notifications. Screw the notch and screw the amateur engineers and designers at Google that couldn't design the OS to adapt to the hardware in your phone instead of treating them all like they have that ugly notch.

You would hope a total Oreo adoption rate of 19% in September 2818 would convince the vocally minor Pixel nerds that having the latest version of Android just doesn't matter.... Because the Google Play store caters to all Android versions.... Give or take a few apps. 🤣 C'mon, the vast majority of Android users don't use Oreo, nor do they care. Yet I don't deny Samsung's intent to dramatically improve their software upgrade program isn't a bad thing. The chart reminds us that the premium Android market, within the huge and diverse Android market, is very tiny... The amount of wealthy people in Western nations using an Android phone made in the last two years is tiny.... That's what the chart proves.

There should be a breakout of how many of those devices on older versions have no update path. I have a stereo running KitKat and it will never be updated by the manufacturer but I still use it every day.
There's certainly fragmentation, but I think the sheer number of devices out there that work well beyond the time the OEM stops releasing updates for them skews that number a good bit.

It's a worthwhile topic but I wish they could separate or remove all the 5 month old comments. It came as a shock to find some fairly polite and restrained comments from beno long before he'd got his beloved Pixel

Use these charts if you want! https://datastudio.google.com/u/0/reporting/1Zgw58QIBeK2Nez2FVuxRVQh9L6p...

Let's discuss the facts behind the Android Distribution Numbers. Does it matter that your current device isn't running Android 9.0? https://youtu.be/jmNZEq78q7E

Android build (Nougat, Marshmallow, Oreo) and security patch level are two different things. Your simple video doesn't explain or understand the difference. Security patch is literally a security matter, whereas Android build is the foundation for running apps. Running antivirus is a solution for old phones which don't get security patch updates... And if you only use the Google Play store or Galaxy app store, your chances of having a virus issue on Android are close to zero. What truly matters is how your apps run... And they run no differently based on Android build. Only the latest, flagship phones get the latest Android build in a reasonably quick timeframe... But as Android usage rates inform us, the number of premium phones sold in the last two years in the Western world is only a tiny percentage of Android phones.

Crazy that the number of phones running Gingerbread still outnumbers those running Pie.

I'm fine on Oreo until the Pie build is a stable, unnoticeable transition. Just like it was from nougat to oreo. No rush, get it right.

I have Pie on my Pixel 2 XL. Come on in, the water's fine.

Feel free to use my charts! goo.gl/688aMH

I'm the person still on Gingerbread. I have a deal with Verizon, since they're also stuck in the past with CDMA. I current own 329 Android devices running Gingerbread and they all sit in a drawer plugged in.

The amount of unnecessary hype every new Android update gets by Android Central is the reason some are surprised that three months on, Pie doesn't statistically register as an active Android version.
Android Central Newsletter
Get instant access to breaking news, the hottest reviews, great deals and helpful tips
Thank you for signing up to Android Central. You will receive a verification email shortly.
There was a problem. Please refresh the page and try again.