Droid 2 Gingerbread update is pushing out now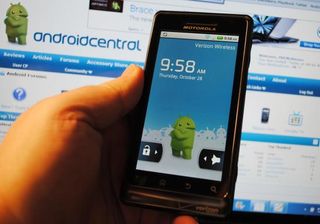 Those of you who woke up with a Motorola Droid 2 by your side should start pressing the update button now, because your Android 2.3 Gingerbread update is available. It's actually Android 2.3.3 and not the more recent Android 2.3.4, but we'll take what we can get at this point.
In addition to the OS update, here's what you can expect:
New Download Manager App
Under Manage Applications, a new "Running" tab displays a list of active applications, as well as the storage and memory being used by each.
Multi-Touch Key-Chording
Improved Word Selection and Copy Functionality:
New User Interface and Color Scheme:
New widgets, icons and screens with refreshed colors.
Three swappable icons and the App Launcher icon are fixed to the dock at the bottom of all home screen panels for easy and instant access.
New App Menu allows creation of custom app groups
Added Device and SD Card encryption.
VPN enhancements integrate IPSec VPN clients into device security settings
Initial reports are that things certainly seem smoother, which isn't always the case with updates these days. Seeing something different? Sound off!
Thanks to everyone who sent this in!
Android Central Newsletter
Get instant access to breaking news, the hottest reviews, great deals and helpful tips
#1. post Thunderbolt to be last!

Seriously, it's good news that the Droid 2 is getting GB today. It was announced it would come in September and bringing it out on 9/1 is great news…..so maybe the Thunderbolt GB will be pushed out sooner rather than later this month too.

Way over due update for the D2. It's last update was December, then Motorola can't even update it to the most recent version of Android. They had nine months?! Glad I got rid of mine when I did.

Not bad, but he contact thing sucks, I have either ALL of my facebook friends or NONE of my facebook friends. WTH? Anyone know a fix?

My wife just text me saying her phone just updated, lol. I'll ask her to look at the about phone to confirm.Good news for her and others waiting for it.

Does anyone know if this includes the R2D2 version (I know) as well? Also, is there something that I should do beforehand such as backing up the data on my phone? It is not rooted.

From what I read around the web the R2D2 won't receive it,because it has a different skin, but that's just speculation nothing official.

Reply from Janice at VZW about whether the Droid R2-D2 would be seeing an update...
"Verizon Wireless is a Service Provider and we do not manufacturer wireless phones. Software updates are provided by the manufacturer and are completed in a phased approach, based on area and ESN ranges if and when they become available. We do not have information regarding these Software Updates and are unable to advise you of release dates. You will receive a notification on your device when the software update is available. Not all devices are updated at once, due to network impacts.You will not have to manually update the devices. If you would like to determine if your is eligible, please go to the settings menu on your device. " So, basically VZW is clueless, and I'd be willing to bet on there being no plans to upgrade the R2-D2s. I've checked Motorola's website, and the Droid R2-D2 drops to the regular Droid 2 when seeking support for it (no support pages for the specific model, unlike the D2G). I've now contacted Motorola for a response. Personally, I think we'll either be ROMing or SBF'ing to a regular Droid 2 if we ever want to see Gingerbread (or any update for that matter).

I just chatted with Motorola support and she said that the R2D2 has no scheduled updates.

ATT Infuse was supposed to get our in August. Didn't happen.

What is going on with Sprint and the Epic 4G not getting
an official gingerbread update?

Considering how Samsung handled the Froyo update, I would say you will be lucky to get Gingerbread EVER!

Does anyone know if this is rooted or not?

Must be the day for upgrades, my HTC EVO received one as well. Wonder if any other phones got one today?

In the update, the droid 2 now adds random words when you use the double space bar, rather than adding a period during texting. Is there a way to disable that?

I received the update on the 7th--it seems to have disabled some generally helpful things--ie, I cannot seem to figure out how to add a contact to a group--or modify a contact group at all for that matter. And now when I want to text someone, I cannot hit the contact icon in the "to" line and choose from my contact list the people I'd like to text. I have to type in each and every person--that is time consuming and archaic in my opinion. I like the new 'look' but don't like the functionality--seems like an update that didn't improve anything but the aesthetics and actually backdated functionality--but that's me.

Update to Gingerbread for R2D2 version started 09-13-11.
Android Central Newsletter
Get instant access to breaking news, the hottest reviews, great deals and helpful tips
Thank you for signing up to Android Central. You will receive a verification email shortly.
There was a problem. Please refresh the page and try again.