Does the Note 10 have a headphone jack?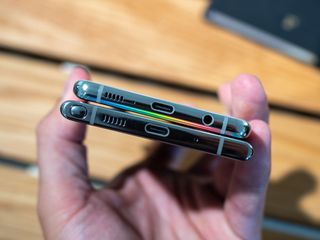 (Image credit: Android Central)
Best Answer: No, neither the Galaxy Note 10 nor the Note 10+ have a headphone jack. However, they both come with USB-C headphones. If you want to use your existing pair of wired headphones you'll need a USB-C to headphone adapter, which are sold separately.
No headphone jack
Whether you love it or hate it, headphone jacks are disappearing from the designs of advanced smartphones. It seems that manufacturers intend users to use wireless audio options or a headphone adapter to listen to music. Samsung's previous line of Galaxy Note phones still had a dedicated headphone jack, but you'll only find a USB-C port on the new Galaxy Note 10.
Samsung isn't going to leave you hanging, though. It's included a USB-C headphone with the new Note 10 phones. If you already have your own sweet set of 3.5mm headphones you want to use, you'll need to purchase a USB-C to headphone adapter, like this Kimwood one, to make them usable with the Note 10 or 10+.
The problem with this setup is that you won't be able to use wired headphones and charge your phone at the same time unless you have a wireless charging pad like this Anker 10W Max. If that seems a little frustrating, another option would be to spring for some reliable wireless headphones, like these Plantronics Backbeat Pro 2 headphones.
Other information about the Note 10 and 10+
The Note 10 and Note 10+ release on August 23, 2019. These are some of the most powerful smartphones you can find on the market. The Note 10 features a 6.3-inch cinematic infinity display that offers a resolution of 1080p while the Note 10+ offers a 6.8-inch cinematic infinity display with 1440p. That's well into the realm of HDR10+ for a crisp and colorful viewing experience.
Unlike the Galaxy Note 9 line and other previous phones in the series, the Note 10 doesn't feature a headphone jack, nor does it have an SD card slot. However, it does come with 256GB of of internal storage. Similarly, the Note 10+ doesn't feature a headphone jack, but it does include an SD card slot, which allows the phone to hold up to 512GB of storage.
Noteworthy
Samsung's latest Galaxy Note phone
These powerful smartphones feature an impressive amount of internal storage and come with a pair of USB-C headphones. The S Pen gives you more control with handwritten notes, air gestures, and photo editing.
Helpful headphone accessories
You'll get the most convenience out of your new smartphone if you have the proper accessories to go with it. Here are some that we recommend.
Kimwood USB-C Headphone Adapter ($12 at Amazon)
This simple dongle allows you to use your 3.5 mm wired headphones with any USB-C port. It's perfect for use with the Samsung Note 10 or 10+ smartphones.
Anker 10W Max ($16 at Amazon)
This case allows you to extend the battery life of your iPhone to a total of 25 hours while protecting it at the same time. The helpful design gives you access to the Lighting port while charging wirelessly so you can listen to music or make calls.
Tribit XFree Tune ($40 at Amazon)
This pair of wireless headphones gives you quality sound at a cheap price. They work for 40 hours before needing a recharge and have a comfortable design so you'll be able to use them for long stretches.
Get the Android Central Newsletter
Instant access to breaking news, the hottest reviews, great deals and helpful tips.
Rebecca Spear is a staff writer for Android Central who loves following the latest tech, drawing with her Wacom, and playing video games. You can find her posting about her pets, art, and video game preferences on Twitter @rrspear.