Does the Fitbit Charge 5 have GPS?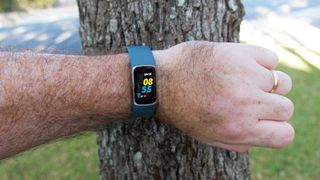 (Image credit: Jeramy Johnson / Android Central)
Best answer: Yes. The new Fitbit Charge 5 is equipped with built-in GPS so you can conveniently track your route during activities without relying on your phone.
The Fitbit Charge 5 has GPS for easy tracking
There's a lot to consider when searching for a fitness tracker. Many users will be looking for key features such as built-in GPS to enhance their overall experience. Fortunately, the Fitbit Charge 5 has built-in GPS, which means you can leave your phone behind and still track your route with the Fitbit Charge 5.
While GPS isn't a rare feature, it's more common on Android smartwatches than fitness trackers. Since many people who shop for a tracker are looking for something affordable that can handle basic tracking, GPS is a nice bonus.
The Fitbit Charge 4 was the first in the series to offer built-in GPS. Since then, the company has remained committed to providing more advanced smartwatch-like features on their fitness trackers. When comparing the Fitbit Charge 5 and Charge 4, you'll see they both offer built-in GPS and blood oxygen tracking.
The Fitbit Charge 5 might be on the expensive side, especially for a fitness tracker, but all the upgrades and improvements might make it a worthwhile purchase. In fact, the Fitbit Charge 5 GPS is one of the tracker's many new perks. There's a new design that makes it much more attractive than previous models.
You also get advanced health sensors, including electrodermal activity (EDA) and electrocardiogram (ECG) sensors. These new additions allow users to measure their temperature and stress level as well as check for irregular heartbeats that may be a sign of an underlying medical condition.
If this sounds too advanced for your needs, you might be better off with a more basic tracker or even an older version of the Fitbit Charge. That said, health enthusiasts who want all the details will appreciate the Fitbit Charge 5 GPS and the other new features that come with it. This is the closest you'll get to smartwatch features without paying smartwatch prices.
Some people may argue that if you're going to spend this much on a fitness tracker with GPS, you might as well stretch your budget a bit further and splurge on a full-blown fitness smartwatch. I can understand this argument to a certain degree, but not everyone wants a bulky smartwatch on their wrist.
Minimalists who want something light, compact, and efficient will probably find the Fitbit Charge 5 to be a worthwhile investment. However, I can confidently say the built-in GPS feature is just the tip of the iceberg!
Use GPS to track your route
No phone required
Fitness enthusiasts will love that the Fitbit Charge 5 GPS allows them to leave their phones behind. Whether you're going for a run or embarking on a hike, this device can track your route without your phone's assistance.
Be an expert in 5 minutes
Get the latest news from Android Central, your trusted companion in the world of Android
Courtney Lynch is a freelance writer at Android Central. She's obsessed with all things health, fitness, and music. At any given time, she can be found checking out the latest and greatest gadgets while simultaneously petting her dog and sipping iced coffee.