Deal: Save over 60% off the lease price of the LG V30+ or LG G6 from Sprint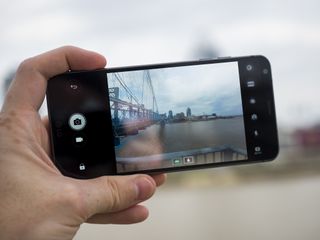 Currently, Sprint if offering a sweet deal on the lease of an LG G6 for just $6/mo. or an LG V30+ for just $12/mo. Pair that with an unlimited data plan that not only includes video streaming in high definition, but 10GB of mobile hotspots and a free HULU subscription, and you've got quite the deal.
Swipe to scroll horizontally
| Header Cell - Column 0 | LG V30+ | LG G6 |
| --- | --- | --- |
| Retail Price | $912 | $480 |
| Monthly Lease | $38 | $20 |
| 68% Off | $20 | $6 |
The fine print:
This deal requires a new line of service activation and an 18-month lease. Well-qualified customers are eligible.
At the end of the 18-month lease, you have the option to buy your device. You'll pay the balance between the full price and what you've paid so far.
There are taxes on any device you go with and you'll have to pay that up front regardless.
If you cancel your service, the remaining device balance will become due.
Sprint's Unlimited Freedom Plan
If you're looking to pair up your new phone with a plan, Sprint's Unlimited Freedom is one of the cheapest on the market with 4 lines for $25/mo per line and 5th line free (until 06/30/19), with autopay. Plus Hulu is now included!
Unlimited talk, text, and data. Once you've reached 23GB of data, your speeds may temporarily slow down during times of high network congestion.
HD video, 1080p
10GB of 4G mobile hotspot
Editorial Director - High Yield
After getting his start writing about BlackBerry in 2008, Adam is now the Editorial Director of High-Yield content at Future. Leading an outstanding team, he oversees many of the articles the publisher produces about VPN, TV streaming, and antivirus software — from buying guides and how to watch content, to deal news and in-depth reviews. Adam's work can be seen on numerous Future brands including TechRadar, Tom's Guide, T3, TTR, Android Central, iMore and Real Homes.
You know what would be a novel idea? So some of us are truly excited about getting a new device when it finally releases, and not all of us are every year "I must have the latest and greatest". A lot of us really enjoy giving manufacturers our support and look forward to a exciting new device on a two year or more upgrade cycle. So, if I were say Sprint or any provider, I would make a upgrade go as follows..
Yes, come be the first to get the all new device, Pre order, come first day, etc. Now, it's brand new and the latest and greatest, but we really want people to not hesitating upgrading because of the price. So each time there is a drop in price in the future, your bill will also reflect the new pricing. So yes, it may cost you $38 a month now, but in 6 mos when we have to drop pricing because of new phones cycles (spring/fall) and new customers will be paying $20 a month for the same device (after bug's have been addressed/software updates finally etc..) then you will also only be paying the $20 a month for the rest of your committed contract. And when it drops again, your bill will also go down. I believe more people would be willing to jump on the new upgrades and not wait and also feel good about it 6 months down the road. Thoughts?

I agree! I was just saying this same thing 2 data ago to a friend. It would even be nice if we could "refinance" these leased phones.

Is lg g6 worth buying now?It is available for around $400-425 in India..How is it comparable to newer phones from honor,xiaomi and one plus?

Adam Zeis, article is incorrect in that the great promotional pricing on these two handset models does NOT require a new line of service. It is for upgrades as well. Upgrade customer gets same deal as new line customer on this promo - which is unique. If you gathered the incorrect 'new line requirement' from a Sprint site, communication, or marketing material - - please post here as to what it was so it can be corrected. Thanks. *edit, also the pricing chart you posted shows V30+ at $20. That should be $12 for V30+. And I'm not so sure the 2nd bullet point about the fine print is correct. I'm not so sure that the final optional purchase payment at end of lease is going to be full retail minus the amount customer has paid. I think it would be more like $912 minus $38x18. Store would have to confirm from a transaction printout. *Edit, purchase price at end is $288. So if customer purchases at end, they would have paid about $504 total to buy the V30+. And 3rd bullet point is incorrect. On leases, tax is not paid up front. That's one of the advantages. With IB(installment billing) taxes were required up front. Not the case with flex lease.
Android Central Newsletter
Thank you for signing up to Android Central. You will receive a verification email shortly.
There was a problem. Please refresh the page and try again.