Crappy little gap of nothing [#acpodcast]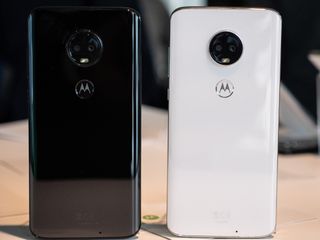 Daniel Bader, Andrew Martonik, and Russell Holly have a look at the Moto G7 series of phones. 2019 is shaping up to be a good year for budget devices. This leads them to ask the question: Why even buy an expensive phone anymore?
They also dive into the Samsung One UI and Android Pie update, and spend a little time on Galaxy S10 rumors. Lastly, they cover AT&T's fake 5G and discuss Sprint's lawsuit against them for false advertising.
Listen now
Subscribe in Google Play Music: Audio

(opens in new tab)

Subscribe in iTunes: Audio

(opens in new tab)

Subscribe in RSS: Audio
Download directly: Audio
Show Notes and Links:
Samsung One UI and Android 9 Pie update: Everything you need to know
Do you like Samsung's custom gestures for Android Pie?
Samsung Galaxy S10: News, Rumors, Release Date, Specs, and More!
AT&T is being sued by Sprint for falsely advertising 5G on its phones
Verizon and T-Mobile aren't buying AT&T's fake 5G nonsense
Sponsors:
Thrifter.com: All the best deals from Amazon, Best Buy, and more, fussily curated and constantly updated.
In response to people using Samsung Pay. I live in California, Bay Area. Finding places that actually take any form of wireless payment can be iffy. Having worked in retail for two years (part time), none of the places I worked at had terminals that took Apple or Google Pay. I've probably had a total of 10 people across that two years that used Samsung Pay. I've personally tried to use Google Pay but found it more cumbersome to use than my credit card, which finally got tap to pay.

Lenovo has good phones in mid-range and flagship. Are called Lenovo Z5, Z5 Pro, Z5 Pro GT. But they don't certify those phones in western countries with our LTE bands because Motorola pretend sell us their overpriced old junk. That's all. So better look elsewhere for better mid-range phones or like a lot of people do, buy a year or two years old flagship that offer now a good quality/price relationship.

I use my Samsung pay all the time for years now flawlessly

In response to nfc payments. I live in the UK and contactless payments are widely available. I use Apple Pay almost every day. Apple Pay, Samsung Pay and android Pay are all available in the same places. I use Apple Pay on my Apple Watch and it works really well.

Here in Canada, I use Samsung pay nearly everywhere unless the purchase exceeds ther mobile payment limit. There a couple of larger nfc payment holdouts in the retail space in Canada, those being Walmart and Home Depot but both are Samsung pay capable.

I enjoyed the podcast. I especially enjoyed all the discussion on the new Moto G lineup. I have a soft spot in my heart for Motorola even if it is owned by Lenovo now. I listen in to almost all the podcasts from AC and hope you guys keep em coming.

I have the s9+ on att and I have received my pie update and one ui, great update so far. Also coming from BlackBerry all I had was android pay and I can tell you it can't hold a candle to Samsung pay. Samsung pay works pretty much everywhere without problems.

I use MST on my Note 9 all the time. There are still a ton of small businesses that haven't upgraded to the new NFC/Chip readers yet. I'm in the USA
Android Central Newsletter
Get the best of Android Central in in your inbox, every day!
Thank you for signing up to Android Central. You will receive a verification email shortly.
There was a problem. Please refresh the page and try again.