Off-contract Moto X on sale for $299 for today only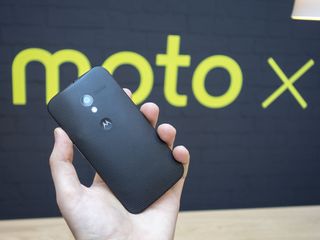 Motorola's Mothers' Day sale is has begun, and you can now grab a Moto X off-contract for as little as $299.99 off-contract. But if you're planning on picking up a Moto X for mom — or yourself — you'll need to be quick about placing your order, as the sale ends at 11:59 p.m. E.T. today, May 1. Here's how the pricing breaks down —
16GB starting at $299.99 (regular price $349.99)
32GB starting at $324.99 (regular price $399.99)
Developer Edition $324.99 (regular price $399.99)
Naturally, you'll be able to customize your Moto X through Moto Maker as well.
The Moto X may have been superseded by bigger, shinier things in recent months, but it's still great value around the $300 mark — the device even placed top on our list of best Android phones for 2013.
Anyone tempted by a Moto X at this new, reduced price point? Shout out in the comments!
Source: Motorola (opens in new tab)
Alex was with Android Central for over a decade, producing written and video content for the site, and served as global Executive Editor from 2016 to 2022.
Let Me Be The First To Say,
Great Deal.. If only for a day.

I would get one but I'm sure the price will go down even more when they announce their new phone in the next couple weeks Posted via Android Central App

Not so sure. How much they would be selling moto g for, then ? VZW Moto X

Well the 16gb Moto G is $200, they could make it $150. I was buying a gift, was considering the Moto G, but got a used Moto X for $195. Making a $199 fire sale for the X (like the Nexus 4 did) when the X+1 come out would be nice.
android central app

Good price but with the new version looming it's a bad buy. I know people will comment that everyone don't want to be on the latest, greatest and best. But whatever. Posted via Android Central App

The new phone being announced is the Moto E, not a flagship. Posted via Android Central App

Specs for the New Moto X have leaked and will be top of the line hardware specs compared to last year's X. I think it'll probably release this summer, way before August hopefully. I'm looking forward to finally getting a new phone after 2 1/2 years, and hopefully it'll be a 5" Moto X

$199 today and I'd be sold

No. He wants the Moto X for 199.

Precisely and I don't want it for a penny more lol. I feel that's a good value at this point in the devices life cycle.

Agreed. Posted via Android Central App

+1 Posted via Android Central App

Is the sale only for u.s. residence? I tried to order the 32gb but canada pcode not accepting. :'(

No worries , I'll probably have one extra (friend changed his mind) and I can send it to you at no extra charge - if no one buys it on eBay on the day of delivery. You ll just pay for the shipping. Estimated delivery they said was may 8th
VZW Moto X

Bought mine in 02/14 at $350 for 32gb version. Loving it since. I don't need the latest and greatest. I just want a phone that will give me all the basic functions of a smartphone and that does not lag. At 2gb RAM, Moto X can handle just about every task I throw at it.
Posted via Android Central App

It's a great phone and most people that buy it love it. I hope Motorola keeps these phones coming. Posted via Nexus 5 Android Central App

Ordered Verizon developer edition at a great price. It was $449 before sale.
Posted via Android Central App

Ditto...i was still on a galaxy nexus

Maybe some folks missed it, I don`t know. But the next device getting announced by Motorola is a low end device not high end. The Moto X successor is still pegged for an August/September release.

I would have bought a Moto X for this very low price, but I bought mine 3 weeks ago for $400. Before they even lowered the regular price to $340. :( Posted via Android Central App

Not sure if you can return it and get a new one :p Posted from VZW G2

It's a great phone and I would probably get it for the wife but she just likes her waterproof Xperia z. If the screen was bigger I'd give it a try. I settled for a mint condition 32gb white nexus 5 that I lucked out and got on eBay for $325. Just sold my other one on swappa. Posted via Nexus 5 Android Central App

Wish I could but they should've had the sale on paycheck Friday to get me. Anyone wanna loan a guy done cash? Lol. Posted via Android Central App

I caved and bought a GSM Dev edition for my wife "for Mother's Day." Good excuse to play with a new phone! :)

I paid $180 for off contract galaxy s4. I like it, and I think it is better value than moto x. Posted via Android Central App

It was on ATT website as refurb no contract, I also got an unlock code for free after canceling the plan that came with it.
No it isn't better. I bought the S4 as a gift, but it was so ridiculously slow and the Samsung features are all gimmicks. It's the slowest phone I've ever used and this is with root and disabling all the craps. The Moto X is blazing fast compared to it and all the features are useful for real life use. I sold the S4 for $300 and bought a used Moto X for $195, win.
You might not think the S4 with Touchwiz is slow but that's the expected standard when you use bloated UI, once you use stock Android on a Nexus 5 or Moto X, the speed difference is huge.
android central app

Great price just played 449 with AT&T for 32gb wish I waited to see this but my son needs a phone can't wait to show him this.

Picked one up for my wife. She didn't want to make a decision but sure enjoyed it when I showed her the customization!

Moto X Black or White (excludes Design Yours). $25 Republic Wireless credit at checkout with purchase of your phone using this discount link: http://rwshar.es/OFc8

Amazon.co.uk direct have been selling the sim free 16gb for £280 at least 2 weeks. Works any carrier. I have a Note 3 but would love one. What's wrong with me? Via my Note 3 on AC.

If this deal was 4 months ago I would have jumped on a Developer edition. But with the newer Moto X on the horizon as well as the slew of new phones that have just been released, I'm not going to bite. There are better deals to be had now......

They might be having issues. Tried to order one, and the transaction failed at confirmation. Did not receive a confirmation e-mail myself, but money has been deducted from my account. It's been 9 hours. I'm on the phone with them as we speak.

Yeah. Motorola's credit agency expended my available credit and failed to confirm it with Motorola. After talking with them both for an hour, they told me there's nothing they can do for 48 hours. No phone for me this month, I suppose. Damn. :(

Motorola's Mothers' Day sale IS HAS begun, Come on Alex! A major grammatical error in the 1st sentence. For shame! ;)

I'm not sure which to get the Moto X or Nexus 5 the phone would be for home & a backup for my galaxy s4 I do love pure android & getting the latest version of Android first. Posted via Android Central App

I got one. I can't wait until August for a new phone. Today is the end of my contract. This old RAZR is finished. Posted via Android Central App
Android Central Newsletter
Thank you for signing up to Android Central. You will receive a verification email shortly.
There was a problem. Please refresh the page and try again.