Sometimes the best way to save is to combine a bunch of different devices into one awesome little bundle. That's what Amazon is doing with this Fire TV Blaster bundle on sale for $79.99. It combines the Fire TV Blaster, the Fire TV Stick 4K, and a 3rd-generation Echo Dot smart speaker. At their regular prices, these three devices added together would cost around $135. Even now, with live Black Friday prices, the individual prices add up to more than this bundle.
Better Together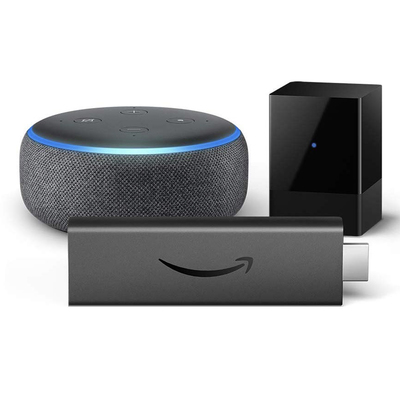 This is a brand new bundle from Amazon. The Fire TV Blaster adds voice control to any TV, sound bar, or other entertainment device. Combined with the media streaming device and smart speaker, you get full voice control over your media.
$79.99 $135.00 $55 off
The Fire TV Blaster is so new it hasn't released yet. Consider this a pre-order bonus because the item will release Dec. 11, and that's the earliest you can get it. The Blaster is an all-new way to add Alexa to even more devices around your home. This one specifically works with your TV, sound bar, cable box, or receiver. You will be able to use voice control to say things like "Alexa, turn on the TV" even if it wasn't a smart TV originally. You'll also be able to control the power, volume, playback, and more.
The Fire TV Blaster requires one of the Fire TV Stick media streaming players and any Echo smart speaker to function properly. That's what makes the bundle so good. If you don't have those items yet, you can get them all at once. Of course, you'll also need an IR-controlled TV or other supported device to connect the Blaster to.
Once everything is connected and up and running, you'll probably never have to lift a remote again. Just use your voice for everything you need. Ask Alexa to connect you to any of the dozens of streaming apps on the Fire TV Stick 4K, binge watch all your shows, and adjust the settings until you get it just right.
We may earn a commission for purchases using our links. Learn more.