Grab the RAVPower 26800mAh portable battery charger for $34.99 on Amazon. To get that price all you have to do is click the link which automatically takes 30% off the price. Without this promo, the battery charger sells for around $50. While it has dropped to $35 before, the last time that happened directly was more than two years ago. Promotions like this are rare and hard to spot, so you'll want to take advantage of it while you can. Only the black version is on sale with this promotion, and the deal expires Sept. 7.
Charge anywhere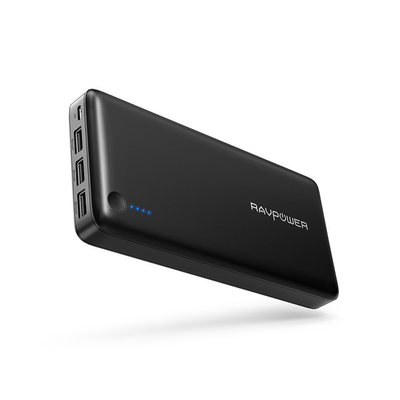 This 26800mAh portable battery can easily charge most modern phones and tablets up to 8 times before needing to be charged. It has three outputs for charging multiple devices at the same time, and a total of 5.5A output.
$34.99 $49.99 $15 off
We know RAVPower. This is a brand that has been making power banks like this for years, covering multiple generations of smartphones since the smartphone and the tiny battery became a thing. You definitely don't have to worry about those small batteries anymore with a battery charger like this. The 26800mAh capacity is about as large as it gets while still being affordable, and that's enough juice to charge your smartphone half a dozen times before the device itself needs to be charged back up. Charge tablets and other mobile devices, too.
The power bank can actually charge three devices simultaneously. It has three USB ports that provide a total output of 5.5A, and the iSmart technology can pick up on what device is plugged in where to provide the best possible charge. You can recharge the power bank in 14 to 15 hours if you have a 2.4A charger, which RAVPower also makes. It comes with two microUSB cables for charging, and you can also do pass-through charging by powering up your phone at the same time you're recharging the device. The power bank comes with a carrying pouch for portability along with an 18-month warranty for support.
The charger has racked up more than 5,000 reviews, and users give it 4.5 stars out of 5.
We may earn a commission for purchases using our links. Learn more.