Trust me, building computers is expensive. Super expensive. Not a hobby for the faint of heart or empty of wallet. If you're thinking about it, in the middle of it, or just want to plan for the future you should use Cyber Monday as a chance to invest in a few parts that are already discounted. Amazon had the same thought because this PC gear sale includes huge discounts on hard drives, RAM, monitors, and more.
Lots of options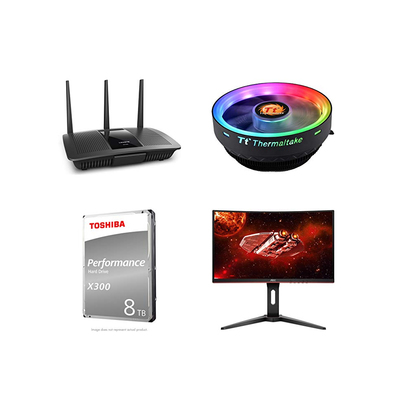 Whether you need a new hard drive, monitor, power supply, or router for your internet, this sale has you covered. There are tons of great deals here from popular brands like Netgear, TP-Link, BenQ, and more so be sure to check it out.
Various Prices
Concerned more about the insides than the case itself? Grab the Thermaltake Commander C32 case on sale for just $76.99 from a street price of $110. It has actually never dropped below $96 directly before. The case has two pre-installed light-up fans. You can control the 27 LED modes through the i/o port with special effects like wave mode, flow mode, radar mode, and more. The one millimeter tempered glass gives you a beautiful view of your case's insides. It has plenty of drive bays and supports mini ITX, micro ATX, and regular ATX motherboards.
Outfit your new PC with plenty of storage. Get 6TB of space with Toshiba's S300 Surveillance hard drive on sale for $147.99. This drive dropped to around $168 at the beginning of November. That was already a deal-worthy price as it had never gone below $174 before that, but today's deal blows it away. This is a drive with long-lasting durability since it's meant to be run 24/7 and used in video surveillance. That just means you'll never have to worry about it failing when used in a regular capacity.
Top off your build with a beautiful computer monitor. The AOC 27-inch 1440p 144Hz gaming monitor will look great on your desktop and only costs $212.49 today. This is its lowest price ever and down from a $250 street price. AOC screens come with a three-year warranty against dead and bright pixels. It also uses AMD's FreeSync. Connectivity options include DisplayPort, HDMI, and VGA.
We may earn a commission for purchases using our links. Learn more.